Golden Opportunity
Junior Julia Loeger attended the Golden Globes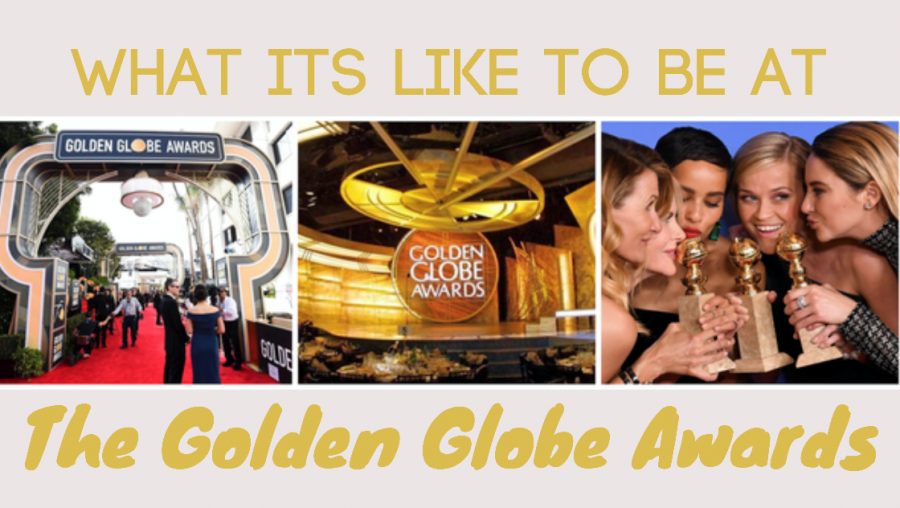 The Golden Globes is an award show held by the Hollywood Foreign Press Association each year, this year on Jan. 6, for outstanding achievement in film and television.
Junior Julia Loeger had the amazing, once-in-a-lifetime opportunity to go to the Golden Globes awards in Beverly Hills this year.
How did you get invited?
My mom works at Discover Financial Services, and they were one of the sponsors of the Golden Globes.
What did you wear?
I wore a long, maroon colored dress with two openings on each side of the dress.
Where did the awards take place and did you stay there?
The Golden Globes were located in Beverly Hills. We stayed at the Four Seasons in Beverly Hills and before we went to the show, we had our hair and makeup done at the hotel. We then went to at the venue at around 4 p.m.
What was the red carpet like?
The red carpet was amazing. The walkway was decorated with a lot of greenery, flowers, and Golden Globes signs lining the carpet. There were dozens of interviews taking place, and we would pass one famous person after the next. I passed Bradley Cooper on the red carpet, and I was starstruck. It was such a surreal moment and one that I will never forget!
What celebrities did you see? Anyone in particular?
I saw a ton of my favorite celebrities on the red carpet and on stage. Some in particular being Bradley Cooper, Lady Gaga, Taylor Swift, Amy Adams, Anne Hathaway and Michael B. Jordan. I was extremely excited to hear that Sandra Oh was one of the MCs because she was my favorite character on Grey's Anatomy, and it was so cool to see her in person.
How was the show overall?
The show was a surreal experience. One special thing about the Golden Globes is that it's a much smaller event than other award shows so you are very close to all of the celebrities.
Did anything super interesting happen?
Our table was located on the left wing right near the stage so the celebrities who won a Golden Globe were escorted right past our table so we got to see all the celebrities up close! After Michael Douglas won Best Actor in a TV series, he came over to our table with his award and let us touch it! It was the coolest thing that happened during the show.
Thanks to Julia Loeger for sharing her experience at the Golden Globes awards.!
About the Writer
Ava Manelis, Editor-in-Chief
Ava Manelis is a senior at LFHS who is on the poms team. She has been taking Journalism for a year now, and is back again as an Editor-in-Chief of the...