Special Thursday Edition of the Friday Five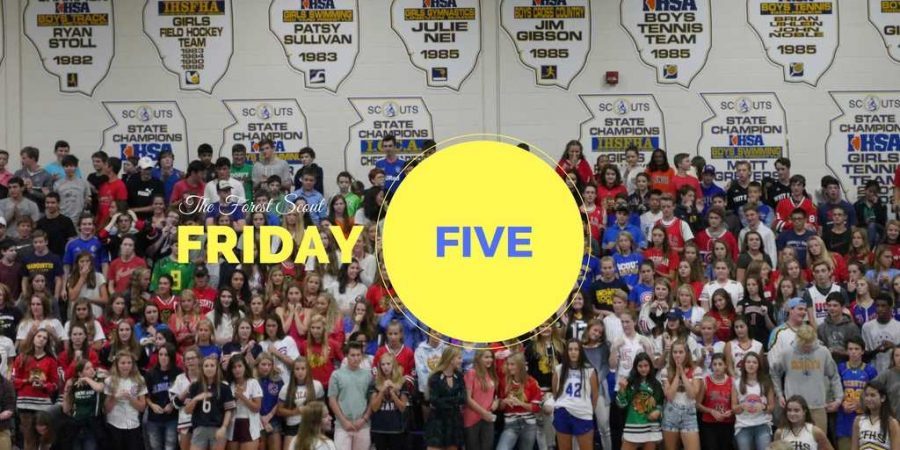 Junior Eleni Ballis has an infectious spirit! Funny and helpful, caring and warm-hearted, passionate and strong! You can find her almost always talking about being Greek, cracking jokes, and being a beast on both the basketball court and lacrosse field.
Eleni is a student who makes a difference in your day. She will always talk to you, listen to you, or talk some sense into you. Close friend Catherine Greub says, "Eleni is literally the funniest person! She makes me die sometimes! But other times, she will share advice with me that really helps me think and change the way I look at certain situations." While Eleni has a million different types of friends, she is always down to make a new friend. Her close friend in Mandarin class JD O'Keane says, "Eleni's Mandarin game is on point and she's one of the funniest people I've met!" Another friend, Stephen Young, says, "Eleni is the "G.O.A.T!" and when asked if he wanted to add else anything he responded, "No, that sums her up. Greatest of all time!" Study Hall teacher Mrs. Nelson says Eleni "is very outgoing and enthusiastic about life!"
On the basketball court Ballis is an excellent player, always laying up the points! Coach Mike Steffens says, "Eleni is such a tremendous addition to the junior varsity basketball team. She is positive, enthusiastic, improving her skills daily and is the most vocal and communicative girl on the team. She has come such a long way since I first met her as a 5th grader playing feeder basketball!" Watch out for Ballis on the JV court and coaching the intramural basketball team, The Ballis Experience.
Almost everyone knows Eleni is Greek; she is loud and proud about it! Eleni attends church and a summer sleepaway camp, Fanari, where she has made best friends for life. While school friends crack jokes about Greek gods, the Greek economic crisis, and basically anything Greek, Eleni is quick to dish it back. Emily Robinson says, "Everyone in the school should become best friends with the Fanari loving girl!" Stay the way you are, Eleni Ballis!
The transition from middle school to high school can be very stressful, but freshman Ellie Ford makes it easier by remaining true to her empathetic, caring self.
The oldest in her family, she shows confidence and poise in just about everything she does. Her friends say Ford will befriend new people at lunch or offer up a smile, if anybody ever needs one.
"She is really nice and has a lot of empathy for others," freshman Natalie Miller said. "She always cares about other people first."
Freshman Ashleigh Rupprecht said she admires Ford's "tremendous amount of positivity."
"I love how whenever you're having a bad day she knows and asks you even if she can't do anything," she said. "She really listens."
Ford is a member of the field hockey team and an intelligent student who works hard in her classes, Miller said.
"She just always makes me smile," Miller said.
Towering above the crowds at LFHS is senior Chris Gasche, a near local legend for his height. Gasche uses his 6'6" frame to succeed in the pool as a varsity swimmer and goalie for the water polo team.
"Swimming with him is a blast," said teammate Evan Devine, who recently celebrated senior night with Gasche.
When he is not in the pool, Gasche can be found on the slopes snowboarding or on the greens for some golf. As someone who enjoys being active and spending time outdoors, he also does a variety of other things for the school.
He participated for a number of years in the Model UN club, and Gasche plays at the varsity level for the school's new esports club.
"He always plays to get better and works very hard," said senior Aaron Koller. No matter what Gasche is doing, his positive attitude and passion for improvement are obvious, Koller said.
Gashe is someone who is always eager to help you with homework or strike up a casual conversation..
In the fall he plans to go to Butler University to study history.
It's hard to miss junior Megan Wong. Being surrounded by older peers both in the classroom and on the track might make it hard for her to stand out; however, Megan doesn't just stand out, she shines. She excels in all academic areas, and as a varsity track athlete. In the fall Wong runs cross country, and in the spring she runs track and long-jumps. She is an incredibly talented athlete with a lot of success in her future.
It sounds like she can do it all, but despite this fact, she is incredibly humble. You will never hear her complain or speak ill of her peers. Her positive attitude and humility brighten anyone and everyone's day. Above all else, Megan is a great friend. Despite being incredibly busy with school and out-of-school activities, she makes time for the important people in her life. Because of this, people value her friendship. Sophomore Hannah Bienkowski had a lot to say about her long-time friend: "I think Megan is one of the smartest, most ambitious people I've ever met! She never gives up and always goes above and beyond. She's super athletic and always has your back."
Not only is Wong a talented athlete, but she is also a committed volunteer who spends a lot of her limited free time helping the community. A veteran club member of Big 2 Little, Megan has experience helping her community and the kids in North Chicago. She also volunteers at the local hospital.
Megan makes a great impression wherever she goes. All of her friends had nothing but nice things to say. "I've only known Megan for a few years but I'm so glad that she's become one of my best friends," says junior Lindley Wiesner. "She's a really hard worker in school and track, and she's probably the funniest person I know." I know she will continue to make her mark on the high school and will commit to making our community a better place.
Roaming through the halls with his head held high, you may not know Jack Bender. But, the teen sporting his usual Marquette sweatshirt is lot more than just a high school senior. A family man with a desire for basketball, Jack has made his mark on and off of the basketball court. This spring, Jack spent countless hours in the gym preparing for his senior year. Shooting before school, lifting after school, and playing in the evening is a normal day for him. He is the definition of a workhorse who is always trying to make himself and his teammates better. He knows the game inside and out and is a true student of the game. This season, Jack has made an immediate impact on the Varsity Basketball Team, shining in the spotlight and hitting big shots for the Scouts. His biggest moment came against Grayslake Central when the game was on the line. Open on an out-of-bounds play, Bender drilled a buzzer beater 3-pointer at home to send the game to overtime.
Known by his teammates as "Besis" or "Der," Jack has a become a role model for the underclassmen. At school, Jack loads himself with classes such as AP Calculus, AP Economics, and Accounting. His strong work ethic in the classroom has set himself up for a successful future. Teammate and friend Ethan Kurian echoed his high praise for the senior, "Jack is someone who is always up for anything and he is someone the underclassmen can look up to." Bender is also a die-hard Milwaukee sports fan. With his brother Ryan currently attending Marquette University, Jack is the biggest Milwaukee basketball find you'll find. He knows his facts regarding pro sports and is always there to defend his team. Another friend, Andrew Forowycz, spoke on Jack's behalf, "Bender is a kid that is reserved but opens up the more you talk to him. His laugh is contagious and if he laughs then you know you're doing something right." He has a unique sense of humor and bellowing laugh that can be heard from miles away. Whether you know him or not, Jack Bender will continue to be a silent leader alongside his peers while representing Lake Forest High School to the highest standard.
About the Writer
Ghost, Author
Ghost is a section of The Forest Scout that chooses to publish material anonymously in order to increase the depth of their investigative reporting. Ghost...