Friday Five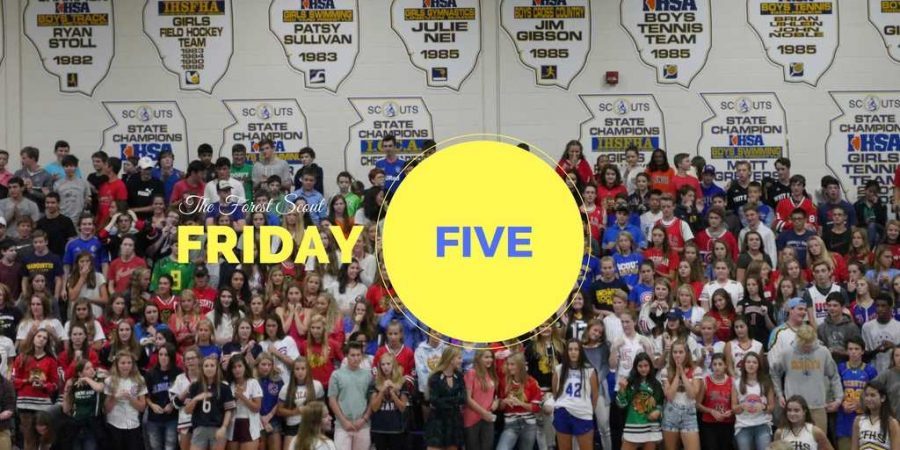 High school can be a difficult place to put yourself out there, but sophomore Mary McKendry is rarely afraid to start a conversation with a stranger and make you feel as if you are already friends.
Her positive energy and peppiness are guaranteed to put you in a better mood and her spirit has left quite the impression all over Lake Forest High School.
"Mary knows how to make fun out of any situation and never lets anything ruin her mood. Wherever we go, she either knows someone or is introducing herself to someone she doesn't know yet. As social as she is she always makes sure to spend time with her family, stay active and keep up with schoolwork!"  Sophie Gambit said.
She a reputation for being someone you can come to for help, according to her friend Mimi Feingold.
"I think Mary is probably the most fun and caring person I know. You can always count on her to be there for you whenever no matter the circumstances, and I'm glad to call her my best friend!" she said.
McKendry is a three-sport athlete and has played on the freshmen/sophomore soccer, basketball and tennis teams. She was also appointed team captain of her tennis team this year and hopes to continue with all three sports throughout her high school years.
"Mary is one of the most uplifting person I have ever met! From dancing to the music playing in practice to waving to me in the hall, Mary brought her positivity on and off the court!" freshman Bea Pierce said.
Not only is she a great athlete but also participates in Croya, Student Council, Women's Club, Spirit Club, and Spanish Club.
Despite his quiet demeanor, sophomore Cole Joseph is known for his cheerful personality. He is always the first to voice his classic witty remarks to any situation, which makes just anyone love to be around him.
"Cole Joseph has most things that are desired in a friend: humility and honesty. While Cole first appears to be a closed off individual, he truly is one of the best people to bloom a friendship with," said junior Alec Boyd.
He is extremely involved in the performing arts throughout the community. Although a sophomore, Joseph has participated in seven shows in addition to participating in the top Theatre Three class. With every show he partakes in, he centers his priorities to the show.
"Cole is a very sophisticated actor because he has an in-depth understanding of characters. This understanding, combined with his work ethic and his talent, makes him a joy to work with.  He truly helps make my job easier as a director," said English teacher and director John Wanninger.
Joseph loves to spend his summers working at Performing Arts Student Theatre Academy, a children's theatre camp at the Gorton Community Center. From the moment he steps into camp, it's clear he has a desire to spread his passion for the arts to the campers.
"Cole is someone who not only is really talented on stage, but also always is happy to help others shine too. At the children's theater camp we work at over the summer, he never is slacking or blowing off his responsibilities; he does everything that he can to help the kids become better actors and to put on a great show," said junior Katie Finnegan.
From his extraordinary character and natural acting skills, Cole never fails to bring out the best in anyone.
"The best part about Cole is that he doesn't even realize how great he is. He is so invested when it comes to helping others that he doesn't even take a second to notice how loved and valued he is by many. He will be your biggest cheerleader, best shoulder to cry on, and your strongest advocate. Anyone would be lucky enough to call him a friend," said sophomore Kailey Albus.
Not often will you find someone like sophomore Bennet Duggan. Bennett is a well rounded student at LFHS as a prominent member of both the wrestling and baseball team. It isn't easy to be as talented in two sports and a model student in class. Duggan handles both with ease.
Bennett is an known to be someone who is always ready to help his peers. Caleb Durbin recalled last year when Bennett helped him with advice on how to sell his baseball value cards. Durbin said Bennett was "extremely helpful and really good at selling the cards." Duggan, a freshman at the time, seemed to be eager to help his older teammate and friend Caleb.
His current teammates couldn't speak higher of him. "As wrestling starts up again I'm excited to see how Bennett does because you know he puts in a lot of work outside of the room and he's a guy that you want to see have success. Said Jackson Meadows. It is easy to see that Bennett positively affects the people around him, especially those who have the pleasure of being on the same team as him.
It is also evident that Bennett is determined to be the best at whatever he puts his mind to. His teammates see that more than anyone. "Bennett is one of the hardest working guys in the room. I've seen him go from school, to lifting, to wrestling practice back to back all while keeping a smile on his face" said Chase Waggoner.
With all his hard work also comes success. Bennett is known by his teammates as a top wrestler on the team. "Bennett's a complete animal on the mat despite his deceiving kind, goofy personality. He's a kid who's always ready to flip the switch when needed and get after it whatever the task may be." Said Waggoner.
On top of being a model student and talented athlete, he is well liked by his friends. He is known by them as an easy going and fun guy to be around. "Bennet is actually sick, he's the best." Said Ryan McFadden. Richie Hoskins, another friend of Bennetts, said "on the first day of school freshman year, Bennett made sure everyone had a seat at the lunch table so everyone was included."    
Overall, Bennett's impact on the people in the school continues to be a positive one. He has a promising couple of years left at the high school where he will continue to make a difference in the classroom, and on both the baseball and wrestling team.
Michael Manfred, an outgoing, intelligent junior, is rarely seen without a hockey sweatshirt or hat on, which demonstrates his commitment to the sport.
As a defender for Lake Forest Hockey, Manfred practices three or four times a week and plays games one or two times a week. His many friends come and support him during his hockey games.
"It's always fun to go see Michael play hockey with a group of friends as their team competes," junior Scott DeNoble said.
Aside from hockey, Manfred plays golf in the fall. Oftentimes, he doesn't get home until late, leaving him with little time to do homework—yet he perseveres with excellent grades. With all those sports taking up his time, it is incredibly impressive that he is taking such difficult classes. He has a rigorous school schedule, taking AP and honors classes.
He's more than an athlete and scholar, however. Manfred regularly attends French club and Men's club.
Outside of school, his peers  agree that he is an amazing friend.
"Michael is always looking out for his friends and offering a helping hand. He is a sporty, hard-working junior who never fails to make the people around him smile," junior Henry Bernhart said.
Known across the school for his comedic flair and incredible intelligence, senior Michael Park is a man you want to get to know before he graduates. Outgoing and affable, Michael is never one to shy away from the spotlight: "He is always the guy to tell the joke that makes the whole room burst out laughing. It may not always be the right time, but he'll do it anyway. It makes class a lot of fun," says senior Teddy Oline. While impossible for most, Michael manages to pull off a goofy but witty, laid back but diligent, and, above all else, friendly persona unlike any other.
"I've known Michael since the 2nd grade when I told him he was writing his 4's wrong," says senior Eric Mzyk. "He has always been a friend you can count on. He works so hard for whatever he does. He's trustworthy, smart, selfless, and immensely compassionate." Yes indeed, Michael is a reliable friend who, even if you are merely acquaintances, will casually brighten your day effortlessly. "I met Michael in 5th grade when we were trapped in the Quest program together at Deer Path. He's great to have as a friend because you can always count on him for laughs," says George Schoettle.
Of course, he is not all play. Michael is one of the most insightful and bright students in the school, and he will never stray from a thought provoking conversation. Michael is also president of National Honors Society where he leads the school's academia in service. Furthermore, he was named a National Merit Scholarship Semi-finalist (an award only given to the top 1% of scorers). Needless to say, he is definitely the man to call with a late night homework question. A real sincere and earnest guy, Michael's reviving persona will always leave you feeling better about tomorrow, no matter how stressed you are.
To be successful in the Lake Forest Track and Field program requires tenacity and commitment — both of which Michael has in surplus. As a three year varsity player, Michael has thrown both shot put and discus. Michael gives 100%, 100% of the time and has been described as "the kind of guy to leave it all out on the field. He's an incredibly hard worker," by his past teammate, James Buckardt. His dedication to the sport and intense workout routine led him to develop into the great athlete that he is today.
Apart from Track and Field, Michael is heavily involved in the school's music program. A four year member of the marching band, he plays the sousaphone. "During marching band games, I tend to leave my post at bass drum to go up to the top row of the band just to talk to him. He makes the games really enjoyable whether that'll be yelling in the stands or playing sonic boom on the sousaphone," says senior Aaron Koller. Michael will always make his presence known shouting the Lake Forest chants and cheering on the team. Michael dedicates a great deal of time to his craft and has competed in a host of honors competitions during his time at LFHS.
Michael Park is truly a once in a lifetime friend. Be sure to meet him before he graduates and indubitably leaves his mark on the world.
About the Writer
Ghost, Author
Ghost is a section of The Forest Scout that chooses to publish material anonymously in order to increase the depth of their investigative reporting. Ghost...