Playlists In Person: Study with Junkie XL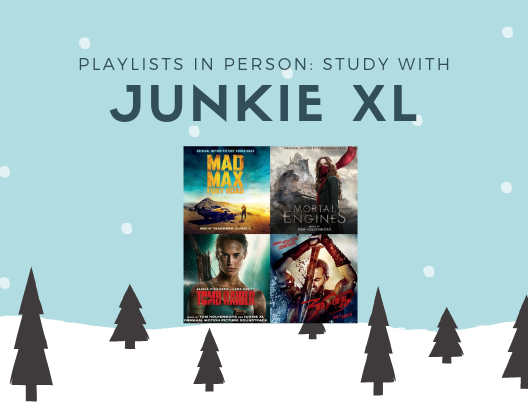 Tom Holkenborg, known more prevalently as Junkie XL, is a Dutch multi-platinum producer, musician, and composer who has scored numerous films such as Mad Max: Fury Road, Deadpool, Divergent, 300 Rise of an Empire, Point Break, and most recently Mortal Engines.
Holkenborg's first definitive claim to fame was in 2002 when his remix of Elvis Presley's 1968 single "A Little Less Conversation" made its way to number one in 24 countries. While his remix was originally for a 2002 Nike World Cup advertisement — Secret Tournament — since 2002, the song has been featured in a variety of media including Shark Tale, Megamind, Percy Jackson & the Olympians: The Lightning Thief, and NBC's Las Vegas.
Moving into the world of film, Holkenborg's career began in Holland where he collaborated with Harry Gregson Williams (on the films Domino and Kingdom of Heaven) and Klaus Badelt (on Catwoman).  However, after his mentorships with Gregson Williams and Badelt, Holkenborg began to collaborate with the world renowned, Oscar-winning, composer Hans Zimmer. Later moving into Remote Control Productions (Hans Zimmer's studio), Holkenborg and Zimmer have worked closely on a number of films including Megamind, Madagascar 3: Europe's Most Wanted, Inception, Man Of Steel, and The Dark Knight Rises. However, often, it is not only Zimmer and Holkenborg who work together to create the wonderful soundtracks that grace our ears. The Magnificent Six is a collaborative group consisting of seven musicians including Tom Holkenborg, Pharrell Williams, Johnny Marr (from The Smiths, Modest Mouse), Michael Einziger (from Incubus), Andrew Kawczynski, and Steve Mazzaro. Originally, the supergroup formed in order to combine their diverse backgrounds with the skills of Hans Zimmer to compose a score for The Amazing Spider-Man 2.Aside from the multitude of albums, EPs, and film scores, Holkenborg is responsible for creating the original music for a host of video games including Forza Motorsport, Quantum Redshift, and SSX Blur. With a background almost as diverse as they come — from his humble beginnings as an industrial rock star to his prominence as a Hollywood composer — Tom Holkenborg has a mastery of film scoring that few can parallel. His understanding of music history combined with his ever future facing outlook provides for the unique sound behind many of Hollywood's most successful movies.
As finals begin to end, make sure that you're preparing for your last tests. You may be tired, and you may just want to go home and sleep for a month, but wait for just a couple more days. Break will be here soon. Until then, however, listen to some Junkie XL.