Playlists In Person: Study with Danny Elfman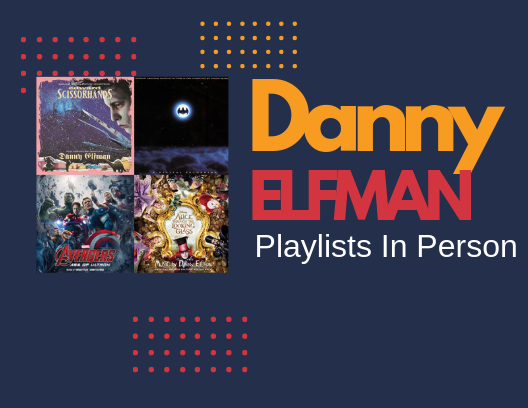 As one of Hollywood's most sought-after composers, four-time Oscar nominee, Grammy award winner, Emmy award winner, Saturn award winner, Disney Legend award winner, Danny Elfman has established himself as one of America's elite composers over his 30-year career. While his first work in scoring was for Tim Burton's Pee-Wee's Big Adventure, Elfman has continued to score over 100 films including: Good Will Hunting, Men In Black, Edward Scissorhands, Batman, Beetlejuice, The Nightmare Before Christmas, Corpse Bride, Alice In Wonderland, Avengers: Age of Ultron, Charlie and the Chocolate Factory, Spiderman, Justice League, Mission Impossible, and Terminator Salvation to name a few. While his work is featured in a diverse set of films — ranging from very adult Fifty Shades of Grey to the family-friendly Meet The Robinsons — his most recent work appears in the newest rendition of Dr. Seuss' The Grinch, which can be watched in cinemas currently.
While Elfman is frequently noted for his various works throughout T.V. and cinema, Elfman's career in music largely began with the group Oingo Boingo. In 1972, Danny Elfman's older brother, Richard Elfman, created the band/performance-art ensemble that would be known originally as The Mystic Knights of the Oingo Boingo. As time progressed, the group's name condensed to a simpler Oingo Boingo and evolved from a semi-theatrical comedy troupe intro a full-fledged rock band.
In 1985, Danny Elfman was asked by Tim Burton, a fan of Oingo Boingo, to score his first film, Pee-Wee's Big Adventure. Due to his lack of formal training, Elfman was hesitant to accept the offer, yet with the assistance of Steve Bartek, accept he did. 34 years later, Tim Burton and Danny Elfman have founded an incredibly beautiful director-composer relationship that has produced a host of tantalizing movies. In one of their closest collaborations, Elfman not only aided Tim Burton in the writing of The Nightmare before Christmas, but provided the singing voice for the lead character, Jack Skellington, and the voices for Barrel and Clown with the Tearaway Face. While Elfman and Burton work closely, Elfman has given up the baton to a total of three Tim Burton films to date: Ed Wood, Sweeney Todd, and Miss Peregrine's Home for Peculiar Children.
While the majority of his work has gone unrecognized in terms of awards, Elfman is still a lauded composer who has been nominated for a multitude of awards and won numerous awards including 31 BMI awards, an Annie award, a Satellite award (Sleepy Hollow), six Saturn awards (The Nightmare Before Christmas, Mars Attacks!, Men In Black, Sleepy Hollow, Spiderman, and Frankenweenie), a Grammy award (Batman), and two Emmy awards (Title Theme from Desperate Housewives, Danny Elfman's Music from the Films of Tim Burton Live from Lincoln Center). However, Elfman's first significant recognition was when he was nominated for an Emmy award for The Simpsons Theme in 1990. After scoring over 100 films and countless T.V. shows, Elfman note during an interview that he will forever be best known as the man who wrote the theme tune for The Simpsons — one of the most successful T.V. shows in history. He said that it will be written on his gravestone, 'he wrote the Simpsons.'
With finals only a weekend away, it is time for the students of Lake Forest High School to seriously hit the books and try to learn an entire semester's of knowledge in a single evening. As the panic sets in and the hours fly by all too quick, plug in your earbuds and play some Danny Elfman to drown out not only your annoying siblings but the stress of finals to come.