Friday Five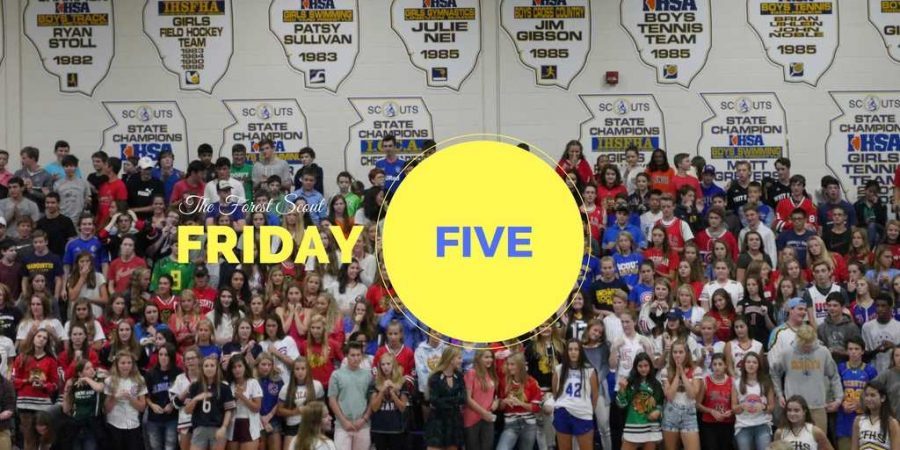 Standing tall at about 5'4", so she tells me, freshman Sarah Mack is a fierce and determined young woman with drive and talent coursing through her every move.  Perhaps her greatest achievement so far is her contribution to the band, where she has proved herself as a thoughtful and musical trombone player. Mack is involved in Symphonic Band, Jazz Band, and Holiday Brass, quite the undertaking for a freshman.
"When I first met Sarah, I could tell that she was a person filled with determination to do anything she put her mind to," sophomore and fellow trombonist Margaret Jemian remarked.  "Her winning personality has made me laugh everyday since. She has motivated me to do things that I never believed I could do, which includes playing my first ever solo." Jemian first met Mack in middle school jazz band, where "she brought excitement and joy to everybody's lives each and every morning at 7:45."  She has also been impacted by Mack's artistic abilities, saying "her sketches and creations continue to impress me with every line and stroke."
It is not only rare to find a talented musician that takes pride in one division of the arts, but a multi-talented artist is even more unique.  "Throughout both music and art, Sarah has wowed me, made me laugh, and inspired me every single day I have known her and continues to do so with every line she draws, every note she plays, and every comment she makes," Jemian added.
Senior Katherine Jemian, Mack's holiday brass student leader, describes her as a "a very caring, humble dedicated freshman who is never afraid of trying new things."  This not only speaks to Mack's overall talent, but also her determination to make a mark as a new student at LFHS.
Even sophomore Natalie Waite, who knows Mack through their curricular Symphonic Band course, can see the kindness and passion behind what Mack does.  "I gave her a ride home the other day and I think she's the funniest and most devoted person I know. She's positive and always makes my day better with her conversations," she said.  Regarding her musicianship, Waite describes Mack as "an amazing trombone player; you only get that good with practice and talent."
It is clear to see that no matter who's talking, Miss Sarah Mack has begun to make her mark on the people around her and the world of art that we all are lucky enough to live in.  Her drive and uncanny abilities benefit not only herself as a artist and learner, but also her fellow friends and musicians. She's a constant reminder to all of us that we don't have to be good at everything–we just have to be devoted to the things we grow to love.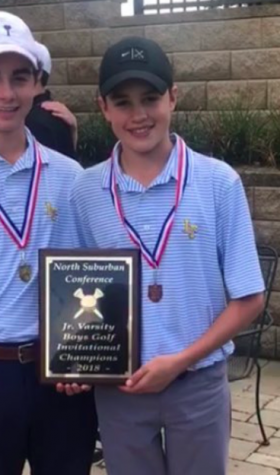 While sophomore John Atzeff's affinity for golf is undoubtedly what he's most known for, anyone who knows Atzeff can attest to his cheerful outlook and kindness towards others. Whether it's in the halls, on the course, or anywhere in between, he's is always up for a quick chat.
To simply earn a spot on the storied golf program at LFHS is impressive in itself, but Atzeff's hard work propelled him to a top position on JV this year. Specifically, in the Conference Tournament this past September, Atzeff grinded his way to an impressive 79, his low score of the season, and 3rd place.
Freshman Tommy Hetler, another golfer for the Scouts this year, said, "John's a fun guy to play golf with. He's got a lot of skill yet still keeps thing light-hearted."
An experienced player of Atzeff's caliber in many cases would choose to stay away from struggling freshmen, but instead he does just the opposite.
"He was great to have around during those first few weeks of practice," another freshman golfer said. "John made my high school transition a lot of fun." This theme was echoed by many other newcomers to this year's team, and in a large team like JV Golf, this is no small accomplishment. Atzeff simply enjoys getting to know others who share his love for the game.
Although he plays golf year-round, Atzeff also manages to fill his school day with rigorous courses; the likes of Math Analysis Honors and Chemistry Honors contribute to his incredibly busy schedule.
In addition, Atzeff enjoys Latin. "He's is a bright kid," said Atzeff's TA. "And a great leader."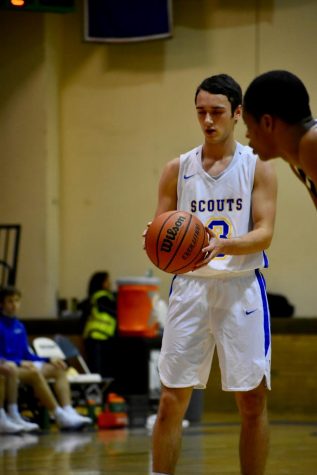 Strolling through the halls of LFHS, you may have seen junior Grant Kaus hauling around his basketball bag from class to class. Behind his blank expression lies a genuine, helpful young teen that most people don't know very well. As a proud alum of Lake Bluff Middle School, Grant has found his niche at LFHS playing basketball and working hard in the classroom. On the court, Kaus has made an immediate impact on the Varsity basketball team. Learning from the upperclassmen, the transition to the Varsity level has been seamless for the junior guard. Just two weeks ago, Grant tailed up a solid 8 points without missing a shot in their first win against Lincoln Park. He plays the game the right way, protecting the ball and making smart decisions. Stephen Young, one of Grant's life-long teammates, describes the impact he's made, "I've been playing Basketball with Grant since 3rd grade and he's really made me a better player [and] a better person… He's always been by my side and gives me great advice."
Outside of athletics, Kaus has focused on his classwork more than anything. Life as a student always comes before you're an athlete and the Kaus family embraces it. His schedule usually goes from long basketball practice straight to his desk studying and completing homework for tomorrow's tasks. He hopes to follow in his sister's footsteps as a high-academic student at a prestigious university. Grant's sister, Audrey, is a freshman at the University of Chicago, as well as a collegiate Lacrosse player.
His coursework this year includes heavy classes such as AP Chemistry, AP Calculus BC, and AP Computer Science. Kaus does a great job of balancing school, sports, friends, and family. Senior Tommy Hanson spoke on Grant's performance in the classroom, "The basketball team has created sort-of a running joke that Grant has a 7.0 GPA. He's a smart guy on, and off the court and we're happy to have him. But underneath his soft smile and academic intensity, Kaus is warm hearted student who everyone likes to be around. He's a determine, earnest individual who LFHS is lucky to have.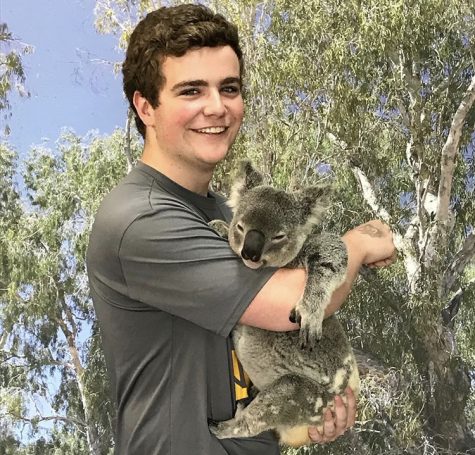 While studying for a test or just roaming the upper commons, there are few things you're bound to hear. Students stressing over college decisions, Mrs. Hektor's friendly welcome, and senior Bill Avery's loud and jubilant laugh are all common echoes throughout the senior study hall. "He'll bring me to tears in study hall, that's how hard I'll laugh. It's just impossible to have a conversation with the kid without laughing," said senior Eddie Scheidler. However his laugh is only representative of the type of person Bill is.
Aside from his hilarious personality, Bill's a standout student and kind friend. "I've been great friends with Bill for as long as I can remember. He's about as loyal a friend as they come and I couldn't imagine the middle school bus rides or college football banter without him," said senior Bobby Winebrenner. He's always got your best interests in mind and aims to just bring a smile to your face. His refreshing persona isn't one to dump stress or worry onto you; rather he looks to escape the stress burden that high school students face and replace it with comical stories that'll have you rolling on the floor laughing.
That hilarious personality is uniquely coupled with an impressive work ethic. Last year, Bill earned his Eagle Scout rank which puts his tremendous determination on full display. For his Eagle Scout project, he built a garden at Deer Path Middle School and paid homage to the place where he spent his early adolescent years. He spent summers at Camp Makajawan and dedicated himself to the tireless craft. It's obvious that Bill exemplifies all the traits needed to earn the prestigious Eagle Scout Award.
The Lake Forest football program requires a great deal of time and dedication that is unlike any other sport or activity. Bill put in everything that was asked of him and then some. A four year contributor on the offensive and defensive lines, he was an integral piece of this year's accomplished senior class. His 110% attitude was rewarded with a coach's award sophomore year which speaks to the type of player that Bill was during his football career: a "no questions asked", do it all guy. Fellow lineman Chase Bahr, who spent eight years playing football with Bill, had this to say about the kind of teammate Avery was: "Through football, I've seen him learn to persevere and push through challenges. I've also noticed that he will never quit, he is relentless and I believe this strong work ethic is in part due to his effort on the football field."
A Scout Nation leader, Bill is a common figure at all sorts of athletic contests. Whether it be watching the field hockey team in the fall or the lacrosse team in the spring, Avery's always there to support his peers and cheer on the Scouts. In the classroom, he's no different. An anonymous classmate shared that Bill "is always there to help with stats homework and helps me understand the material better. He's always lending a helping hand and looking out for others." Whether you need help for a test, advice on the best way to build a fire, or just looking to laugh, Bill's your guy.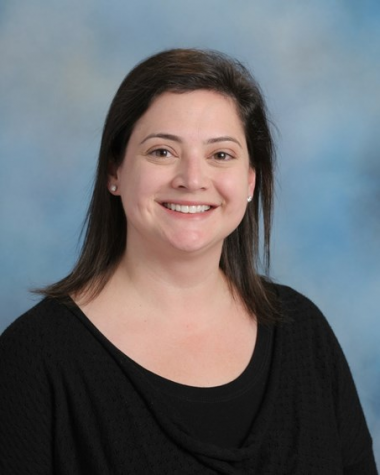 Considered a hidden gem by many of her former students, English teacher Jane Eccleston is one of the greatest assets LFHS has to offer. A Harvard graduate herself,  Ms. Eccleston's unrivaled wisdom and aptitude have allowed her to aid students in achieving their full potential in the classroom for the past 19 years. Senior Claire Mahoney, a student currently enrolled in Ms. Eccleston's AP Literature class, explained, "She encourages us to have meaningful discussions on the books we read and go further in depth. I always look forward to hearing the incredibly insightful things she has to say about the literature we're reading. Ms. Eccleston's temperament has made AP Lit one of my favorite classes."
More important, however, are Ms. Eccleston's honest respect and understanding of each of her student's needs. Mr. Ferges, Eccleston's husband and current LFHS English teacher, echoed these sentiments saying, "Students know they can trust her — she gives each and every one of her students attention and care that fosters creativity and self-assurance in their voices."
It doesn't matter how hard you search, you'd be hard pressed to find a more nurturing and considerate being than Ms. Eccleston. Those who are fortunate enough to have had Ms. Eccleston can surely attest to the warm, and more than willing positivity she carries with her each day.
High school is a time when lots of kids are trying to find their niche, and there's no doubt that Ms. Eccleston's affectionate care has helped a multitude of students recognize and appreciate their own unique strengths. Through Ms. Eccleston, we see a perfect example of how to treat others with both empathy and authenticity.
About the Writer
Ghost, Author
Ghost is a section of The Forest Scout that chooses to publish material anonymously in order to increase the depth of their investigative reporting. Ghost...