NFL Week 14 Preview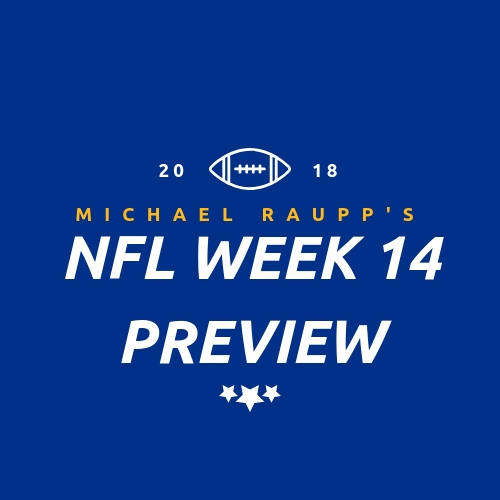 Hang on for a minute...we're trying to find some more stories you might like.
Overall Record (started in Week 2):
106-59-1
Week 13 was full of many tumultuous surprises, to say the least. Even before the games started, the Chiefs moved on from Kareem Hunt after a video surfaced of a domestic violence dispute in early February. After an astounding loss to Arizona, Green Bay fired head coach Mike McCarthy that very evening. The Cowboys upset the Saints on Thursday night, and the Bears lost to the Giants in the Meadowlands. To top it off, the Chargers came back from a 16 point deficit to defeat the Pittsburgh Steelers on the road, moving themselves just a game out of first place.
Last night on Thursday Night Football, the Tennessee Titans pounded the helpless Jacksonville Jaguars. Derrick Henry ran wild, rushing for the most yards in a single game in franchise history (238). He also had the most rushing touchdowns (4) in Thursday Night Football history and was the second player in NFL history with a 99 yard rushing touchdown. Meanwhile, the rest of the slate for this week's games is full of matchups with significant playoff implications. Here is the The Forest Scout's predictions to what will unfold, but as you know, anything out of the ordinary can happen — and probably will.  
New York Jets (3-9) vs Buffalo Bills (4-8)
Noon (CBS)
What was expected to be the second installment between two highly coveted first round quarterbacks, we finally get our first glimpse of the divisional battle between Sam Darnold vs. Josh Allen, a match-up both fanbases hope to see for years to come. Although the season has not gone to script, Sean McDermott's Bills have fought for him each week. Josh Allen ran for 135 yards last week, throwing two touchdowns, but threw two interceptions. Additionally, their defense has played well; they rank second in the league in yards allowed. Meanwhile, the Jets finally get their savior in Sam Darnold back from a nagging foot injury. He still leads the league with 14 interceptions, but does not have the talent around him quite yet. Most importantly in this game, both teams want to see progress from their young teams, especially from the quarterback position. With that said, if the Bills play a clean game on offense, Allen should not have to put too much weight on his defense's shoulders.
Pick: Jets 16, Bills 24
New York Giants (4-8) vs Washington Redskins (6-6)
Noon (FOX)
The Giants pulled off a major upset at home last Sunday, defeating the red-hot Chicago Bears. However, you should not read into it too much, as the Bears were without starting quarterback Mitchell Trubisky. Saquon Barkley has been spectacular for the G-Men, though; before the seasons end, he could break Eric Dickerson's rookie record for yards from scrimmage. Meanwhile, injuries have derailed the Redskins once promising season. Adrian Peterson is still showing his burst at age 33, however, busting out a 90 yard touchdown run Monday night. Regardless, with Mark Sanchez at quarterback, this team stands little chance against any opponent. New York wins with another big day from Saquon.
Pick: Giants 27, Redskins 14
New Orleans Saints (10-2) vs Tampa Bay Buccaneers (5-7)
Noon (FOX)
New Orleans fell flat on their face last week with a lackluster performance on offense. Anyway, to their good fortune, this is the ideal game to turn that around with the well documented struggles of the Bucs' defense. Tampa did force four turnovers last week, but expect this game to be a shootout. Jameis Winston has been better of late for Tampa, however, the Saints will avenge for their Week 1 loss with a compelling road victory. Drew Brees makes amends with Saints fans after a tough loss last Thursday in Dallas, as with a victory, the Saints clinch the NFC South title.  
Pick: Saints 34, Bucs 23
New England Patriots (9-3) vs Miami Dolphins (6-6)
Noon (CBS)
With an Indianapolis loss last week and taking care of business themselves, the Miami Dolphins are back in the playoff hunt. They, along with three other teams, find themselves just a game behind Baltimore for the 6th, and final playoff spot. Simply put, this is a must-win for Miami if they want to realistically give themselves a shot at the playoffs, especially because they have to play the Vikings next week. The Patriots are fresh off the Vikings, shutting them down in Foxborough. As many know, the Patriots have never won the Super Bowl in the Bill Belichick era when having to start from the Wild Card round. A win gives the Pats yet another division title, and Tom Brady will make sure to completely shut the door on Miami's divisional hopes this weekend.
Pick: Patriots 28, Dolphins 21
Baltimore Ravens (7-5) vs Kansas City Chiefs (10-2)
Noon (CBS)
Who would have thought the Ravens would be just a half game out of first place three weeks ago? Well, the answer is not just Lamar Jackson, but more their tenacious defense has wreaked havoc the last three weeks. The Ravens have ran for over 200 yards in each of Jackson's three starts, with the passing game becoming an afterthought. What has allowed the Ravens to play this loosely is because their defense has not given up more than 255 yards in any of their three wins. The rush first attack the Ravens have presented these last couple of weeks is not a recipe for long term success, as Jackson needs to stay in the pocket more to avoid hurting himself, but the Chiefs' defense ranks second to last in yards per carry allowed. Jackson will get his share of long runs, but the Chiefs' high-powered offense will prove too much, as they put up over 40 points in their first game since cutting ties with Kareem Hunt.
Pick: Ravens 23, Chiefs 34
Indianapolis Colts (6-6) vs Houston Texans (9-3)
Noon (CBS)
Ever since defeating to the Colts way back in Week 4, the Texans have gone onto win eight more. After picking off Browns' quarterback Baker Mayfield four times last week, Houston has at least one takeaway during their nine game win streak. On the other side, the Colts need to get the offense back up and running after getting shut out last week against Jacksonville. The schedule does is not too kind either, with Dallas and Tennessee still remaining on the schedule. Andrew Luck will get his offense to play better this week, but the Texans' pass rush, led by J.J. Watt and Jadeveon Clowney, will prove too much for Indianapolis.
Pick: Colts 24, Texans 28
Atlanta Falcons (4-8) vs Green Bay Packers (4-7-1)
Noon (FOX)
For both of these two teams who had playoff aspirations at the start of the year, the season has been nothing short of a disaster. After a disappointing loss on Sunday night, which dashed any realistic playoff hope for the Packers two weeks ago, Green Bay went onto lose to the Arizona Cardinals last week. What was thought to be a sure win turned into the final straw for head coach Mike McCarthy, as his time with the Packers came to an abrupt end. Atlanta too has underwhelmed, if not more than Green Bay. Their defense has been banged up all season long, and the loss of running back Devonta Freeman has eliminated any opportunity for a running game. Nonetheless, this game could still be entertaining. Both teams are still capable of lighting up the scoreboard, especially with Matt Ryan and Aaron Rodgers at quarterback. Rodgers will get the best of Ryan, as this will be a prove-it game to not only McCarthy but to head coaching candidates that he still has the fastball.
Pick: Falcons 28, Packers 34
Carolina Panthers (6-6) vs Cleveland Browns (4-7-1)
Noon (FOX)
After looking like a possible threat to catch the New Orleans Saints just over a month ago, the Panthers have lost four games in a row. Their offense has turned the ball over eight times in the last four games, but have had no help from their defense. After having a rough performance last week, throwing four interceptions, Baker Mayfield will try bounce back in a big way. Additionally, the Browns have forced the second most turnovers in the league, which could play a factor in the way this game unfolds. A win will certainly help in building a winning culture in Cleveland, but they will have to wait another week. Christian McCaffrey takes the game into his own hands and keeps the Panthers alive in the playoff race.
Pick: Panthers 30, Browns 23
Denver Broncos (6-6) vs San Francisco 49ers (2-10)
3:05 (CBS)
Carried by a strong running game, led by Philip Lindsay, the Broncos are alive and well in the AFC playoff hunt. After getting a backup quarterback last week in Cincy, they get yet another this week. Along with the run game, their three game winning streak has been fueled by the play of their defense; the Broncos' defense has forced nine turnovers in the last three games. The only damper to their coming out party is the team lost star wide receiver Emmanuel Sanders, who tore his achilles during practice Wednesday and is out for the remainder of the season. This clearly will be a big blow for their offense, as he is a well respected leader for this offense on and off the field. Expect rookie wideout Courtland Sutton to step up in his absence Sunday along with Philip Lindsay adding to his remarkable rookie season.
Pick: Broncos 27, 49ers 17
Cincinnati Bengals (5-7) vs Los Angeles Chargers (9-3)
3:05 (CBS)
The Bengals are starting to implode more than ever. They lost their starting quarterback for the season last week and now have lost four straight. It is soon to be five straight having to play against Philip Rivers, who has made his way into the MVP discussion after a bizarre comeback win in Pittsburgh Sunday night. Even without Melvin Gordon, rookie Justin Jackson proved to be a spark this team could utilize down the stretch. With a win and a Chiefs loss against Baltimore this Sunday, the Chargers will find themselves tied with the Chiefs for the division lead with another game yet to be played between the two. The Chargers are turning into a scary opponent in the AFC, especially with the defense getting healthy, along with their star rookie safety Derwin James making plays all over the field. The Chargers will blow out the Bengals and move their win streak to three.
Pick: Bengals 20, Chargers 35
Detroit Lions (4-8) vs Arizona Cardinals (3-9)
3:25 (FOX)
As you can see, both of these teams are going nowhere this season. Matthew Stafford has not been the same guy at quarterback, and Matt Patricia has not had the season he wanted in his first year. Meanwhile, the Cardinals have struggled to score points all season, but believe they have their franchise quarterback in Josh Rosen. However, after traveling to a non-inviting environment in Lambeau Field, the Cardinals upset the Green Bay Packers last Sunday. That morale boosting performance shows up in this one, as the defense will put together another polished performance against a much easier opponent. Arizona wins another, and Josh Rosen shows his fanbase there is hope for next season.
Pick: Lions 23, Cardinals 24
Pittsburgh Steelers (7-4-1) vs Oakland Raiders (2-10)
3:25 (FOX)
After two tough losses against the Broncos and the Chargers, the Steelers need this victory to just stay atop of the division. All of the sudden, Baltimore is just a half a game out, and with a Ravens win and a Steelers loss, Baltimore will take control of the division. Thankfully for Pittsburgh, they have the Raiders at the right time, but Oakland actually gave the Chiefs a fight last week. Pittsburgh will be without James Connor at running back, but that will not matter, as they will rip apart the Raiders and hold onto the division lead.
Pick: Steelers 38, Raiders 21
Philadelphia Eagles (6-6) vs Dallas Cowboys (7-5)
3:25 (FOX)
The Eagles were in firm command on Monday night, defeating the injury-riddled Redskins. Even with a banged up secondary, the team has mustered together some important victories after their Week 10 defeat against Dallas to move back to just a game out of the division. The Eagles have done what they have needed to stay afloat in the divisional race, which has not been pretty at times, but the Cowboys will prove too much for them this weekend. Ezekiel Elliott will run all over a vulnerable Eagles' rush defense and the Cowboys wrap up the division with a season-defining victory.
Pick: Eagles 24, Cowboys 31
Los Angeles Rams (11-1) vs Chicago Bears (8-4)
7:20 (NBC)
After New Orleans suffered a surprising loss to the Cowboys on Thursday night football last week, the Rams control their own destiny from here on out. A win Sunday night will guarantee a first round bye for the Rams, and with an easy schedule to finish out the season, leading the league in wins at the season's end is becoming more and more of a reality. So, the Rams' electric offense will just plow right through one of the leagues top defenses, right? Not so fast. With each game down the stretch getting bigger and bigger, rooting against my beloved Chicago Bears is becoming harder to do each week. This is undoubtedly the toughest game yet, but getting Mitchell Trubisky back will keep the Rams' defense on edge. Chicago will need him to get back in rhythm in a hurry if they want to keep up with the Rams, though. Nonetheless, the Monsters of the Midway will make their presence felt yet again, as the bitter cold and the relentlessness from the Bears and their fans will prove to be no match for the visiting Rams.
Picks: Rams 24, Bears 27
Minnesota Vikings (6-5-1) vs Seattle Seahawks (7-5)
Monday, 7:15 (ESPN)
If the Seahawks were not in the same division as the Rams, they would certainly be talked about more than they are. This could all change Monday night, as with a victory, the playoffs are a good bet. Although Russell Wilson has not thrown the ball all that much, he has been efficient, having his best statistical season yet. Meanwhile, Minnesota continues to underachieve in their biggest games to help themselves in the playoff picture. Their stout pass rush will surely slow down the Seahawks three headed monster at running back, and with a win along with a Bears loss, that could mean the Bears and Vikings will play for the division in Week 17. However, the Seahawks and their 12th man will get the best of the Vikings, with Cousins underperforming yet again under the bright lights of primetime.
Pick: Vikings 23, Seahawks 27
About the Writer
Michael Raupp, Staff Writer
Michael Raupp is looking forward joining The Forest Scout as a junior. He enjoys running on the cross country team, watching baseball, and running track...