The spirit of CROYA: Gina Sobhy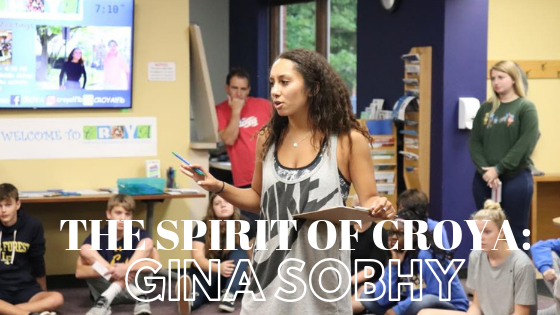 Senior Gina Sobhy has found her niche as Chairwoman of CROYA. Every Wednesday night at 7 p.m. you can find Gina leading her peers in the young adult portion of the Rec Center.
CROYA (Committee Representing Our Young Adults) was founded in 1980 in the heart of Lake Forest Rec Center, and is open to all Lake Forest, Lake Bluff, and Knollwood teenagers. It's a place for young adults to identify and meet their own needs, while learning values that will benefit themselves and their community.
Sobhy has been involved in CROYA since she was a sophomore, when she attended her first fall retreat.
"I went in feeling super hesitant about it but nothing had made me feel more loved and wanted in a while" she said, "It also let me be myself and embrace that."
These retreats are meant to break down stereotypes and provide a break from the day to day struggles of a teenager.
At the end of her sophomore year, Sobhy earned her first job on CROYA's executive committee, and was elected by her peers as a Public Relations Chair. The Executive Committee is comprised of students ranging in age from sophomores to seniors. They meet on a monthly basis to create and plan youth meetings, community service projects, fundraisers, social events, and special projects.
Executive Committee members are elected by the CROYA youth in April for a one-year term. Throughout her junior year she was responsible for spreading the positivity that CROYA stands for through social media and personal encounters.
Former Chairman Spencer Silvernail (2017-2018) led CROYA with a lot of passion and inclusivity- when it came time for the 2018-2019 Executive Committee election, whoever was going to run as Chair had large shoes to fill.
Executive committee member Ashley Bufe had no doubt who the right person would be, "Gina has always been a positive presence in the Croya community so having her as chairwoman was the perfect fit," she said.
Sobhy ran for Chairwoman against two of her peers that had been involved in CROYA since they were in middle school. The Chairperson is meant to embody the spirit of CROYA and welcome people from all walks of life.
CROYA High School Youth Worker Meghan Gayter has worked with Sobhy closely.
"I have loved working with Gina so far this year; she is really organized and put together. She always comes to meet with me to make sure she knows what is going on before each Wednesday night meeting," she said. "She is also really fun and represents the spirit of CROYA and is always really welcoming to everyone who comes."