Friday Five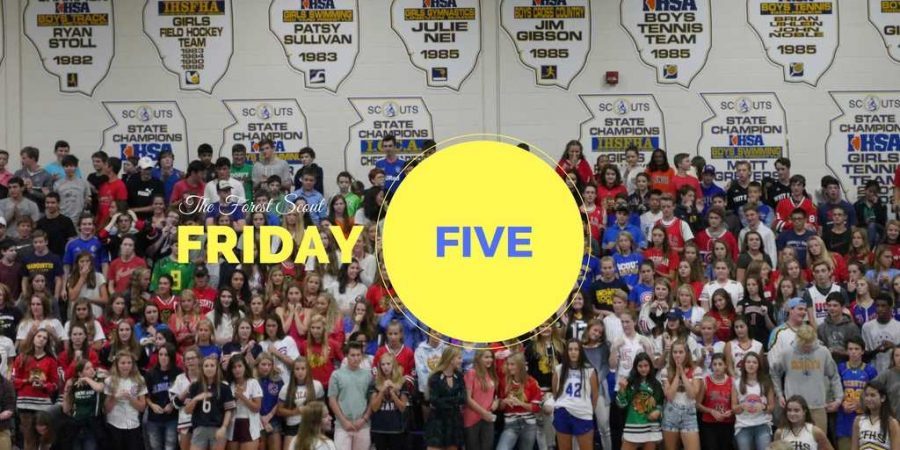 Senior Renee Huang is a hardworking student and team player for her badminton team. She's always willing to help anyone out, despite constantly having her plate full of homework, club activities, and college apps. One of the first things you'll notice about Renee is that she's always on everyone's good side. Everyone has only nice things to say about her, including her friend since middle school Averi Nolan. "She's really hard working, and doesn't care what others think," Averi says when describing Renee. "She's one of the most friendly people I've met." For anyone who's had a conversation with Renee, you'll find this to be true.
"I met Renee my freshman year. I was new to the school and didn't know anyone in particular. So when I met Nadia, she introduced me to her friend group which Renee was apart of," senior Leslie Barranco states. "I think she's very outgoing; she's not afraid to be herself. She's very funny and knows how to communicate her thoughts pretty well." These types of things said about Renee are pretty common with anyone you ask.
She also isn't afraid to put herself out there and create new things that interest her. This is how the Hack Club at LFHS came to be. Renee is the leader and one of the founders of Hack Club and knows how to keep it fun and lighthearted. For anyone interested, Hack Club meets every Thursday after school.
Renee is a hardworking student but also knows how to have fun. If you see her, don't be afraid to say hello! You'll be sure to make an amazing and long lasting friendship.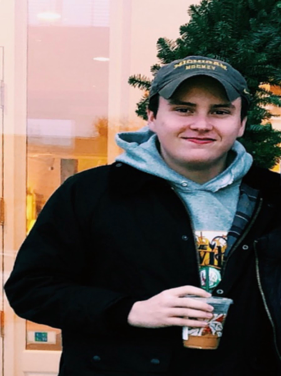 If you haven't had at least one conversation with Max Scholz, you are missing out on corgis, physics, and laughter.
Max is a senior who is dedicated in multiple different areas of his life. In school, he works hard every day in his accelerated classes — AP Physics, AP Calculus, Creative Writing Honors, Humanities Honors, and Law Honors. Scholz aspires to major in physics in college and has been interested in physics since sophomore year. 
However, it is clear that the most important thing to Max is friendship. He's friends with almost everyone he meets, and you can always find him in the hall chatting with multiple different people. He seems to know everyone. His close friends know that he is nothing but loyal to them. "Max is the best person in the entire world. Everyone loves Max, and there's not a bad thing to say about him. He loves to have a good time and constantly makes people laugh," says senior and close friend Abby Lundergan. Max's ability to make people laugh is one of his best qualities — after just one conversation with him, you're likely to leave with your cheeks hurting from laughing so hard.
Max Scholz is one of the best people who Lake Forest High School has to offer. He is enthusiastic about everything he does and has one of the most genuine souls around. Regardless of the situation, Max turns it into a good time. Junior Sydney Fitzgerald says, "Max is probably one of my best friends; he's always been there for me and is probably the most mature and helpful friend I've ever had. He's HILARIOUS, and a super bubbly person. We love the same music so we always share songs together. Overall, he's probably one of the friends that everyone dreams of." All of these words ring true and will always ring true for Max Scholz.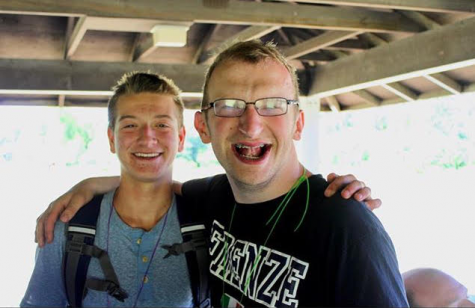 They say actions speak louder than words. That timeless adage, so often repeated throughout society, often goes overlooked and is used seemingly at will. Little do we take the time to realize the validity in such a statement and how our actions are far more revealing of our true character than any words could ever convey. It's the small mannerisms and quirks that make someone unique from everyone else. In the case of junior Andy Brown, his smile alone speaks volumes.
"I can't remember a time when he wasn't smiling," said friend and teammate junior Andrew Levin. "I couldn't tell you why, but it's just part of what makes Andy who he is."
Even after the stresses of junior year take their toll on the rest of the student population, Andy continues to display an unwavering sense of enthusiasm and positivity. That sort of energy and liveliness carries with him in just about each of his endeavors, whether it be on the hardwood for the varsity basketball team, the soccer field for the JV soccer team, or even the classroom.
Over the past few years, the varsity basketball team has developed the tradition of electing a junior member of the team to perform a handshake with each of the starters after the lineup introductions before tip-off. And according to teammate senior Michael Pasquella, there's a reason Andy is just the guy for the job. "Everyone on the team knew from the start Andy was going to be the handshake-guy. I think it's a fitting role for him because he's always putting out a positive, energetic vibe. It's definitely something the team feeds off of."
Outside the sports realm, Andy is heavily involved in Camp Hope, a week-long sleep-away summer camp for young adults with special needs. Being able to give back to others, all while able to have fun in doing so, certainly gives him all the more reason to smile.
Inside the classroom, Andy's infectious personality is matched by his innate ability to solve just about any mathematical problem. Being only a junior in what has traditionally been a senior-populated math class, Andy is able to crunch numbers with ease and coast through AP AB-Calculus as if it is second nature. Senior classmate Bobby Winebrenner commented on Andy's mathematical intelligence, saying, "I am blessed to have Andy in a few of my classes this year. He's a smart kid, puts in the work, and he's only a junior. Many big things to come down the road for the guy.
When it comes down to it, his smile alone tells you all you need to know. No matter what life throws his way, Andy will always come out on the other end, optimistic, unfazed, and best of all, with the same classic smile.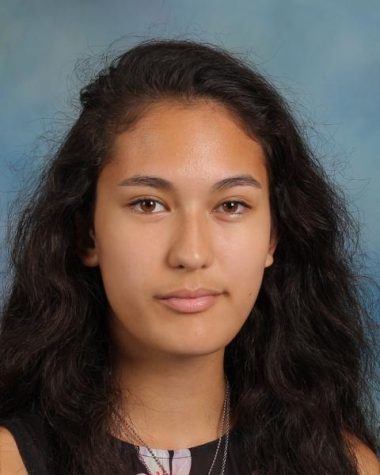 Rebecca Lesperance is a bubbly junior and a warm-hearted person. Her trademark is her long, black, wavy hair a contagious smile. She enjoys being behind the camera capturing photos of her friends.  Josselyn Joanem says that "her photos are really impressive, given she only takes them off her iPhone." She also loves to sing which has earned her a place in Foresters choir.
In the spring, Rebecca runs track and field, but good luck keeping up with her in the fall, running on varsity cross country. This year, she beat four of her personal records! Sophia Bienkowski has been "running with Rebecca for 3 years now on cross country. She came in as a scared little freshman, but now, she she is someone who is not only kind to herself, but also everyone around her."
Rebecca isn't only athletic, but she also knows several languages.  She learns languages in her freetime and is fluent in French, English, Spanish, German, Tagalong, Japanese, and Korean.  Not to mention, her wardrobe is chic and happening. She easily turns the hallway into her runway and can make anything work.  Aside from all of her talents, Rebecca is a naturally kind and caring and is without a doubt, one of a kind.

Sophomore Luke Davis might strike you as a quiet guy when you first meet him, but his friends and those lucky to know him better know there is a witty, intelligent, and fun-loving guy beneath the facade of his calm demeanor. He is an observer– silently taking in his surroundings and waiting for the right moment to speak his mind. And you know every time Luke Davis has something to say– it is definitely worth listening to. Whether it be noticing a detail that many overlooked, a telling clever joke no one else could come up with, or simply going with the flow, Luke finds the intricacies in daily life with ease.
Sports is a big part of Luke's life, as he enjoys playing three high school sports as much as he loves watching them. He is an avid Bear's fan, can tell you every player on the 2018 Georgia Bulldogs football team, and can be found watching soccer on Saturday mornings with his dad. Luke plays soccer in the fall, basketball in the winter, and baseball in the spring. He plays these sports to have fun and be a part of a team, with his favorite sport being soccer. He loves to golf with his friends, carrying his bag over to the Lake Bluff Golf Course from his house to meet his neighbors. One of Luke's best friends, sophomore Charlie Valentincic says of him and their fun times together, "Luke is a great friend and always makes everyone laugh. He's an all around great guy and I'm glad we have had so many fun memories."
Luke is an extremely loyal friend and has created special connections with guys he has grown up with in Lake Bluff. From biking through East Lake Bluff, paddle boarding at the beach, and playing baseball at Artesian Park for years, the friends have done everything together. Long-time friend Wilson Irvin says, "Luke's just one of those guys who is truly up for anything. The majority of my summer days are spent with Luke. Whether it's swimming at the Winter Club, biking around town, or playing wiffle ball, he always makes things more enjoyable."
Luke has a lot of family here in Lake Forest, including cousins who live right down the street. He takes advantage of this as he loves to hang out with all seven of his cousins, as well as his grandparents and siblings senior Will and seventh-grader Annie. Whether it be watching sports together, jumping on the trampoline, or watching a family member's play or sports event, Luke is there to support and have fun with his family which matters greatly in his life. His cousin, senior Emma Graf says of Luke, "Luke is so kind to all of our younger cousins and always makes them laugh! He also has a contagious smile and makes everyone around him smile. Even though he might not talk about it himself, he loves being around the little cousins and having fun together."
Luke Davis is a one-of-a-kind sophomore who is nice to everyone he meets. Although it may be some time before he opens up, you know he is listening, waiting for the right moment to crack a smile or share a funny joke. A hard-worker and an upstanding student at LFHS, Luke has an amazing two years ahead of him as he continues to excel and gain experience from all that he observes.
About the Writer
Ghost, Author
Ghost is a section of The Forest Scout that chooses to publish material anonymously in order to increase the depth of their investigative reporting. Ghost...