Friday Five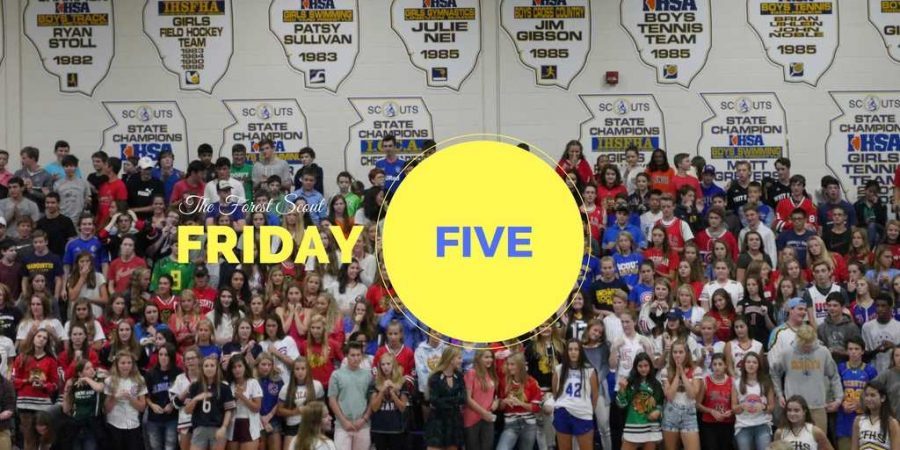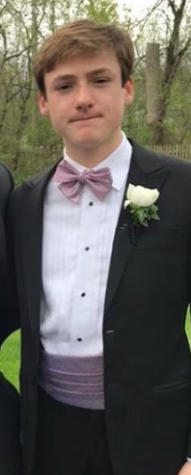 On a snowy and cold day at Lake Forest High School, most students would have a negative demeanor, but Peter Haggerty brings the same positive attitude no matter what the situation is. Peter is a senior at Lake Forest High School and participates on the varsity hockey team. Peter is not only a prominent piece to the the hockey team, but he also excels in the classroom as he is currently enrolled in two AP classes (Statistics and Psychology), and he is a teacher assistant for Honors Environmental Geoscience. Candice Davenport, the teacher for whom Peter helps as TA, had this to say about Peter, "Peter is an excellent TA to my 3rd period Honors Environmental Science class.  He did an amazing job this fall helping the class learn, identify, and remove the invasive species Buckthorn from the bike path as part of the environmental sciences courses which is a 14 year, ongoing restoration ecology project. He comes to class each week prepared to help in any way the class needs.  It is great having Peter as a TA this year." Clearly, Peter has a close relationship with the students he TA's and Mrs. Davenport.
Peter is a key part of the success that the Boy's Varsity Hockey Team has been having this season. Peter has played Lake Forest Hockey for the last four years and his growth as a player and person during those years was one of the key reasons that he was named a captain of the Varsity Blue team last season. A longtime teammate and friend of Peter, Colson Stutz commented on Peter's commitment to Scout Hockey for the last four years, "Peter is one of the most dedicated and hard working teammates I've played with. For the past four years he has been a leader on and off the ice." The team will continue to look for more wins and more goal opportunities for Peter.
Although Peter is both successful on the ice and in the classroom, perhaps the best thing about Peter is his willingness to be a friend. No matter what the circumstances are, Peter is always going to make any position anyone is in more entertaining. He can make a slow-moving day in class go by quickly with his goofy personality and his great sense of humor. Throughout his high school experience, Peter has accumulated many relationships with his peers, one of which is his friendship with Alan Cecherz. Although Alan and Peter met in middle school, their relationship got much stronger through high school. When I asked Alan about why he is friends with Peter, he had this to say, "He is a great guy to be around and turns every situation into a funny one. You can always count on him to make you laugh." Peter has had an exemplary high school experience and looks to continue this success for the next four years of his life in college.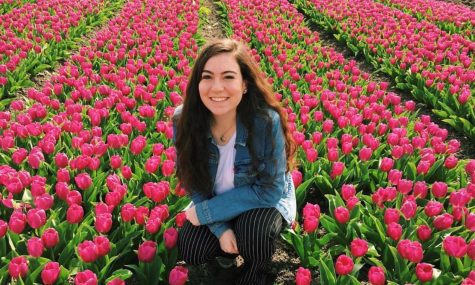 If you have the pleasure to know senior Bella Watters, you know that you will always have fun in your life. Watters is truly a ball of energy once you get her talking. "She is is one of the funniest people I've ever met," friend Cassy King states. "I can always count on her to make me laugh." She also is knowledgeable and passionate about almost anything on which you can get her talking. She is a true friend who isn't afraid to speak her mind. Ask Watters anything and most likely she will share her opinion honestly and with your best intention at heart. She knows how to keep it real and how to keep thing fun.
Bella's adventurous spirit has taken her all over. Something you might not know about Watters is that she took a trip abroad her entire junior year. She went to the Netherlands in the town of Uden. Watters never does anything halfheartedly and went all in. She became fluent in Dutch and created a family over there. "I don't know how to explain it but she just fit right in," her host sister Kim said. "After a while it felt like she had been living here forever." Watters adapted quickly and made the Netherlands a home away from home. "Belke, we all miss you so much here in the Netherlands," Kim exclaimed. "Houdoe en tot snel, je zus." Watters also did many camping trips in her days. She did a two week canoeing trip in Canada, and a backpacking trip in Wyoming even though it was cut short. Her adventurous spirit leads her all over and will lead her to do great things.
She is also extremely dedicated to her school work, friends, family, and her beliefs. She is a vegan and dedicates her life to upholding her belief of animal and environmental conservation and re-life. She also often stays home to watch her brother Satchen and is dedicated to charities like Benny's World. She is dedicated also to her friends, "She always puts her all into anything she does," friend Mary King says. She is also dedicated to her school work. She is constantly challenging herself in school and is dedicated to her college preparations. She will definitely go places.
Bella is the type of person to speak her mind and always gives the sagest advice. She knows what's up. She is dedicated and adventurous and will go far in life. Keep an eye out for Bella Watters in the future and definitely make sure you have at least one conversation with her before she graduates this year.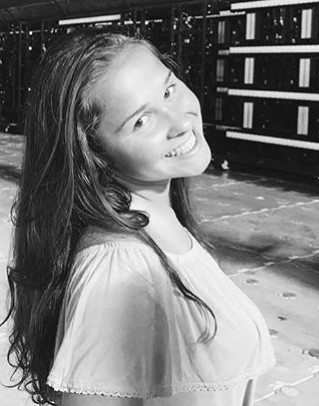 When walking down the halls, you might not notice the reserved, humble, and calm 5'4'' sophomore Molly Fisher, but you should start looking out for her. Time or place, day or night, she is always willing to talk. Once you start to get to know her, the attitude and energy she displays throughout the day is contagious.
While she is kind and unassuming, she leaves nothing to chance when it comes to her grades. Her strenuous schedule makes it difficult, but she manages to make time for everything and everyone. Her close friend Lillian doesn't know how she does it. "Molly is such an amazing friend, not only to me, but to everyone. She's super busy with sports but manages her schoolwork really well on a daily basis." Whether it is the semester ending final or a five point quiz to start the year, she gives it her best, and it translates to all facets of her life.
Only in her second year at the high school, she has already made an impact on the field and on the court. Making Varsity Soccer her freshman year, she got a taste of what it was like to play against some of the best competition in the state, which will only help her in her future years on the soccer team. Most recently, she has cracked her way into the starting lineup on the Girls' Varsity Basketball team. Almost a head shorter than her teammates and opponents, she holds her own out there on the court. Her tenacious defense and sharpshooter-like ability will only help the team coming down the stretch. Her coach, Kyle Wilhelm, has this to say about the point/shooting guard. "She is one of our hardest workers and has a great sense of humor." He went on to mention that when she talks, others want to listen. Her love of sports, she hopes, will turn into a collegiate career of  doing what she loves.
So, if you are lucky enough to know her or if you happen to run into her in the halls (hopefully it doesn't hurt), try to because she is someone with whom you will want to surround yourself.
When you see sophomore Sam Kernahan walking down the halls his smile is contagious! He is always saying "Hi (insert your name here)" to make sure he properly addresses you rather than just a Hey.
Sam Kernahan is a quiet, yet very driven, student. Always ready to start class and absorb all the information needed to succeed, his straight A grades reflect just that. Being on the honor roll last year as a freshman, Sam was always dedicated to staying focused and never letting obstacles come in the way with his education. Junior Catherine Greub remembers having Modern Global Issues with him and "sitting together and chatting daily." In addition, Greub said, "He always gave good advice and was great to talk to!"
Another student in that class, Elsa Goldsberry added, "Sam! Holy cow, we're best friends! He always has smile on his face; he's very helpful, and whenever I needed help in class, he would work it through with me." She was very excited to share information about Sam and what kind of awesome young man he is! As our conversation concluded in the middle of the hall, she yelled to me, "Oh, he also has an extremely funny sense of humor!"
Sam Kernahan plays Golf and JV Tennis for our school during his freshman year. Trip Pierce is not a teammate but has played with Kernahan before. Pierce said,  "He's good at golf; I have played with him before, and actually he's really good." Sophomore Charlie Weisberg said, "I played golf with him and he was a pleasure to play with." Then adding more about Kernahan's great personality, "He's a really caring person, always asks how you are, and always says hi to you in the hall." Kernahan's best friend Jimmy Kuehnle says, "He is also an amazing golfer and tennis player. He always shows me up on the course which is good because he never goes easy on me and always helps me out on my swing or whatever it may be that I need help with."
Another one of Sam's friends, Josie Balmelli, said,  "He's very nice, sweet, always a kind kid and a great team player. He always has great sportsmanship and is very helpful." If there is anything one can take away from Sam Kernahan is that everyone, I mean everyone, I asked about Sam said he was exceptionally helpful! Keep it up, Sam. I'm sure I will need your help one day!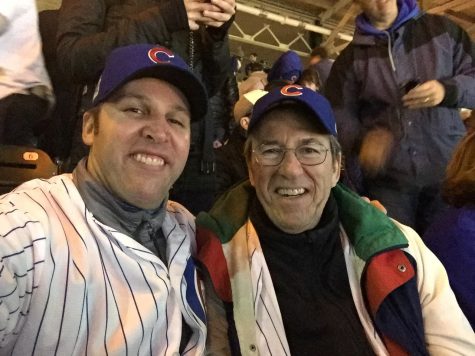 (Ted, Left, and JJ, Right)
Unfortunately, not everyone at Lake Forest High School has had the chance to meet John Johnson. But those who have been lucky enough to be impacted by Johnson would agree that his selfless and caring personality make him such a joy to be around. Often referred to as "JJ" by Lake Forest students, Johnson has a quiet demeanor, but when he speaks, you'll want to listen.
"He's the wisest person I know. Every time he speaks I've got my ears open because I know I'll want to retain the things he says. I can't really say that about anybody else," senior Bobby Winebrenner offered. A Northwestern grad, Johnson's obviously an extremely smart individual who young adults in the community can look up to in a multitude of ways. Many Lake Forest students like Bobby have largely met and spent time with JJ through First Presbyterian Church's youth group and the work trip that they attend. JJ's spent his first week of June in various underprivileged, Midwestern towns for over 20 years on the work trip. He's been an integral part of the trip — which largely consists of building and constructing needy houses — as he spends the days guiding teenagers on how to cut and install a proper piece of wood; he spends his nights as a small group leader sharing his experiences and helping the young adults through theirs. "I went from not knowing how to use a screwdriver to cutting and putting the wood together and using it to install a large portico: mostly cause of JJ," another student shared.
Senior Will Davis added "He's definitely the wisest person. He's one of the best listeners out there and his gentle, reassuring persona is special." Not just a great listener, Johnson's also an excellent speaker. He's gone through a lot and his stories are truly one of a kind. As a soft speaker, he has an innate ability to grab an audience and control the room. It's almost as if there's a general agreement amongst the listeners that whatever he's saying is as important as things come. Everyone could use a bit of JJ's advice and presence, not just young adults.
Sean Kelly, an associate pastor and the Director of Youth and Young Adult Faith Formation at First Presbyterian Church, has spent lots of time with JJ through the church and work trip. "JJ always wants to teach. Any time you ask him a question, he doesn't give you a direct answer, but helps you discern and process your opinion. He often responds to questions by saying 'Well, what do you think?' He's always willing to share and loves spending time with others." It's obvious that JJ embodies what it means to be a good person. Each Sunday he attends morning mass at First Presbyterian and many have noticed certain distinguishable characteristics about JJ which make him so special. For example, Johnson parks about a quarter to a half mile down the street so others can have parking spots closer to the church. Most at the church don't know this as he's not one to mention it to flash his kindness. But you'll see him.
Johnson has been in and around Lake Forest for quite some time. He's raised two children, Ted and Katie, through Lake Forest High School and they both embody their dad's care and thoughtfulness just as you'd expect. Johnson grew up in Hempstead, New York, but made his way to the Lake Bluff/Lake Forest community in the mid 1980's and has lived here ever since. Those lucky enough to have been impacted by John Johnson's kindness and grace would agree that we're all thankful he ended up on the North Shore.
About the Writer
Ghost, Author
Ghost is a section of The Forest Scout that chooses to publish material anonymously in order to increase the depth of their investigative reporting. Ghost...