LF's Evan Boudreaux finds new home with Purdue Basketball
2,076.  That's the school record amount of points Evan Boudreaux scored during his four year basketball career at Lake Forest High School. He finished 3rd in the voting for Illinois Mr. Basketball behind current NBA point guard Jalen Brunson and Charles Matthews, a starter at Michigan for last year's National Championship runner-up. Boudreaux left a legacy at Lake Forest, and he has continued that legacy in his collegiate basketball career.
For Boudreaux, his path after high school has been different than most. After his time in Lake Forest, Evan took his talents to New Hampshire to become a student-athlete at Dartmouth University. Known more for their academics than athletics, Boudreaux was able to have an immediate impact on the court. In 2016, he was named the Ivy League Rookie of the Year and averaged an impressive statline of 17.7 points and 9.4 rebounds per game. He was quickly recognized as one of the premier talents in the Ivy League, and his level of play was clearly higher than most Ivy athletes. During his sophomore season, Boudreaux's numbers didn't drop. The 6-7 forward tallied 15 double-doubles and was crowned the team MVP for the second straight year. Boudreaux single-handedly led his team, and it was clear that he was a major D1 talent. Just before his junior campaign, Boudreaux decided to sit-out the season and graduate from Dartmouth in three years. This way, he would still have two years of NCAA eligibility to play at a different school.
After thought and consideration, Boudreaux initially committed to Xavier University. But just after he made his announcement, Xavier head coach Chris Mack accepted a new job at Louisville. With the switch, Boudreaux changed his mind and announced that he was heading to West Lafayette to join the Purdue Boilermakers. With the transition, he would be competing in the Big 10 against the best student-athletes in the world.
Boudreaux spend the entire summer creating bonds with his teammates and solidifying his role on the team. Although the environment is different, Boudreaux still plays with the confidence he once did at Lake Forest. I caught up with Evan to discuss everything from his expectations at Purdue to his hobbies off the basketball court.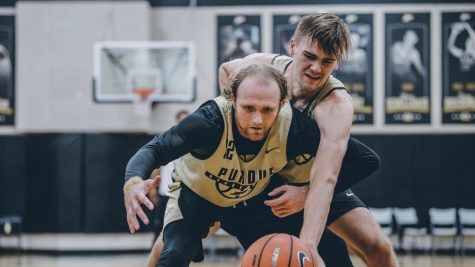 Via (Purdue Athletics )
What is one difference you've noticed playing basketball at Purdue compared to Dartmouth?
"The level of competition is obviously a lot higher; I think you've got an environment that is fully committed to athletics. Not that Dartmouth wasn't, but Purdue really emphasizes how important athletics are at the school."
What your goals for the team this year and where do you see as yourself on the team?
"Our goals are first to win the Big 10 and after that we want to go far in the NCAA tournament as we can; our goal has always been the Final Four. That's definitely where we're at as the season begins. For me, I left Dartmouth because I wanted to win. I want to be a big part of the success here and for me it comes down to the team winning, and the team being successful in any way I can help that out is what I'll do."
How did you graduate from Dartmouth in three years?
"I actually didn't do anything too unconventional. It pretty much entailed me not taking a term off. My sophomore summer I didn't take any time off and last year I took an extra class that put me two credits short. I was able to walk at graduation and I finished up my extra credits this summer while I was at Purdue."
What's one thing about yourself that most people wouldn't know?
"I love golf. I love going out to play 9 or 18 in the summer with my friends."
In his first game as a Boilermaker, Boudreaux scored nine points, shooting 50% percent from the field, contributing to Purdue's 75-56 route over Marian (IN). Saturday night, he finished with 14 points and 7 rebounds in just 20 minutes of play. It's clear the the LF native has found a home at Purdue, and The Forest Scout wishes him the best this year. Boiler up!