The Forest Scout Friday Five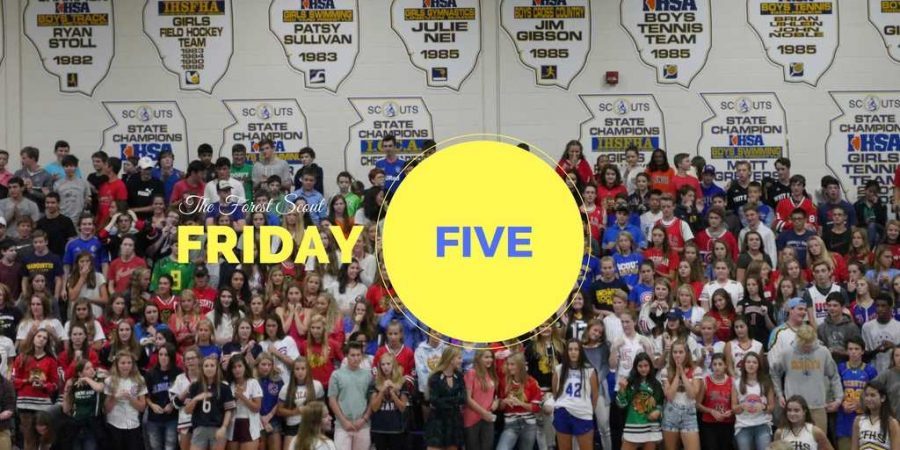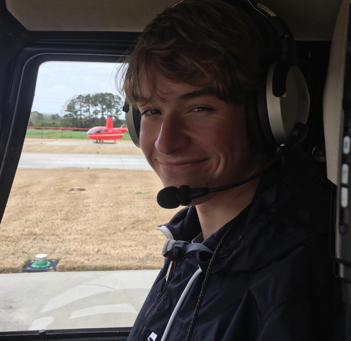 Sophomore Gage Messner is an extremely positive person who is always working hard on the basketball court, the baseball diamond, and in the classroom. He constantly helps those around him and puts everybody in a great mood. When walking in the halls, it's hard to miss his genuine smile as he towers over those around him. Gage always has something nice to say about someone and always focuses on the positives.
Standing at 6'3", Gage Mesner, commonly known as "Sner," will be a key player this year on the sophomore basketball team. Just a year ago, Gage was on the Freshman B team; however, his intense work ethic, great potential, and love for the game led him to be the great player he is today. According to his teammates, he aims to get better every day and learn more about the game, and it has really shown over the past year. "I remember last year when he wasn't really that good, but Sner is actually really good now," said Andy Brown, a junior at LFHS, "He can easily be one of the best players on the sophomore team and I can't wait to play with him next year," Andy said. He is a key offensive player for the Scouts, and his long arms allow for him to grab countless rebounds. On top of this, he is also a great defender, swatting away numerous shots in the paint. "Sner has improved a lot, and he keeps getting better," Andrew Levin said. "He will be really good this year." With the basketball season underway, you can see him help lead the Scouts to victory this winter.
In addition to basketball, Gage picked up baseball as one of his hobbies at a young age. He has three older brothers, all of whom played baseball as well, but Gage is hoping to be the best of the four. Due to his lengthy frame, Gage makes for a great first baseman for the Scouts. His reliability, consistency, and powerful swing is what makes him the great player he is. According to Gage's teammates, he is also a great person to help increase the team chemistry. His teammates rave about his positivity and urge to make his teammates better. "He's a really reliable player," Sammy Long said, one of Gage's teammates. "He's a great first baseman and he's just an awesome guy to have on the team," Sammy said. Gage is constantly encouraging his teammates while also pushing them and making them better. He will definitely have a prominent impact on the team this year, and he hopes to lead his team to victory every game.
In addition to baseball and basketball, Gage is also a hard worker in the classroom. He always aims to be the best and smartest person he can be, and he constantly helps others around him. His positive attitude brightens the mood in every room he is in due to his big smile. He takes his studies very seriously and encourages his friends to do the same. Gage is a hard worker at everything he does and puts forth full effort towards everything. "He really is a great guy," said Will Thomas, one his Gage's teammates on the basketball team. "I look forward to seeing him every day. He always puts me in a great mood," said Will.
Gage comes to school every day with a great smile and a positive attitude and aims to make those around him as happy as possible. Make sure to come watch Gage lead the Scouts to victory this winter on the basketball team, as well as this spring on the baseball team.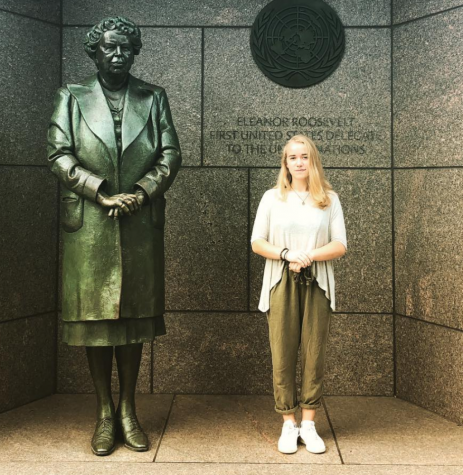 Some people may not be familiar with the name Lorelei Duelli, most likely because she was studying abroad in France for all of last year.  If you would like a glimpse into her experience abroad, her blog is linked here.  
Senior Lorelei Duelli is a movie lover, book enthusiast, director, skier, world traveler… the list could go on forever.  It is unquestionable that her future looks bright and promising. Her closest friends value her selflessness and loyalty; Renee Huang says that  "she is possibly one of the smartest people you may come across, but her lack of arrogance and cockiness is undeniably her best quality."
You can catch her on the slopes in Colorado and Switzerland or camping with her family in Wisconsin.  Her outdoorsy spirit and down to earth personality are sure to keep you grounded.
One of her closest friends stated that, "She's one of the most hardworking, focused and driven people that I've ever met. She continually pushes her own boundaries and strives to do the best for herself and her future. There's nobody that I've ever met in my life who can balance having a social life with the rigor of Lake Forest High School's AP's."Lorelei is someone who is definitely worth getting to know not only because of her brains, but also her humor, quirks, and spirit.
These are what makes her so special, and she will surely bring out the best in you.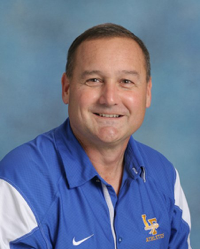 Most students at LFHS groan when they're required to take a gym class. But for the few lucky students, your long morning can be turned around with the positive spirit of one person: Mr. Chris Morehead. As an Assistant Athletic Director and Department Chair, Morehead perfectly represents Lake Forest High School. The positive energy he brings to gym classes every day makes him different from most Phys Ed teachers. Morehead encourages his students to have fun no matter what they're doing. Senior Brady Christoph called him, "One of the best gym teachers I've ever had. He's always getting involved." Mr. Morehead is personable and always willing to help out his kids. It's easy to tell that he truly loves coming to work every single day.
Positioned along the sidelines of nearly all Scout events, you'll find Mr. Morehead cheering on the Scouts. He's supportive and committed to Lake Forest athletics more than anyone else. Whether it's a warm field hockey game in the fall or a chilly baseball game in the spring, Morehead is there. Not only this, but he supports all Scouts sports. He doesn't care if you're the starting quarterback of the football team or a freshman fighting for a roster spot- Mr. Morehad appreciates you.
As a former gym teacher at Lake Bluff Middle School, Morehead has made his presence widely known. I've heard a number of stories of his participating with his students. Last spring, the varsity basketball team held open gyms where athletes could come in before school to play pick-up games. As usual, the kids huddled up to create their teams when a familiar face walked into the gym. According to senior Tommy Hanson, Mr. Morehead strolled in ready to play. Most people thought he wasn't in shape to compete with athletic 18 year olds, but it was just the opposite. Morehead was hitting shots left and right, dominating the game and showing the young guns that he still had it. On one play, Morehead rushed to the corner for a wide open 3-pointer. As he stroked it, he calmly ran back on defense knowing the ball was going in. So if you're ever playing basketball with Mr. Morehead, make sure he's on your team or you'll regret it later.
Not only has he made an impact on his students, but he has received high-praise from his co-workers. Varsity Baseball Coach Mr. Del Fava commented, "Mr. Morehead is extremely supportive of all coaches. He's always looking out for what's best for our athletes." He puts everyone before himself and accepts everyone. Mr. Morehead has made an impact on every student he's had in past, and he will have an impact on every student he'll have in the future.

High school dances, for the longest time–at least for the male demographic–have been categorized by khaki pants, a simple button down, and most likely the same sport coat worn for every special occasion for the past several years. However, if you're anything like senior Luca Pasinato, the status quo just isn't enough. In its place, Luca sports looks such as his sharp burgundy suit from Zara or his floral printed blazer. Yet, Luca's unique sense of style says more about his lively personality than his taste in fashion.
"He is always high in energy in everything he does," said lifelong friend of his, senior Chase Bahr. "Whether it's on the football field, in the weight room, in the classroom after a test, or just any given moment during the day, his personality is always bouncing off the walls."
So as Luca's fashion breaks apart from the typical homecoming ensemble, his outgoing, infectious demeanor separates himself from the monotony of everyday life. But what truly makes Luca his loud and extroverted self is largely in part to his entertaining yet relaxed sense of humor. Whether it be through his spot-on impressions, somewhat random jokes that leave you belly-laughing, or his rather tasteful dance moves, Luca can effortlessly brighten the day of just about anyone to cross his path. At the same time, Luca is one of the most loyal and considerate friends you could have. Chiming in on Luca's distinct personality once again, Chase Bahr added, "Obviously, he loves to joke around. But through thick and thin, he's got your back. There's no two ways about it."
Aside from the characteristics that make him the fun and animated person we all know and love, Luca is about as well-rounded as they come. Having spent the past four years of his life as a dedicated member of the Varsity Football team, Luca has still found time to spread his athletic abilities across the entire sports realm, wrestling for the Scouts in the winter and finding any time in between to hit the weight room. Not to mention, he has recently been a part of the team building up the newly-established Future Business Leaders of America Club.
All in all, you'd be hard-pressed to find someone more genuine and diverse as Luca. From the way he cleans himself up for the big dance to the way he presents himself on a day-to-day basis, Luca's impact and overall way of life is sure to leave a positive mark on those around him. Senior Eddie Scheidler, one of Luca's closest friends, sums it up best. "Luca is truly one of a kind. In the span of two minutes, he can make me laugh, offer me some advice, and teach me a thing or two about men's fashion. I can't remember the last time someone's ever managed to do all of those things in such a short amount of time. Just goes to show how special a guy he really is."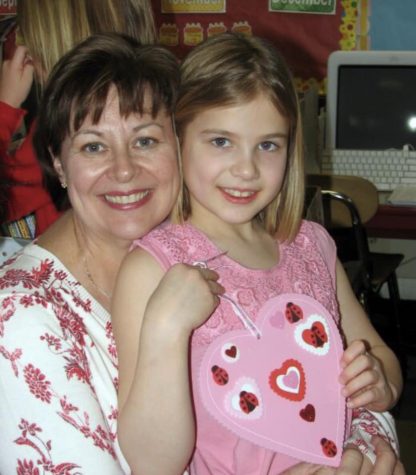 Carrol Stovold is a kindhearted, bubbly woman who any person would be lucky to know. She has made a large impact on LFHS and especially the cheerleading program. From advice, motivation, to warm hugs, Stovold is always there with a helping hand to all the girls on the team.
"Mrs. Stovold is a huge part of the team. She goes above and beyond to provide us with whatever we need from hand rhinestoning our uniforms to traveling to away games with us. She's easy to talk to, super fun and knows exactly how to pump us up. We are so lucky to have her," said fourth-year cheerleader, Caroline Theis.
Stovold gives hours of her time to the Cheer Program. She attends every game, home and away, and every competition. She makes her presence noticed screaming out names along with LFHS chants. If at any time you see the cheerleading team, you are bound to see Stovold as well. The program truly wouldn't last a week without the love and help from Stovold.
"She treats me like her daughter: inviting me to dinner, always offering to help, and being a motherly figure. She is the main reason cheer is as successful as it is," said junior Allie Lotts.
Before every competition, Stovold comes to practice with a box of goodies for the team, ranging from superstitious lucky socks to lollipops and gum holding motivational sayings. These creative treats always get rid of any nerves we have for the next day.
"Mrs. Stovold is one in a million!  She is the ultimate Team Mom who devotes her time and energy into making the cheer season the best for all.  Her love for Katie and her teammates shines through in everything she does. She is the creative genius behind the Cheer Program making sure every cheerleader has the perfect cheer bow, rhinestone uniform, and awesome locker decoration," said head varsity cheerleading coach, Debbie Vargas.
Stovold never fails to make the team look the best they can. Season after season she has an entirely different design for our bows.
"Her leadership and organization of the major events of the Season is instrumental in making each a huge success.  It is safe to say that all of us – Cheerleaders, Cheer Families, and coaches are thankful to have Mrs. Stovold as OUR Team Mom!!" said Vargas
After everything Carrol Stovold has done for both JV and Varsity Cheer, she has decided that she is going to continue to help the program for many more years even after her daughter, senior Katie Stovold, graduates.
About the Writer
Ghost, Author
Ghost is a section of The Forest Scout that chooses to publish material anonymously in order to increase the depth of their investigative reporting. Ghost...