What you need to know about the midterms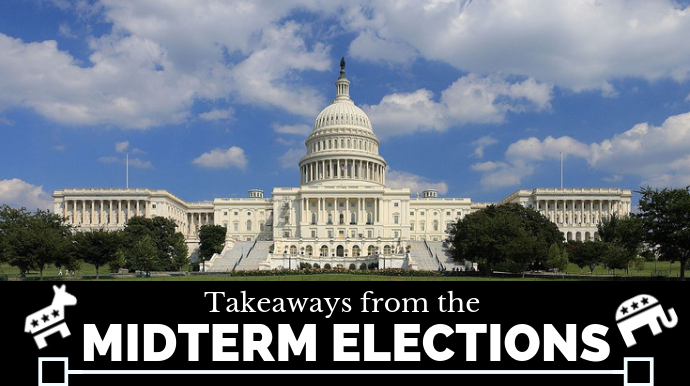 Ghost, Forest Scout staff writers
November 8, 2018
After months of talk and bad political commercials, the midterm elections are finally over. But that doesn't mean we are any more certain about what the next two years will look like.
Here are five of the biggest takeaways from Tuesday's election.
Democrats take House, Republicans keep Senate
In one of the most talked about midterms in memory, the Democrats ended up winning back 29 seats in the House to regain their majority and now control half of our country's legislative branch.
The Republicans, on the other hand, strengthened their control on the Senate by winning enough races to take a 51-46 majority. Three senate races (MS, AZ, FL) have yet to be called but all three are definitely leaning towards the Republicans.
"It's too early to tell what the effect will be. The Republicans still control the majority of branches with the presidency and Senate but now the Democrats have an intra-legislative check with their control of the House," AP Government teacher Cheryl Kyrias said.
In a political climate characterized by emotion and divisiveness, it will be interesting to see how each party responds to a divided legislature.  It could go one of two very opposite directions: complete opposition and heavy conflict, or a move towards some collaboration and bipartisanship. This country is in need of the latter so it will be important to keep an eye on this in the coming months.
Higher turnout
Early numbers show some serious turnout on Tuesday, with 2018 being the highest midterm turnout since 1990 for the state of Illinois, and the highest nationally since 1966.
About 47 percent of voters nationwide cast a ballot, compared to just 37 percent for the last midterm in 2014, according to NPR.
"I am hopeful because so many people went out and voted and made their voices heard," Art teacher Jennifer Thomas said.
A higher youth turnout and more media attention may have contributed to the increased interest in the election.
"Honestly, I think that a lot of it had to do with media and advertising. As most people have seen, Trump has consistently bashed different publications and news sources so a lot of those publications really focused on encouraging voters to get out and to make a change during this midterm. In the technology age, I also think there was a surge in younger voters who wanted the opportunity to express their opinions and do their part in this democracy" said senior Will Davis, who participated as a Highland Park election day voting officer.
Record number of women elected 
Perhaps spurred by the #metoo movement, an historic number of women were elected to Congress this week.
According to ABC News, 110 women were elected Tuesday. While it's a record high, women still represent only about 20 percent of Congress.
"It's good to see more voters out, as well as more women and people of color on the ballots. It is also important to restore some checks and balances w/ the House now blue," English teacher Amy Lyons said.
About the Writer
Ghost, Author
Ghost is a section of The Forest Scout that chooses to publish material anonymously in order to increase the depth of their investigative reporting. Ghost...