Q Firing Sends Message
Welcome Back to 2008, Hawks Fans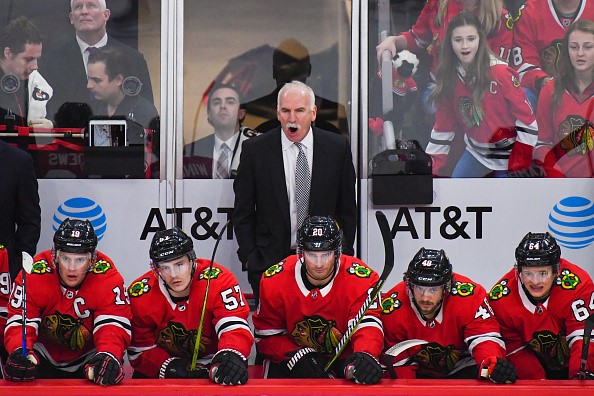 Hang on for a minute...we're trying to find some more stories you might like.
The Blackhawks craze era and "Ice Age" that Chicagoans know and love has been confirmed to be an era of the past with an abrupt and quite immature decision on Tuesday morning.
The Chicago Blackhawks announced that head coach Joel Quenneville, along with assistants Ulf Samuelsson and Kevin Dineen were fired from the organization, effective immediately.
The Blackhawks hired Joel Quenneville in 2008. Quenneville promptly led Chicago out of the darkness to a golden era of hockey, overseeing 452 regular season wins (second most in team history), 76 playoff wins (most in team history), nine playoff runs (all but the 2017-18 season) and three Stanley Cup Championships.
Until Tuesday morning, he served as the longest active tenured head coach in the National Hockey League, and is the second winningest coach in NHL history with 890 wins, only behind Scotty Bowman, who won 1,244 games and nine Stanley Cups as the head coach of the Montreal Canadiens, Pittsburgh Penguins, and Detroit Red Wings. Bowman has also been involved in five more cup runs in front office positions, the most recent three being with Quenneville, the Chicago Blackhawks and his son Stan Bowman, the general manager. Scotty Bowman is still currently the Senior Advisor of Hockey Operations in the organization.
A relative valley in his tenure recently, with his only missed playoffs, a 6-6-3 start and a five game losing streak was the justification for firing Quenneville. And considering his otherwise mountain of success, it was no surprise the decision was quite controversial amongst players, analysts, and fans.
Ask any resident of the Chicago area, and even ask fellow students and staff at Lake Forest High School, and they can tell you about the craze that was the Blackhawks during those three cup runs in 2010, 2013 and 2015, with exciting playoff runs throughout.
The Hawks were living on the peak of a rebuild from the dark Bill Wirtz ownership, in which an ignored franchise soon became revolutionary for sports in terms of on-ice success and previously unheard of off-ice brand resonance, resetting the standard for sports organizations, and in every aspect.
This era, led by owner and chairman Rocky Wirtz and president John McDonough was not only among the great eras of Chicago sports (80s Bears, 90s Bulls, late 2010s Cubs) but among the great dynasties that pioneered a new wave of successful franchises across the country, including the most recent of those Chicago sports eras, led by the likes of Tom Ricketts, Theo Epstein, and Joe Maddon. In this time, the Hawks retaught the sports and business world how to run a team and a brand.
The Chicago Blackhawks maintained this reputation for being the most reliable and well-oiled machine in pro sports in this decade, and the abrupt midseason move Tuesday has launched the franchise into a reprehensible step back from this reputation, considering the undeniable role "Coach Q" played in building it on the ice.
In response to the firing, the Blackhawks called up young AHL affiliate Rockford Icehogs Head Coach Jeremy Colliton to replace Coach Q, and Colliton is now the youngest active head coach in the NHL.
With November being the second month of the NHL season, half of a promise by President John McDonough to keep Bowman's GM job and Q's head coaching position intact for the 2018-19 season has been broken rather quickly.
"I want them to succeed. There have been some circumstances that transpired this year that were out of control. Their commitment…[and] their work ethic has never been stronger. Their passion is there, and I believe in both of them. The respect in that (locker) room for Joel is incredible…and there might be some things that Joel is going to fine tune, as well, going into next season…I certainly don't feel our players have tuned him out," McDonough told Chicago Tribune reporters in April.
"
Thanks for everything, Q. And I mean that sincerely. I wish more important people did too."
This rapid change of behavior in seven months leads toward many questions of reasoning, and it is easy to conclude the actions of the Blackhawks management on Tuesday are impulsive and inappropriate, especially in regards to timing.
Most importantly however, it is sad for the average Hawks fan. It is now becoming overwhelmingly clear that the glory days have left town and depressingly, Chicago has begun to return to aspects of their on-ice demons that existed prior to Coach Q's arrival, in the Denis Savard head coaching era. They are now a shell of what they once were in the golden era, with some oddly familiar circumstances.
In 2008, following a period and previous year of atrocious hockey, all highlighted by a famous postgame rant given by Denis Savard following a loss to the atrocious-er Columbus Blue Jackets, Savard was fired. This was also shortly into the season, and also abrupt. "I'm proud of what I accomplished, I really am. I understand the nature of the business. Our expectations are high, and they probably felt it was better to hire somebody else. I'm disappointed but I've been with this team for such a long time that I want them to do well," Savard said to the Tribune after his firing.
It is not a stretch to find the nature of this situation to be creepily similar to the one we are currently facing with Joel Quenneville. The high expectations, the rapid early-season firing, the front office insecurities…all of it.
I recognize the absolute craziness in this comparison – actually, I encourage you to see that – but the fact that I have the merits to fairly make that comparison is precisely the problem. There is no reason why the Chicago Blackhawks – of all teams in this time – should have a lack of institutional control reminiscent of those dark years.
There is a fundamental and undeniable difference to now and ten years ago however. That difference is the success with Coach Q that quickly followed the tumultuous times of 2008, that dwarf Denis Savard's coaching accomplishments (no disrespect to his incredible accomplishments as a player).
Savard finished his Blackhawks tenure with a losing record and no playoff appearances, and received similar treatment in his firing as the firing of the following head coach in Quenneville, who brought that team to the Western Conference Finals in only the following year, let alone all of the legendary stats above. That's crazy that these two coaches even have that connection. Savard put together a reputation that deserved such a firing, and Joel Quenneville's is incomparable to that reputation.
There is no on-ice reason in te world that these two coaches should be fired in a similar manner.
As both a sportswriter and Blackhawks fan, I find this to be injustice and an unacceptable way for this kind of coaching tenure to end. It's just not fair. Soon, the Blackhawks front office may find themselves to be in the same place that many less loyal (and even some more loyal) Hawks fans find themselves in on occasion – a place of regret that they took Coach Q for granted. Since it is clear there are probably some selfish motivations behind this move as well, it just makes a bad situation taste even more bitter.
The most that we can do now as fans is give Joel Quenneville the recognition he deserves, let that resonate for the rest of the season as young Colliton leads this team, and let that resonate into a certain office of a powerful GM at 1901 West Madison Street.
Thanks for everything, Q. And I mean that sincerely.
I wish more important people did too.
This article was written by Joey Goodsir in collaboration with friend in lifelong Hawks Fandom Mark Smirnov.
Photo Courtesy: Patrick Gorski/Icon Sportswire via Getty Images
About the Writer
Joey Goodsir, Editor-In-Chief
Although Joey is astounded it is his senior year, he is excited to be writing and editing at The Forest Scout for a second year - this time as an Editor-in-Chief....