Joey Goodsir looks at the weekend in college football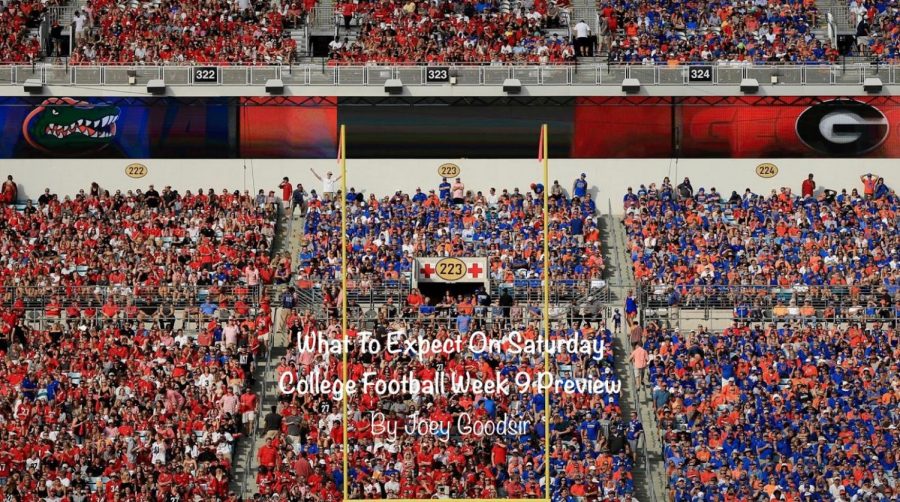 After this week's slate of games play out, thirteen College Football Playoff Committee members will do away with the relevance of the AP Poll for 2018 in favor of the year's first release of their rankings, which will proceed to be selected each week on out to eventually determine what December and January will look like, especially in regards to the four team playoff.
Those will be revealed next Tuesday, but a Saturday stands in the way with some of what CFB does best, classic yet crucial matchups. Few other sports have that as a complete truth, which means that this week is what gives this sport an identity. If I were you, I would not want to miss it.
Before we jump right into Week 9, let's take a look back at a memorable day of games…
About Last Week…
There is a certain pageantry in this sport, and it was shown in full force last Saturday. College GameDay greeted "Good Morning" to the CFB world in front of a sea of Washington State flags, rivalry trophy games were in action, inspiring stories were told, fields were stormed, and goalposts were at least tempted to be torn down. The passion of college football was at a maximum.
I went 7-1 (87.5%) last week, which puts me at 59-24 (71%) overall, with Ohio State's annual horribly-underperform-to-an-inferior-team loss at Purdue being that one game in the loss column. OSU quarterback and probable Heisman Trophy candidate Dwayne Haskins had another impressive game of over 400 yards, but fell far short of a victory over a middle-of-the-pack Big Ten team.
Michael Raupp had another loss last week as well, with Jim Harbaugh and Michigan proving him wrong in a big ranked rivalry game on the road. You will not hear from Michael this week as UM is on a bye week. However, I highly encourage you to check out the previewing he does for all those sleepy Sundays that follow the GameDays I preview so deeply here, including his current coverage of NFL Week 8 right here on The Forest Scout.
Time to preview Week 9, starting with the first kicks of the day, most specifically…
Noon Game of The Week:
#2 Clemson @ Florida State
Quick Essentials
When: 11:00 CT
TV: ABC
Rain (Above 40%)? Welcome to Florida.
Where: Doak Campbell Stadium (Tallahassee, FL)
Series History: Clemson 31-14 in 2017 (Clemson leads 20-11 all-time)
Remember this game? All the hype that surrounded it every year? The College GameDay appearances? Jimbo vs. Dabo? Battle for ACC Power? All of that?
Unfortunately, those times have quite abruptly faded away for Florida State, as Jimbo Fisher left the job to become the head coach of Texas A&M, and his replacement in an offensive-minded Willie Taggart has still been behind on putting together an offense, with a quite dismal season over all.
The Clemson Tigers, however, still contain that glamour they had. This team has been essentially floating to an undefeated season, with all of their biggest scheduled threats behind them. While by far the biggest monsters linger in potential future games (CFP, etc.), Clemson seems to have a clear path to at least get invited back into that exclusive club of four teams.
What does this mean, you might ask? It means that Tallahassee is going to be awake for this noon game, and the home environment (most importantly the Seminoles themselves) will be ready to give Clemson the unthinkable.
This nothing-to-lose mentality will serve FSU as well as it has for many other teams who have pulled off big upsets this year, and will force a momentarily subdued Clemson team behind them. Don't get your hopes up too quick though, as in the end the more developed team will prevail in a clearly resolving manner. Quarterback Taylor Lawrence remains a solid threat to the whole College Football world, and will take care of business against Florida State to start off the Saturday.
Clemson Wins, 41-21
Other Noon Games of Note:
11:00 CT:
#20 Wisconsin @ Northwestern (FOX)
Purdue @ Michigan State (ESPN)
Texas Tech @ Iowa State (ESPN2)
Afternoon Game of The Week:
#9 Florida vs. #7 Georgia
Quick Essentials
When: 2:30 CT
TV: CBS
Rain (Above 40%)? Once again, welcome to Florida!
Where: TIAA Bank Field (Jacksonville, FL)
Series History: UGA 42-7 in 2017 (UGA leads 50-2-43 all-time)
An abundance of rivalries is in many ways what characterizes this sport, and out of all of them, this one just might be the most fun.
Formerly (but most famously) nicknamed "The World's Largest Outdoor Cocktail Party" for its legendary tailgates, the Gators and Bulldogs meet at the Florida/Georgia line to claim bragging rights in the far southeast.
This year's edition of the showdown features a powerful Georgia team that remained unstoppable…until they were more than stopped at LSU a couple weeks ago.
Since then, the Dawgs have had a bye week to regroup and prepare for what will be a hefty matchup with a Florida team that came out with an increasingly-valuable win against those same Tigers that UGA fell to.
Because of this crucial win, Florida has experienced a surge up the rankings, and a solid follow up against Vanderbilt last week working in conjunction with crucial shifts in the rankings have allowed the Gators to find themselves in the top ten. This game will be the time for Florida to make the largest national statement they can. Regardless of their ability to make that statement, the results of this battle will resonate vividly.
The playoff environment of this neutral site game will bring out the best of both teams. Expect a great performance from rising Florida quarterback Feleipe Franks, despite a strong Georgia defense.
This game will be one of the most exciting ones this year, with a lot of back-and-forth in the cards. UGA will take the edge however, with stronger tools all around. Although Jake Fromm was a large part of UGA's suffering two weeks ago, with an inability to hit his targets, the frustration from such a performance from a solid quarterback will procure a high quality performance from him in this game. That and a pounding defense will make the difference.
Georgia Wins, 38-24
Other Afternoon Games of Note:
2:30 CT:
#18 Iowa @ #17 Penn State (ESPN)
#21 South Florida @ Houston (ESPN2)
Night Game of The Week:
#6 Texas @ Oklahoma State
Quick Essentials
When: 7:00 CT
TV: ABC
Rain (Above 40%)? Nope.
Where: T. Boone Pickens Stadium (Stillwater, OK)
Series History: OSU 13-10 in 2017 (Texas leads 24-8 all-time)
You've heard the phrase uttered by talking heads around the nation for weeks on end: "TEXAS IS BACK TEXAS IS BACK TEXAS IS BACK", they said.
And are they wrong? The Longhorns have won quality games over Baylor, TCU, and most prominently the Oklahoma Sooners in what will end up being a very crucial result. Games are being won comfortably for Texas at this point.
This is the perfect setup for the raucous environment in Stillwater, Oklahoma to take unexpected control. Few places get louder, and they will be beyond 100 percent on a night like this and with a matchup like this. Prior to taking on the Sooners, the Cowboys are going to have a deep desire to get the first step ahead in state bragging rights for Oklahoma this week.
As far as the team itself, OSU has flirted with the AP Poll for weeks on end, but has been unable to maintain a spot as all possible key victories have slipped out of their hands. This will be one of their last chances at breaking into a rankings surge, and the effort will demonstrate that.
This game will be razor tight on Saturday night, but the simply increased productivity the statistics have shown in regards to yards for Texas gives them the tiny push they need to pull off the win, especially when compared to opposing themes in the Oklahoma State offense.
Texas Wins, 31-20
Other Night Games of Note:
6:00 CT:
#14 Washington State @ #24 Stanford (PAC 12)
#16 Texas A&M @ Mississippi State (ESPN)
Late Game of The Week:
Hawai'i @ Fresno State
Quick Essentials
When: 9:30 CT
TV: ESPN2
Rain (Above 40%)? Nope Nope.
Where: Bulldog Stadium (Fresno, CA)
Series History: Fresno State 31-21 in 2017 (FSU leads 27-1-22 all-time)
The late night game for CFB fanatics features a crucial matchup out in the Mountain West, with both teams fighting for a share of the top spot in the West Division.
The Fresno State Bulldogs have dominated this showdown in years past, including a win last year in Honolulu, but this just might be the kind of hype Hawaii needs for an upset.
Most notably, ESPN College GameDay's Kirk Herbstreit made mention of Fresno State this past Saturday in a UCF-filled conversation about group of five powerhouse teams. The Bulldogs have some attention, and it's going to be time for them to use it positively.
Hawaii has had their fair share of wins in the past week, but last week the Rainbow Warriors (glad I got to use this name in a preview) suffered a loss at the hands of Nevada. It is no secret however that Hawaii has historically been able to make weird things happen as underdogs against Fresno State.
This game will be a huge performance for Fresno State in their route toward a widely successful college football season. I firmly believe that Hawaii will have defensive setbacks that will not only allow the Bulldogs to make plays, but put the Hawaii offense into an increasingly deeper hole.
Fresno State Wins, 34-13
Enjoy your Saturday, everyone!
Weather Source: weather.com, Photo Courtesy: georgiadogs.com
About the Writer
Joey Goodsir, Editor-In-Chief
Although Joey is astounded it is his senior year, he is excited to be writing and editing at The Forest Scout for a second year - this time as an Editor-in-Chief....