Forest Scout Friday Five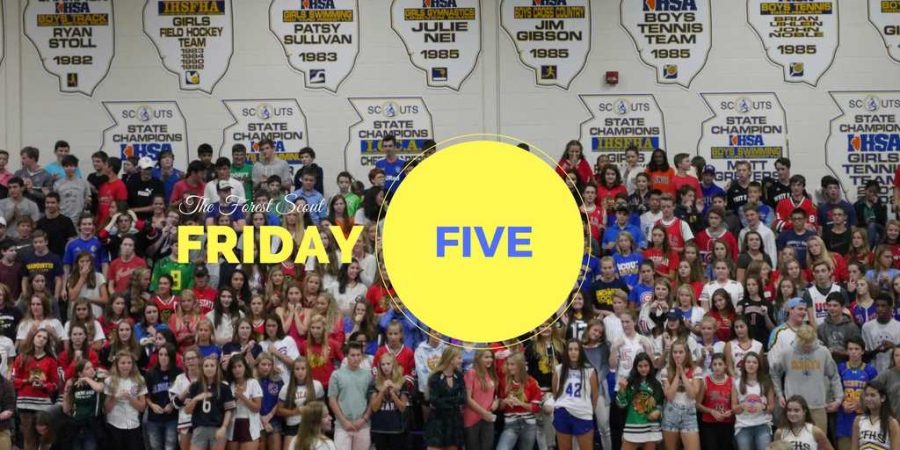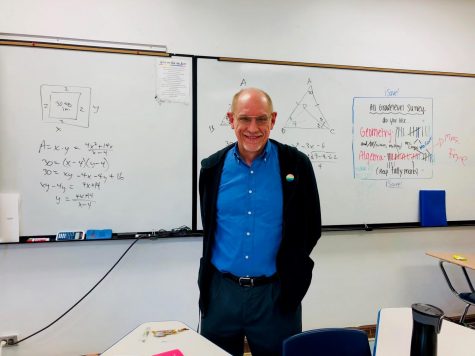 Room 206 includes gigantic fish tanks, bottomless bowls of candy and a teacher with a fiery passion for math.
If you have ever had trouble completing the square or finding the derivative of a function, chances are you have conferred with math teacher Jim Mergl in the Math Resource Center.
Mergl works with students in the resource center all eight periods of the day. He is determined to help students understand even the most challenging concepts.
His work with the Environmental Club teaches students what it means to be environmentally conscious. Mergl has been gardening for over 25 years and integrates various plants and fish into his classroom.
While some teachers fail to acknowledge the stresses teenager face outside school, Mergl expresses genuine concerns for students and strives to build a personal connection with them.
Junior Julia Fiordaliso said Mergl is approachable and personable.
"Mr. Mergl is way different from other teachers. He's not only there to teach you academically, but he's also to teach you about life. He's given me countless advice about so many different things, and he is willing to listen every time," said Fiordaliso.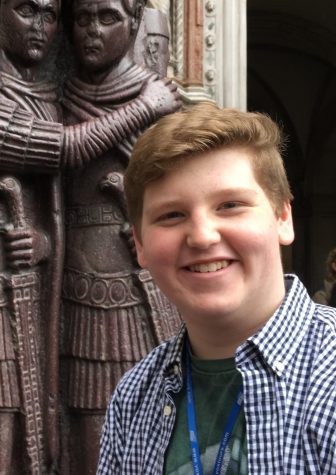 When it comes to people who are extremely talented, there are two groups: the people who rub their talent in the faces of others less able, and the people who selflessly use their talent to better those around them.
Senior Adam Clayton falls into that second group.
Renowned across the country for his voice, Clayton is the gold standard for tenors. During his middle school years he was selected to sing in the National Choir in 6th grade and again in 8th grade. In high school he has performed with the ILMEA District and State Choir multiple times. He has also sung with the Midwest Young Artists recording group VX.
But his gifted vocal talent hasn't made him cocky or entitled. Instead Clayton is a genuinely good guy who cares for everyone around him.
"You'll never find anyone else as completely interested in what's going on in your life as Adam," senior JT Kirages said.
And whether those interests are music, theater, service, basketball, or guitar Adam is always willing to listen. In fact he'll probably share his opinions on these matters as well, but in a way that doesn't seem condescending or combative.
His talent for listening is only rivaled by his talent for leadership. He inspires confidence in a group. When he walks into a room, everyone suddenly feels more confident in what they're doing. Just ask the Forester tenors.
Or the bell choir.
Or the casts of fall play and spring musical.
In each of these places Clayton brings his leadership and the group is always better off because he's there, but he would never be the one to admit it.
"Even though Adam has more talent than the rest of us combined, you'll never hear him talk about it," senior Jake Koefelda said, "He's such a genuine dude who exudes happiness."
He is one of the most humble people. He doesn't seek attention, but instead looks for people he can give his attention to.
Senior Bryan Kingsley calls Clayton "the most kind and honest human being I have ever met."
Many of his friends would second that opinion.
"I first met him in middle school, but we didn't really become good friends until high school," Kingsley said, "I can safely say I have nothing but appreciation and respect for him."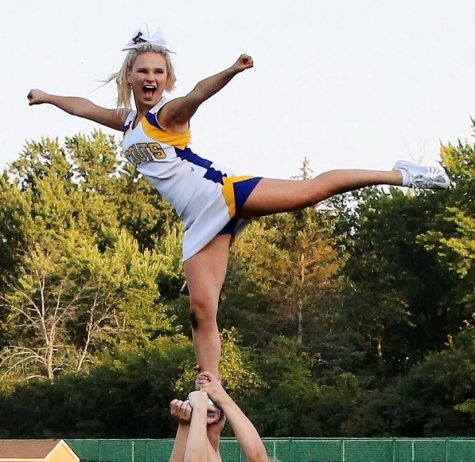 As a Cheer Team flier, senior Caroline Theis spends almost as much time in the air as she does on the ground.
This year, Theis was one of the Varsity Cheer Captains, and she was responsible for motivating her team and keeping school spirit high. Not only did she end her final football season cheering for the HUGE win against Stevenson last week,  she had her own reason to cheer when she found out that she was accepted into her first choice college, Baylor University in Waco, Texas.
Aiming high is nothing new for Theis. From early on, she has managed to balance the highest level of academic classes with rigorous out of school activities, including dance and volunteering. In elementary and middle school, Theis often took several different dance classes per week. Dance is what eventually led her to try cheer.
Her friends look to her for guidance and support, both in the classroom and out.
"She works diligently with her classmates, and helps other students if they are struggling with the material. She always does it with a smile, and she's patient with everybody" said senior Gray Knox, who has been in classes with Theis since the 1st grade.
Outside of school, Theis can be found volunteering at her church, where she is known for having a heart as big as her jumps. She volunteers with Christ Church for their REACH program, in addition to spending time working with 4- and 5-year-old students in Waukegan at the North School.
"She is one of the most empathetic people I know, and no matter whether she is your friend or not she is always there for you and to support you," senior Anisha Paruchuru said.
After four years of being everyone's cheerleader both on and off the field, it seems like the perfect time for her to take her own victory lap. While she may decide to retire her poms next year, it's clear that Theis is only just taking off.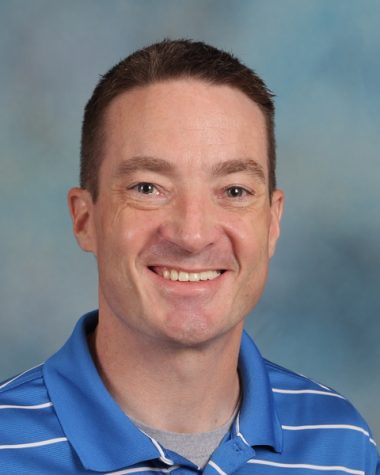 On those days when people are unbearable, where all you want to do is go home and slam your face into your pillow, and especially on the days when nothing seems to be going your way, guidance counselor Daniel Panfil is just about the best person at LFHS to run into.
Panfil has a tendency to always put students before himself. For me, it has never about my grades, my attendance, or anything relating to academics; his only concern has always been my overall well-being.
While students see most faculty members as nothing more than what they display during the school day (business casual), Panfil actually has more in common with the average student than most would imagine.
He was an avid "sneakerhead" when he was in high school and college. His favorite all-time shoe is the Air Jordan 3. He still has a collection but recently parted with a couple of his pairs after seeing the value skyrocket.
Panfil has been playing basketball ever since he was in 3rd grade; he played in high school and played recreational basketball quite frequently up until his early 30's. It's no surprise that his all-time favorite player is none other than the great Michael Jordan, who he was lucky enough to watch play as a kid.
He is both an outstanding human being and faculty member here at LFHS. He has helped me recognize my potential, my talents, and my self-worth.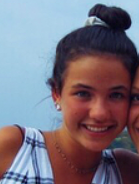 A great day begins with a great mindset. And sophomore Mimi Feingold continues to be enthusiastic every day regardless of a bad things getting in her way. She doesn't care what anyone thinks, and she will never pretend to be someone she is not.
"Her weirdness and positivity are contagious, and she truly brightens up every room she is in," said sophomore Carmel Hickey. "She is always up for anything, which is why people are eager to be around her. Mimi looks at regular activities as adventures, which is something I definitely admire about her."
Mimi loves to try new things even when it comes to food. A fan of the television series Kids Baking Championship on Food Network, she sent a submission video in hopes of being a contestant. Sadly, she was unable to pursue her passion at the time when her trip to Africa interfered. She still continues to show her admiration towards food.
Mimi is always willing to cheer someone up and make them laugh. Her friends describe her as contagiously positive and happy.
"Whenever you're with Mimi you're either almost peeing your pants because of her nerdy sense of humor or laughing at her dance moves," said sophomore Mary Mckendry. "No matter where you are or who you're with she makes everything worthwhile."
Mimi has not only affected her friends' lives in a positive way but she is welcoming to anyone coming her way. In her eyes having a positive attitude goes a long way, and it doesn't take a lot of effort to make new friends.
About the Writer
Ghost, Author
Ghost is a section of The Forest Scout that chooses to publish material anonymously in order to increase the depth of their investigative reporting. Ghost...