The Forest Scout Friday Five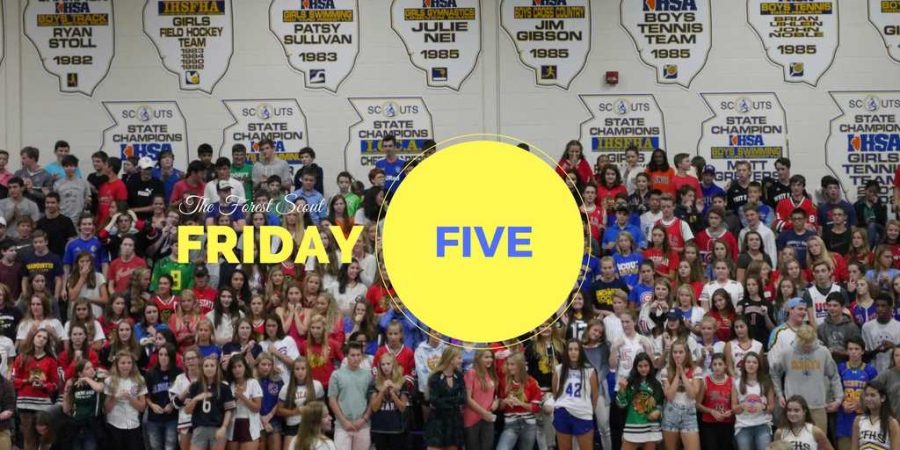 After running track and field at the University of Wisconsin-Eau Claire, John Brumund-Smith wanted to continue working with the sport he loved. Since 2012 he has been the head coach of the LFHS track and field team, and he does everything he can do to impact and influence each of his runners, jumpers, hurdlers and vaulters.
Every year Brumund-Smith is on the hunt for new recruits for the track and field season. He wants to share his love for the sport. It's not just because he is looking to expand the program; he wants to make every participant faster and stronger for other sports they play in too.
Whether it's driving the bus to meets, taking the team to Buffalo Wild Wings, video recording and timing his runners or working individually with each of his athletes, Brumund-Smith does everything he can to create an open and powerful program.
"Coach BS is the definition of passion. He cares about all his athletes and encourages a winning attitude amongst everyone that participates in LFHS track and field," said senior Eli Fietsam. "He even takes the time during the summer to hand write letters to each member on the team."
Underneath his intensity, he is an extremely humorous and approachable person. He's always trying to make practices and meets both fun and competitive for everyone.
"Last year was my first time running track and field, and I was a little hesitant at first. But after reaching out to coach BS and attending a couple practices, I knew it was a good fit for me," said senior Ryan Cekay. "He just makes it a great environment to be part of, and I'm truly looking forward to running again this year."
For those who many not have the pleasure of knowing freshman Jack Marshall, he is an upbeat, well-rounded and talented person. His work ethic is impeccable, balancing honors courses and holding a rank of 31st in the state for golf.
Jack's teammates only have good things to say about his character and his role on the golf team.
"After getting to know Jack over the season, I've learned that he's a competitor to say the least. When you tell him he can't do something, he will do it and to the best of his ability," Patrick Moorhead said. "He is also a great teammate and a great leader."
Being the only freshmen to make varsity, Jack continued his success by making it to State, where he shot a 76.
"It takes a special kid to be a freshman on any varsity team. You need to be both physically and mentally advanced in order to succeed with kids that are two and three years older than you. Jack has both assets. So now after playing a full year on the varsity team he has the experience, which is the third component you need for success. I'm really looking forward to watching Jack's development and achievements over the next four years as a Scout," golf coach Jim Matheson said.
His sister, senior Maddie Marshall, has tremendous pride in her younger brother and his success in the sport he loves.
"Jack has been faced with tremendous adversities in his athletic career. His hard work, dedication, and perseverance have really started to pay off," she said. "It fills me with joy to see him not only achieving great success in golf, but also making friends and building a high school career with independence."

Whether she is running down McKinley Road with the cross country team or on stage singing with the Foresters choir, senior Hope Marwede radiates sweetness and generosity throughout the community.
Hope's desire to encourage others to be themselves on a daily basis sets her apart from most students here. Whether she is serving as a captain on the track, participating in her small group at SHYG, or posting on Instagram about her latest vegan dishes (follow @hopesveganeats), she is not afraid to show her true colors.
Senior Jaclyn Lonergan, one of Hope's dearest friends, said Hope has a willingness to stay true to herself.
"My favorite thing about Hope is how authentic she is. She doesn't pretend to be anything she isn't, she is so genuine and that's very rare now a days," Lonergan said.
She is quick to cheer up her friends, senior Rana Muratoglu said.
"I literally can't stop laughing when I sit next to her in choir because she is just so relatable and true to herself," she said.
Academically, Hope is eager to understand why things occur the way they do rather than just earning a grade for the desired letter on her transcript. Her curiosity and ability to make real world connections enable her to do her best in any task she partakes in.
Hope's teachers acknowledge her compassion for others and how her amiable approach is noteworthy.
"Hope is such a wonderful breath of fresh air. Hope entered class every day with a smile and often thanked me on the way out. She is extremely genuine and makes anyone she is talking to feel like the most important person in the room," said math teacher Kristen Logas.
Senior Samantha Dueringer is someone who is seeking success and strives to achieve her goals.
She is involved in many clubs and activities. Samantha has a passion for helping others, which is witnessed through her work as the head of the Mother's Trust Youth Board, as well as the vice president of Student to Student here at the school.
Being involved with Mother's Trust allows Samantha to help others in different communities.  She organizes the fall coat drive and the spring toiletries drive. She puts herself in a leadership position and takes control. She also allows for others to help her with her mission by collecting coats and delivering them. Mother's Trust has helped Samantha to see the positive outcome with volunteer work.
"She has the biggest heart. Although she doesn't know it, her attitude and kind spirit help so many people. She not only is helpful on a day-to-day basis, but last year she went on this trip to Haiti, and she loved it. She is just such a great person," senior Jaclyn Lonergan said.
In Haiti she helped kids in an orphanage for a week. The dedication and time commitment was significant but she took it on with a smile and let nothing stop her from helping those children.
Samantha also plays for the badminton team in the spring and is a fabulous teammate to so many. She is also involved with the choir and loves to be singing with her friends.
"She has a very caring personality and is definitely a good listener. She is so nice to everyone and never talks bad about anyone," said senior Bridget Eckland.
Student, friend, runner, CROYA exec member, and someone who will never fail to make you laugh. These are all words that best describe senior Clare Bradley, a positive and uplifting force here at LFHS.
"She lights up every room she walks into and makes me laugh like no other. She's a special one," junior Caroline Murphy said.
Not only is she super caring and funny, but she is a dedicated cross country runner. Bradley has done JV cross country for two years.
"I looked forward to cross country every day this year because I knew Clare would be there to talk with about anything and to make me laugh nonstop," Junior Haley Banta said.
Every Wednesday night, Bradley talks to all of the CROYA kids to fulfill her role as Topic Night Chair.
Meghan Gayter, a staff member at CROYA who has worked hand-in-hand with Bradley, said "Clare has been an amazing part of the CROYA community over the past year. As a retreat leader and exec board member, she is always ready to get involved in new projects and help her peers. She's just so much fun to be around."
Bradley spreads joy in all aspects of her life, whether that be to her friends, her teammates, or the community of CROYA.
"Clare is the funniest and nicest person I have ever met," senior Ella White said. "She is always there for her friends and always someone you can talk to about anything. She's friends with everyone."
Bradley's spunky personality and contagious smile are what makes her stand out in a positive way within the hallways of LFHS.
About the Writer
Ghost, Author
Ghost is a section of The Forest Scout that chooses to publish material anonymously in order to increase the depth of their investigative reporting. Ghost...