The Forest Scout Friday Five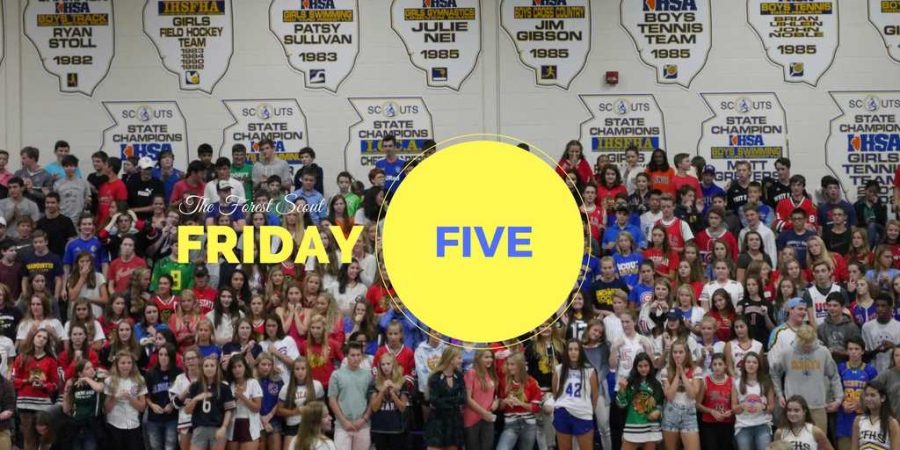 High school is unfortunately an environment where people sometimes feel hesitant to express themselves. However, senior Ben Reinkemeyer is not afraid to be himself. As the only boy on the Varsity Dance team, Reinkemeyer is a role model at our school and an example of someone who works hard for what he wants.
"Ben is such a great addition to our team and working with him for the last couple seasons has been such a great experience," said senior Kylie Prieto. "He is a team player and as one of our captains, he really wants what's best for the team. He encourages us each and every practice. Ben is an amazing dancer and leader, and I can always count on him for a good laugh, help with school work, or just someone to have a good conversation with."
Ben works hard and has fun doing it. Not only is he the one boy on the varsity dance team, but he is also an active member in multiple clubs at school. He is involved in math team, yearbook club, link crew, and National Honors Society.
Friends describe him as being positive, funny, ambitious, and charismatic. He treats everyone with respect and loyalty. "
"Ben is unapologetically himself, and he is one of the most passionate individuals I know. He has the biggest heart out there, and you can count on him to always greet you with a massive grin and whatever is on the top of his mind," said close friend Bella Watters.
Whether she's on the field or in choir class, Junior Molly Vedra is a positive force on those who surround her.
Although she can come off as timid or shy at times, do not mistake Vedra's genuine care for others and selflessness as a weakness.
"No matter how bad her day is, she will always try to cheer up the people around her because she is such a selfless person and is so loyal to the people around her," junior Elise Arnolds said.
As a member of the LFHS Varsity Field Hockey team, Vedra is one of the four juniors on the team. Senior Lindsay Folker said that, "she is such a strong player," on the field. In addition to her strong stick skills during the game, her attitude and support for her teammates she has off the field speaks louder.
Folker further said Vedra is "such a sweet girl that is pivotal to our team dynamic."
Both Arnolds and Michael said Vedra's laugh was simply infectious and that she can always make someone's day.
"When she asks you how your day is it's because she actually wants to know and gets excited about others' achievements," Arnolds said.
In school, with a passion to sing, Vedra also is a member of Foresters Choir. Junior Lillie Michael explained how choir was where she first met Vedra and that they have, "clicked ever since."
Arnolds, Michael, and Vedra spent time together on the choir trip to Italy. Michael said that Vedra was the easiest person to sit next to on an eight -plane ride and that she was also the best roommate she could have asked for.
Furthermore, Michael said that Vedra, "deserves all the best in the world. She comes from a great big family and has really grasped what being a good person is all about."
Not only is biology teacher Kurt Schuessler a great teacher, but he is a lot of fun to be around.
One of the walls of his classroom is painted orange, inspired by  Harley Davidson. When the weather is nice, you can catch him cruising around on his motorcycle in the teacher parking lot, wearing his favorite shades.
Schuessler often has a big smile on his face, and he is always greeting people in the hallways.
"Mr. Schuessler is a great teacher but what really stands out to me is his character. He goes out of his way to check in on students, no matter if he had them as a freshman or as seniors," senior Cassy King said.
Schuessler isn't just interested in teaching the students what they need to know, but he is also interested in building good relationships with them to make them feel comfortable in his classroom.
"My friends and I sometimes go visit him during our free period. He's always excited to see us and jokes around with us even though most of us only had him as a freshman," King said.
He also is a passionate person, both with biology and his students.
"He is a very passionate person about science because he really has a liking for it, and you can tell in his lessons," senior Annie Burdiak said. "I really learn a lot in his class."
It's not often you see a student successfully juggle sports, extracurriculars and academics while spreading positivity to everyone they meet. But for sophomore Kerry Hollander, she does it on the daily.
Hollander's friends see her as source of positivity and support. She is always willing to lend a helping hand and is loyal to everyone she is friends with. Fellow sophomore Bella Oquendo recognizes Hollander's strengths in her humor.
"She's one of the most honest and funny people I know. Almost every day she makes me laugh so much that my stomach hurts," she said.
The honesty that Hollander holds herself to is part of what makes her so funny. Uniquely, she calls it how she sees it and is willing to say what's on her mind. Oquendo described Kerry's honesty and confidence, adding, "She's not afraid to say anything or do anything. You always know when Kerry's in the room."
Hollander is also dedicated, which does not go unnoticed. Sophomore Grace Benson says that she is perseverant and never gives up.
"Whenever there is an obstacle in her way she keeps trying to accomplish it," she said.
Teammates are also impressed by Hollander's dedication, and notice how driven she is. On top of her academics, she juggles diving practice at the high school and hockey as a second sport. She also participates in additional extracurriculars like CROYA. Whether she's on the pool or ice or in the classroom, she gives it her all.
"It really shows how dedicated she is to the community," senior and teammate Shaffer Franklin said.
You can find senior Andrew Fluri both on the baseball diamond and studying away in the classroom.
As a key member on the varsity baseball team, Andrew brings a work ethic like no other. Both in and out of classroom you can always see Andrew with a book in hand, or talking about what is going on in baseball news.
"Fluri's a great teammate," senior Will Davis said. "Always looking to help out in anyway possible."
Andrew is hoping to attend the University Of Missouri to continue is academics as well as attending the school he has loved since a young boy.
About the Writer
Ghost, Author
Ghost is a section of The Forest Scout that chooses to publish material anonymously in order to increase the depth of their investigative reporting. Ghost...