Halloween Movies To Watch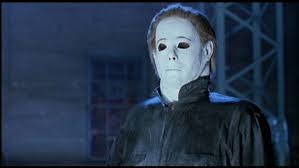 Hang on for a minute...we're trying to find some more stories you might like.
Happy October! Fall is in the air and as Halloween approaches, there are many movies you can watch to get you in the Halloween spirit. Here are a few horror movies and classics surrounding the theme of Halloween:
Horror
Halloween

(and sequels) : Michael Myers, a serial killer who has been institutionalized for 15 years after stabbing his sister to death, escapes the prison he has been confined to on Halloween night. Chased by psychologist Sam Loomis, Myers stalks through Haddonfield, Illinois, looking for his next victim.

Paranormal Activity

: A found footage film, it follows a family who moves into a new home only to be tormented by a demon.

The Conjuring

: A pair of paranormal investigators take on a dilapidated farmhouse in Rhode Island where a dark past haunts the inhabitants.

Blair Witch Project

: Another found footage film takes us through the documentary of three students who visit a small town in search of a legendary murderer, the Blair Witch. Through interviews with locals and explorations in the town woods, the students run into terrifyingly real evidence.

The Exorcist:

A mother seeks, to no avail, medical help for her young daughter who has started to develop paranormal behavior. Religious officials instead take up the case, fearing a demonic presence may be at the root of the problem.

A Nightmare on Elm Street

: A grotesque midnight killer targets teenagers in their dreams, leading to their real life deaths. Investigation reveals that the mystery may be wrapped in dark secrets.

Scream

: High school students are stalked and killed by a masked murderer armed with a knife in this unpredictable, funny, classic slasher.

Psycho

: After stealing $40,000 from her employer, a secretary is forced to stay in a peculiar motel while on the run. While there, she meets the manager, who seems to have a mother with a dark and twisted mind.

Friday the 13th

: Young summer camp counselors decide to set up their new facilities in the woods of Crystal Lake, a location known by locals as a murder site. Ignoring the warnings of the locals, the counselors find themselves hunted by a ruthless, brutal killer.

The Shining:

Writer Jack Torrance agrees to be the winter caretaker of an isolated hotel in Colorado, bringing his wife and troubled child with him. As the winter gets deeper and interactions with other humans grow limited, Jack's son becomes tormented by premonitions and Jack himself turns against his own family.

Carrie

: Carrie White, a teenager with an extreme helicopter mother and supernatural powers, has been harassed by bullies throughout her high school years. However, when those bullies push her too far in a twisted prank, Carrie's secret in unleashed with wrath.

The Cabin in the Woods

: Five college students set off for a much needed break in an isolated cabin. Hunted by zombies, the students discover there's more at work than just supernatural creatures.

The Ring

: Newspaper reporter Rachel Keller doesn't believe the urban legend of a videotape that predicts your death seven days after you watch it, until it happened in her town — four times. Keller finds herself watching the video, leaving herself with only seven days to solve the mystery.

Coraline

: Coraline, a new girl in town, discovers a tunnel in her home that leads to an alternate dimension very similar to her world. At first, it seems almost like a better version of her life, but her adventure turns to a desperate escape mission when the inhabitants of the alternate world try to seal her in forever with a painful procedure.
Classic
The Nightmare Before Christma

s: Residents in Halloweentown are gearing up for Halloween, but pumkin king Jack Skellington isn't in the spirit. While wandering about, Jack discovers a new world that makes him develop a plot to make it all his own.

Hocus Pocus

: When a couple of teenagers unleash a coven of evil witches from an abandoned house, they have to rely on the help of a magical cat to stop the witches from becoming immortal.

It's the Great Pumpkin Charlie Brown

: Charlie Brown's younger sister, Sally, struggles between trick or treating and attending her friend's Halloween party or pursuing her crush, Linus, as he waits for the Great Pumpkin to arrive. Meanwhile, Charlie and his friends celebrate Halloween together.

Halloweentown

: A child suddenly discovers that she comes from a family of witches. While in the process of finding out she herself is a witch, she also learns her family is up against a life-threatening evil force.

The Addams Family:

A man claiming to be the Addams' long lost brother explores the home and fortune of the family, eventually getting them evicted and attempting to claim the fortune for himself. The Addams realize what is going on and go up against the man.

Beetlejuice

: After a couple dies in a car accident, they realize they are stuck haunting their old home. In an attempt to help themselves out of the situation after a new family moves into their house, they summon a powerful spirit that tries to scare the new family away.

Ghostbusters

: A team of ghostbusters battles supernatural forces for money after losing their jobs. After they accidentally open a gateway to another dimension, the team must save New York City from the evil that pours out of the gateway.

Monster House

: A trio of young kids tries unsuccessfully to convince adults in their neighborhood that one of the houses on their block is alive and evil. While Halloween approaches fast, the trio tries to solve the problem themselves so that trick-or-treaters can be safe.

Disturbia

: A troubled teen who is placed on house arrest becomes convinced his neighbor is a serial killer, and uses his domestic confinement to spy on his neighbor to confirm his theory.

Edward Scissorhands

: Edward, a scientific creation with a gentle personality and scissors for hands, is discovered by a saleswoman and taken to her home, where he falls in love with her daughter.

Twitches

: A pair of twin sisters, separated at birth, are forced to meet each other on their 21st birthday. The twins must use their magical powers to save their kingdom from a powerful force of darkness.

Mostly Ghostly

(all of them): When an aspiring magician stumbles across two lost ghosts, he makes an agreement to help them acquire eternal rest in return for help winning the heart of the most popular girl in school. However, their adventures land them in hot water with an evil apparition.

My Babysitter's a Vampire

: When middle schooler Ethan is left to babysit his little sister, ending up almost getting her killed, so his parents punish him by getting him a babysitter. But is the new babysitter harboring a dark secret?

Scary Movie

(all of them): This series makes fun of classic horror movies, loosely following their plots while accentuating the poor decisions of characters and other aspects of the films.

Silence of the Lambs

: Dr. Hannibal Lecter, a brilliant and violent psychopath, has been jailed for life due to murder and cannibalism. A young FBI trainee is sent in to try to get Lecter's help solving a high profile case.
If you enjoyed these movies, a new Halloween remake is coming out in theaters October 19… Happy Halloween!