The Forest Scout Friday Five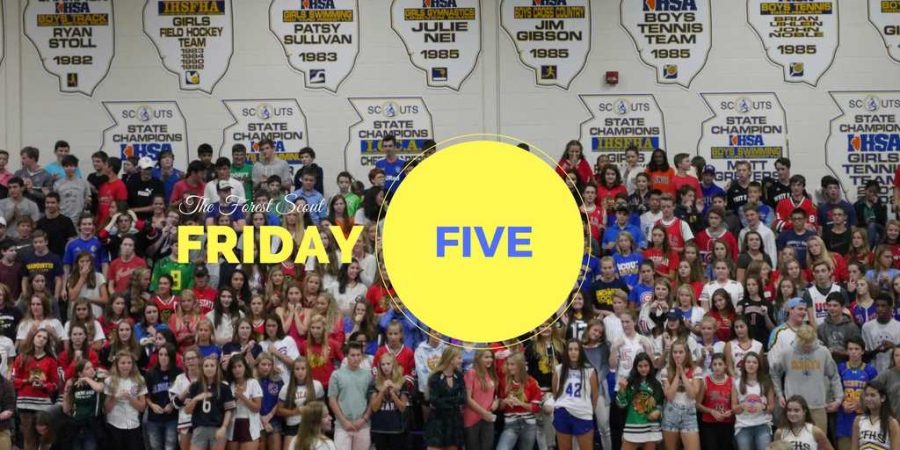 Featuring a life-size cutout of Vladimir Putin, tissue boxes covered in assorted world history memes, and a giant rubber duck, history teacher Cheryl Kyrias' classroom is quite interesting upon first glance. If you're lucky enough to sit near her desk, you'll also have the pleasure of looking at pictures of her adored cats.
But don't be fooled! These cats may be cute and cuddly, but they are also the members of her "complaints department." If you have a complaint about the class, simply write it down on a sticky note, and Kyrias will deliver it to the feline complaints department. Admittedly, it's not a very effective system, since the cats would prefer to eat the complaints rather than read them.
But aside from being a lover of cats and government, Kyrias is known by her AP World and AP Government students as being extremely organized, enthusiastic and funny.
"Mrs. Kyrias is the most organized teacher I know. AP World covers a lot of material, but she was still able to make it fun and interesting," said junior Elaina Lee, who was one of Kyrias' students last year.
Her dedication to her students in preparing them for the AP exam, and in making sure that the extensive material that is conversed in both AP World and AP Government is manageable for them, is another trait that sets Kyrias apart as an outstanding teacher.
"She is so dedicated to what she does here. AP World covers a lot of material, but she made it much more manageable. Not only did I enjoy having her as a teacher, but I learned so much from her!" said junior Alma Mackic.
Mackic remembers one time when Kyrias really showed how dedicated she was to her students. Even though she had just had an invasive knee procedure, and had been instructed by her doctor to limit her walking, she continued to show up for class to teach and support her students.
"She came to school like nothing ever happened, and told us that there was no way she could miss!" said Mackic.
When teaching such dense classes as AP World and AP Government, it can be difficult to make the class entertaining at the same time. But with students in her 5th period AP World class creating their own civilizations, languages, alliances, and constitutions completely for fun, it is clear that Kyrias knows how to instill a sense of creativity and excitement in her students.
"I had Mrs. Kyrias last year for AP World and it was such a fun time. She finds ways to make class entertaining and is also really funny. My friends and I miss her class!" said junior Chloe Tzau.
Kyrias is one of those teachers who everyone seems to know and love. She is definitely a life-saver when it comes to the AP exam, and her contagious attitude and kind personality make her someone who you'll want to keep visiting even after you've finished the exam.
"Her high spirited attitude and passion for government and the world rubs off onto all her students and really helps the kids get through the AP pressure. Class is always upbeat and I can always expect a good Putin joke," senior Hannah Gilmore said.
Many freshmen students get the wonderful opportunity to have Joe DeRosa as a history teacher. His love for history is contagious to many of the students in his classes.
At the beginning of the year, DeRosa starts with a name game where students pick an adjective that has the same first letter as your name. DeRosa would pick "Danger DeRosa" leading many students to call him "Dange," a name they would use for the rest of high school.
Junior Jack LaVanway recalled a recent conversation he had with "Dange" while in the coffee shop.
"He said, 'I like the smoothies here. Some people think the pineapple in the tropical smoothie overpowers it, but Jack, I gotta say I think it's perfect.' What an amazing man," LaVanway said.
Another student recalled a very special day out of the year in his class.
"Many of the girls would always bug him about relationship advice, and Valentine's day was the one day where he allowed everyone to ask one question and get Dange's opinion on the matter. By far one of the funniest days that year," said one of his former students.
Many students who had Mr. DeRosa as a teacher look back on his class as perfect "bridge from middle school to high school."
"Mr. DeRosa really, really cares about every one of his students and how they're doing, and I haven't had his class in two years and he still says hi. He gave the best advice in class and made sure to encourage us to think outside the box," said junior Grace Kellie.
Junior Carla Zaramella will not take no for an answer.
Her ability to do anything she sets her mind to is what makes her a unique student at LFHS. Not only is she passionate about her school work and sports, but she is equally committed to helping others and making a difference in the community.
Carla is known for her bright personality and contagious school spirit, making it easy to pick her out of any crowd. She is an outstanding swimmer on the JV swim team, an active member of band, as well as Scout Nation.
"I was studying for my biology test one night, and all I could hear was her playing and practicing her scales," sister feshman Margherita Zaramella, said. "All I could think was how much dedication she has and how passionate she is about not only band, but about everything she does."
Carla has been swimming ever since she was three years old. She has worked to make herself a better swimmer and along the way has been able to make long lasting friendships with her teammates.
"I love Carla's positive attitude and how she makes a lot of effort to talk to me and maintain our friendship outside of swimming," JV swim captain Margaux Miller said.
Carla has a passion not only for clubs and sports, but for her schoolwork as well.
"She has always had a passion for math and has faced life like a math equation, always figuring out ways to solve it and get the right solution," Margherita Zaramella, said.
Carla is constantly lending a hand to students and even some of her teachers, helping them to success.
"Carla always has a smile on her face and is so positive. I've never heard her complain about anything before even after a rough swim practice. She is so happy and a natural great leader," senior Kirsten Larson said.
It's an ordinary Wednesday in the spring of 2018. After stumbling into the classroom, students slide into their seats, steeling themselves for the next 80 minutes.
But it is no ordinary class that lies before them. This is Steve Aronson's fourth period AP Computer Science class, an experience wholly removed from the rank and file of LFHS course offerings. Will Schlachtenhaufen, a junior at LFHS who studied computer science with Mr. Aronson as a sophomore, said the class is "indescribable – unless you've taken it."
Aronson starts the day by proving Schlachtenhaufen's point. He plays the renowned music video We are Number One, but it is continuously interrupted by a strange succession of beeping noises. The intent? Introducing sorting algorithms, a prominent topic on the AP exams, to the spellbound students.
This is just one of the many ways that Aronson takes seemingly irrelevant aspects of popular culture and uses them to teach. By doing this he makes the class "energetic and interactive," Schlachtenhaufen said.
It is universally regarded as important that teachers are inspirational influences on their students.  Aronson is especially adept at this, using his trademark blend of wit, learning, and cultural literacy to encourage his students to participate. Most students were relatively reserved on the first day of class; by the time that class has APs ended, room 234 was erupting in arguments and laughter. Aronson has a way of bringing students out of their shells with his bombastic personality.
Senior Tommy Henry, who also took Aronson's class last year, emphasized Aronson's ability to engage his students. "All of Mr. Aronson's students have something they can connect with," he said.
His entertaining personality, his use of popular culture to connect with students and his willingness to give students broad latitude in class projects create a "class culture like nothing I have ever experienced before," as Henry so eloquently put it, and make him a pillar of the community that we call LFHS.
Senior Lauren Garriques always has a smile on her face, whether you see her in the hallways or on the race track. She is the fastest runner and a beloved member of the cross country team.
"When you think of cross country you think of Lauren Garriques. I've never met someone with the same passion she has for running," teammate Katie Gilcrest said, "She inspires everyone around her to run with the same passion, never failing to have everyone laughing in the process!"
As the top runner on her cross country team, Garriques has the valuable role of inspiring everyone else on the team to perform their best. She excels at that role, constantly brightening the days of her teammate.
"She amazes me every day with her insanely unique ideas and opinions," said Carrie Saginur.
On Sep. 11, she won her cross country meet with a time of 19.23. This isn't an uncommon experience for Garriques; she often finds herself to be the first runner to cross the finish line.
Garriques' passion isn't just limited to running—she gives her all with everyone she does, as shown by her extraordinary grades, loving family, and supportive friends.
Her little brother follows in her footsteps as an exceptional runner—on the weekends, the siblings often time go for runs together at incredibly fast paces.
"Lauren is my favorite person ever, she is so unapologetically herself and full of hard hitting wisdom that never fails to make you laugh," said Samantha Rubin, her friend and cross country teammate.
Friends, teammates, and coaches will never fail to describe Garriques as likeable, hilarious, well rounded, and talented.
About the Writer
Ghost, Author
Ghost is a section of The Forest Scout that chooses to publish material anonymously in order to increase the depth of their investigative reporting. Ghost...