Club Feature: Debate Team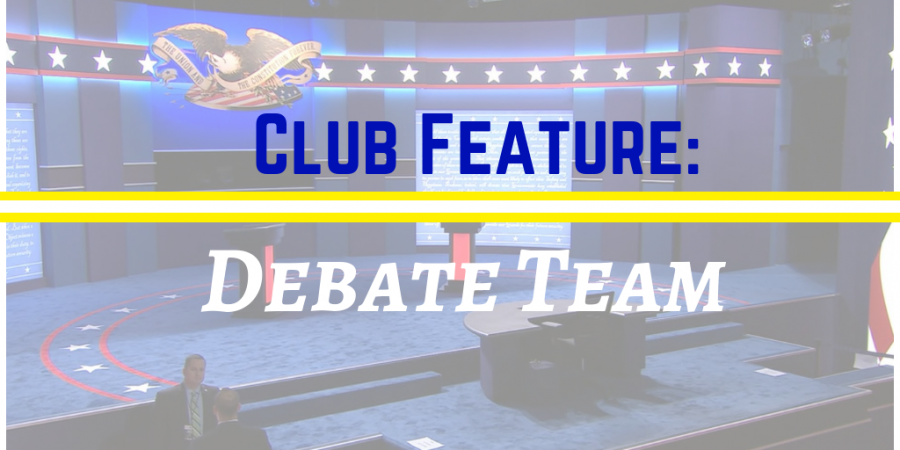 Many are unaware of the professional banter which goes on in the Library Classrooms at 3:25 pm on Tuesdays. The debate team members discuss current social and political events while they also practice their speaking skills each week. They have open arms for anyone who would like to join. The team is coming off an excellent showing in an Illinois Congressional Debate Association (ICDA) tournament where Club President Patrick Corrigan earned a 1st place trophy and Austin North added another 2nd place trophy in his first ever debate. North's showing is a sign to many students who are considering coming out for the team that no matter their background in debate, they should swing by a meeting and test out their skills.
The team belongs to two organizations, ICDA and JSA, which host monthly tournaments around the country as well as locally at schools. JSA is more student-run and casual than ICDA, but still organizes serious debates.The debate team's schedule is highlighted by trips to the Madison State Capitol in December and Washington D.C. in February. Here, students are given the ability to showcase their speaking talents to some of the best debaters across the nation.
Mr. Wanninger and Mrs. Clark are the coaches and have gathered a very well-rounded group of students this year. Roughly 25 scholars show up to the Tuesday meetings at the moment, but Corrigan stated: "Anyone even remotely interested in social and political events should come to the meetings." When asked about whether it's too late to join, he quickly denied that: "Obviously fall would be ideal to join, but come whenever and you'll get caught up quickly while helping the team."
Officers Include:  
Mr. Wanninger – Coach
Mrs. Clark – Coach
Patrick Corrigan – President, Research Chair
Litsa Kapsalis – Vice President and JSA President
James Sugrue – JSA Vice President
Jack Anderson – Assistant Research Chair
Maura Harty – Assistant Research Chair
Meghan Geraghty – Outreach Chair
George Schoettle – Assistant Outreach Chair
Andrew Rempala – Co-Speech Chair
About the Writer
Bobby Winebrenner, Editor
Bobby Winebrenner returns to The Forest Scout as a senior. He spent his summer playing golf with his dad and working as a camp counselor. He plays lacrosse,...