The Forest Scout Friday Five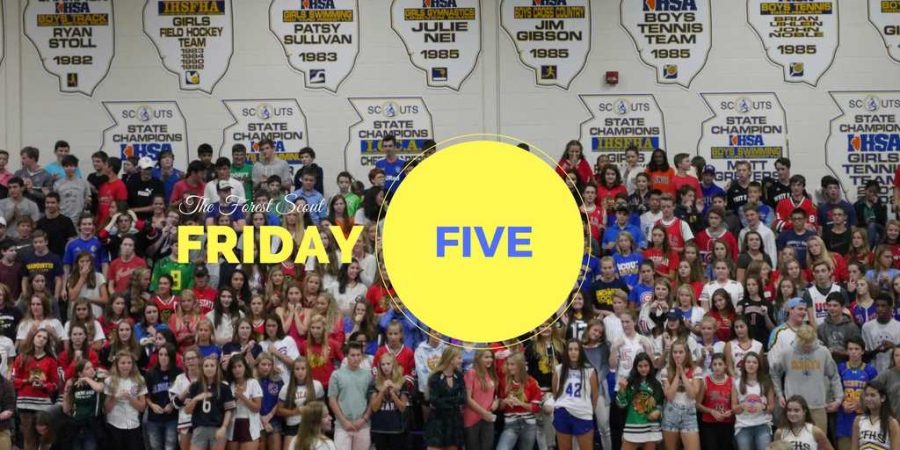 Lake Forest is known to develop highly disciplined students in the classroom, on the field, and in the community. For senior Sydney Steinberg, this comes naturally.
You might know Sydney from the varsity field hockey team she's played on for the last two years, or her participation in Student Council, maybe even for her time at Beacon Place. If you do, you likely remember her heartwarming style and vibrant style.
Sydney won a State championship with the field hockey team her junior year. The Scouts hope to be a championship contender this year with Sydney a starter on defense.
"She is always the hardest worker at practice… and always does everything in her power to do the right thing on and off the field," senior Captain Madden Plante said.
The work ethic on the field accompanies Sydney to the classroom. Having a niche for math and science in particular, Sydney has pushed herself with classes such as AP Chemistry and AP Calculus.
Science teacher Nitin Patel is impressed with her work ethic.
"I'm really not sure if she's capable of lazy," Patel said. "After having her in my classes for two years in a row, I am so impressed with how Sydney manages all of the stresses of high school life with such grace and maturity."
Though Sydney is devoted to her school and sports, she always finds time to hang out with friends. The discipline Sydney has doesn't make her just a great student-athlete, but it gives her the character and maturity that makes a lasting impact on those around her.
Commitment and positivity are some of the hard-to-find qualities that senior Aved Markarian demonstrates on a daily basis.
Aved is captain of the varsity soccer team as well as a dedicated player. He started playing soccer when he was four years old, and his love for the sport has grown ever since.
"Aved is very devoted to the success of our soccer team, and he leads the team by example," his teammate and friend senior Sean Ramsey said.
He is committed on and off the field, making sure that his teammates succeed in whatever they do. Leading his team to success as a role-model and captain the can rely on.
Not only is he dedicated to his sport and his team, but he is also a positive force inside the walls of LFHS. Spreading his joy, he is leader both on the field and in the school.
"Aved is someone who always has a smile on his face, and he brings positive energy to everyone around him," senior Thomas Cutting said.
Outside of school and soccer, he enjoys being a DJ and making music of his own – something he has been doing since middle school – one of the many passions he has developed over the years.
"Aved always has a positive attitude," said senior Mary Bail. "Overall he's just a great person."
Senior Grayson Pruett found her love for theater her freshman year during the musical "Hello Dolly," and later served as student director her sophomore year for the musical "Urinetown."
Her hard work and determination has definitely been recognized by many of her peers and the theatre community. Both on and off the stage, she is a strong, dedicated, warm-hearted individual.
Besides being involved in theatre, Pruett has many made contributions to her community. She has dedicated herself to providing a green earth for the Open Lands. She even created an app for conservation called "Hike App."
No matter what time of the day it is, Pruett will always be sure stop in the halls and inquire how your day is going.
"She is one of those people that just by looking at them, puts a smile on your face. She is a very bubbly and social and even has to stop to talk to everyone she sees in the hallway, and I mean everyone," senior Jaclyn Lonergan said.
The greatest gift one can receive is a sweet friendship, and she has surpassed the qualities of being a sincere friend to many peers at LFHS.
"Grayson is without a doubt one of the most kind-hearted people I know. She always brings her positivity through any situation and any given hour of any day, and you always know you can count on her," senior Nikole Tizoufas said.
Senior JD O'Kean calls her "selfless."
"She is always thinking of solutions to problems and her values drive her to be a leader in a crowd of people. I cannot wait to see what she will accomplish," senior JD O'Kean said.
She will easily go out of her way, help and encourage others, and know exactly what to say in every scenario, graduate Isabelle Andress said.
"She is the most selfless, compassionate, giving, loyal, smart, and hardworking person I know. Grayson is one of those friends I know I'll have for life," she said.
Through her past 4 years here Senior Mattison Boveri has been an active participant in the school and made a difference.
Boveri is always so happy to be where she is. She is always there to greet you in the halls with a huge smile. She makes people feel welcomed.
Last year Boveri spent her junior year studying abroad in Thailand. She even took classes in the Thai language.
She has been a devoted varsity swim team member too. Boveri has spent her three years as a part of the varsity swim team.
"Mattison is one of the coolest people I know. She's accomplished so many amazing things both in and outside of school. On top of that she's honestly the most devoted, intelligent, and hard working person you'll ever meet," senior Nina Montalbano said.
Senior Flynn McClellan calls her a "real down to earth gal."
"She's a great leader for the swim team, and I can always count on her for anything. I love being in a lane with Matti B because we laugh a lot and motivate each other to be better swimmers," McClellan said.
Besides being a leader, she has a great sense of humor, senior Sophie Michaels said.
"Mattison is hysterical; she's so funny but it's like witty funny, still somewhat sophisticated. She's a great listener too and can help you solve any problem you have. She's also super sweet and caring," she said.
Junior Julia Hender brings light to the Lake Forest community through her roles as a varsity Field Hockey player as well as an executive CROYA committee member.
Last year, Julia was one of two sophomores to make the varsity field hockey team, and helped to secure their reign as back-to-back State champions.
"She's determined and one of the most hard working girls I know; she always gives 110 percent during practice and games," teammate Eleanor VanAntwerp said. "Her constant positive energy, outgoing spirit, and genuinely kind personality really brings the team together. I think that everyone on the team could learn from her and she's one of the best teammates anyone could have."
Julia's positive energy isn't just limited to the field. She actively uses her voice to represent her peers and help her community by volunteering in CROYA sponsored events.
She has been an active member of CROYA since her freshman year, and has served on the executive committee since she was a sophomore. You can find Julia at every Wednesday night meeting, supporting her community and her peers.
"She always comes into CROYA with a high energy. Throughout the past two years of exec she's been very committed to her positions," CROYA Chairwoman Gina Sobhy said.
Julia's friends describe her as dependable, supportive, and overall fun to be around. No matter where you run into Julia, you are sure to leave with a smile on your face.
About the Writer
Ghost, Author
Ghost is a section of The Forest Scout that chooses to publish material anonymously in order to increase the depth of their investigative reporting. Ghost...