NFL Week 3 Preview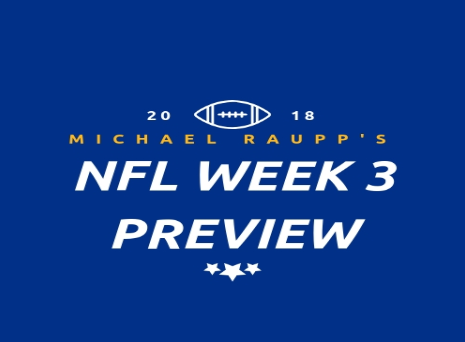 Hang on for a minute...we're trying to find some more stories you might like.
Last week was an impressive showing, as my picks resulted in a 10-4-1 record. Last night, the Browns finally got a win for the first time in 635 days, defeating the Jets on Thursday night football. With the 15 games remaining this weekend and going into Monday evening, here's The Forest Scout's NFL Week 3 Predictions:
New Orleans Saints (1-1) vs Atlanta Falcons (1-1)
Noon (FOX)
New Orleans had to scrape out a battle-tested victory last week vs the Cleveland Browns, in part due to the missed field goals by former Browns' kicker Zane Gonzalez. The offense has looked inconsistent, but Michael Thomas has looked like one of the top receivers in the league thus far. With the Falcons yet again coming into the game banged up, missing key players Keanu Neal and Devonta Freeman, the Saints must take advantage on the road. Look for the Saints to get back on track, in an early season divisional tilt.
Pick: Saints 30, Falcons 20
Green Bay Packers (1-0-1) vs Washington Redskins (1-1)
Noon (FOX)
The Packers have escaped without a loss in both of their games to start the season. The Packers presumably will throw more down the field than the victorious Colts did a week ago against the Redskins, but Aaron Rodgers has verbally expressed his concern for his ailing knee injury. This isn't Alex Smith's first time around the block and with the current play of the Redskins DT's, the Redskins should be able to get to Rodgers this weekend.
Pick: Packers 20, Redskins 27
Indianapolis Colts (1-1) vs Philadelphia Eagles (1-1)
Noon (FOX)
Many people certainly expect the Eagles to dominate the Colts as Carson Wentz returns back to action. Although the scene is set up for a bounce-back victory, this game will be closer than it looks. Former Eagles' offensive coordinator and current Colts' head coach, Frank Reich, a member of the Super Bowl winning team a season ago, certainly is familiar with his adversary. Running back, Jay Ajayi, may be out in this game and with a thin receiving corps, Wentz will not have many options to get him back into rhythm. The Colts will stun the Eagles and their fans in Wentz's return.
Picks: Colts 27, Eagles 23
Buffalo Bills (0-2) vs Minnesota Vikings (1-0-1)
Noon (CBS)
This game looks unsightly on paper, in part because it is. Buffalo is a disaster right now and is about to take a rookie quarterback and put him into one of the toughest environments in the sport; not to mention, their offensive line woes. The Vikings, led by Mike Zimmer, will get back into the win column in a big way, after a disappointing tie in Green Bay last week.
Pick: Vikings 38, Bills 13
Oakland Raiders (0-2) vs Miami Dolphins (2-0)
Noon (CBS)
Just two weeks into his second stint with the Oakland Raiders, Jon Gruden's 10 year/100 million dollar contract is already looking like a poor investment by the Raiders' ownership. Perhaps the team should have funded the money towards the defensive side of the ball, as Gruden publicly said the team needs to get to the quarterback more; Khalil Mack is probably grinning ear to ear. However, I think the Dolphins will fall back down to earth and the Raiders will open up the playbook more this week, hence handing the Dolphins their first lost of the year.
Pick: Raiders 23, Dolphins 16
Denver Broncos (2-0) vs Baltimore Ravens (1-1)
Noon (CBS)
The Ravens are in a favorable position to win at home; they look to bounce back from their Thursday night performance, as they will have had 10 days off. With not the strongest competition and benefiting from playing at home both weeks, the Broncos will have their hands full against a rested Ravens squad. Even without Jimmy Smith in the secondary, John Harbaugh's Ravens should get back into the win column.
Pick: Broncos 23, Ravens 24
Cincinnati Bengals (2-0) vs Carolina Panthers (1-1)
Noon (CBS)
Who would have expected the Bengals to start the season 2-0? Things were looking enjoyable last Thursday night, until Bengals' running back, Joe Mixon, suffered a devastating injury to team morale, setting him out for the next 2-4 weeks. Additionally, Cam Newton is a much greater threat than immobile Joe Flacco. Expect Christian McCaffrey to break out this week and lead the Panthers to victory.
Pick: Bengals 21, Panthers 24
New York Giants (0-2) vs Houston Texans (0-2)
Noon (FOX)
This interconference matchup is a must-win for both clubs. As history shows, it is almost impossible to come back from starting 0-3 and making the playoffs– just look at the Chargers last year, who started off 0-4 and went 9-3 to end the year– and still missed the playoffs. The Texans' offense has underwhelmed to start the season, but the Giants have looked inferior. Deshaun Watson has looked nothing like his pre-injury form from last year– but that must change– and likely will this week.
Pick: Giants 21, Texans 28
Tennessee Titans (1-1) vs Jacksonville Jaguars (2-0)
Noon (CBS)
The Titans miraculously bounced back last weekend without Marcus Mariota under center, but they looked far from impressive. They have a completely different animal this week, as the Jaguars' defense should bully the Titans, especially without Mariota. Even if Leonard Fournette does not suit up, this game could easily get out of hand, as the Jaguars took it to the Patriots last weekend.
Pick: Titans 14, Jaguars 24
San Francisco 49ers (1-1) vs Kansas City Chiefs (2-0)
Noon (FOX)
It has been the Pat Mahomes show to start off the 2018 regular season; he tossed SIX touchdown passes last Sunday. The 49ers have scuffled out of the gate, but the Chiefs' defense definitely has holes that head coach Kyle Shahannen will exploit. However, Pat Mahomes and friends will cover their already known defensive struggles and find themselves 3-0 for the second consecutive year, in an offensive shootout.
Pick: 49ers 24, Chiefs 31
Los Angeles Chargers (1-1) vs Los Angeles Rams (2-0)
3:05 (CBS)
For the second consecutive week, the Rams proved to the league they are the most complete team in the NFL. The consensus game of the week will be a real test for both Los Angeles clubs — especially the Chargers– they will probably again be without defensive end Joey Bosa. The Chargers will see a completely different animal, compared to the impotent Bills, as their offense looked nonexistent under rookie quarterback Josh Allen. Chargers' Philip Rivers may be able to keep his guys around, but Sean Mcvay and his multifaceted roster will keep the bolts astray.
Pick: Chargers 27, Rams 30
Dallas Cowboys (1-1) vs Seattle Seahawks (0-2)
3:25 (FOX)
This is one of the tougher games to pick this week. Quite frankly, both offenses showed little spark in each of their separate contests in primetime; Russell Wilson has gotten sacked 12 times in two games and the offense was steamrolled by the tenacious Bears' defense. The Cowboys need more out of Dak Prescott, as their defensive play saved them against the Giants. However, I would have to imagine that Russell Wilson finally gets going, as he has too much proven talent to start a season 0-3.
Pick: Cowboys 16, Seahawks 20
Chicago Bears (1-1) vs Arizona Cardinals (0-2)
3:25 (FOX)
The Cardinals have looked inadequate to say the least under Sam Bradford. Their offensive coordinator has vowed to get David Johnson more involved, as they have not used him and Larry Fitzgerald effectively to start the season. Although the Bears are coming off a short week, their defense looks like the real deal. Nevertheless, they need Mitchell Trubisky to show he is making progress, as he has all the pieces in place to do so. Even if the Bears can't get more out of Trubisky, their defense will carry the Monday night momentum into Glendale.
Pick: Bears 24, Cardinals 14
New England Patriots (1-1) vs Detroit Lions (0-2)
7:20 (NBC)
Sure, the storyline in this game will be new Lions head coach Matt Patricia's reunion with his former team– but he has a bigger task at hand– to get a win. The Lions get the worst possible matchup in Week 3, however; Tom Brady should bounce back after a loss last week and rout the Lions.
Pick: Patriots 31, Lions 17
Pittsburgh Steelers (0-1-1) vs Tampa Bay Buccaneers (2-0)
Monday, 7:15 (ESPN)
Don't look now, but the Buccaneers are 2-0 under the helm of Ryan Fitzpatrick. The former Harvard graduate, stunned the defending Super Bowl champions last week. "Fitzmagic" takes on primetime this Monday, against a desperate Steelers club. He will ride the hot hand into next week and completely derail an already imploding Steelers locker room.
Pick: Steelers 31, Bucs 35
About the Writer
Michael Raupp, Staff Writer
Michael Raupp is looking forward joining The Forest Scout as a junior. He enjoys running on the cross country team, watching baseball, and running track...