The Forest Scout Friday Five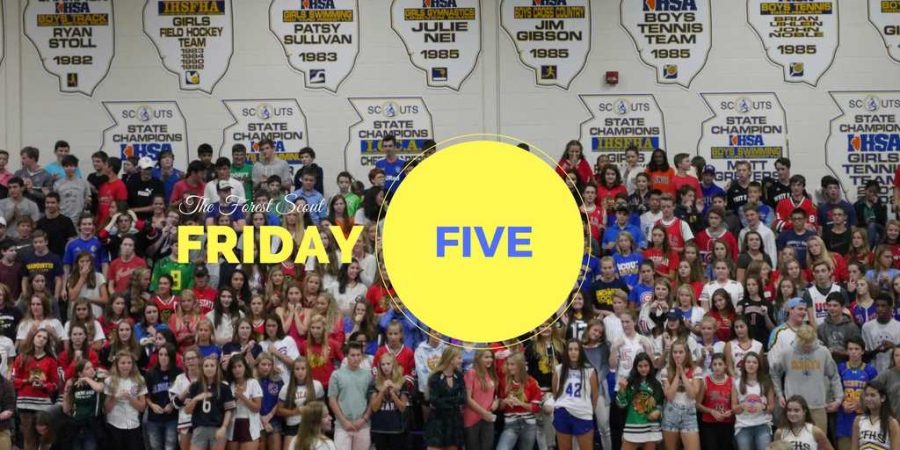 Many of us here have a number of passions that we strive to balance, which, while sometimes a Sisyphean task, defines who we are.  However, very few of us have taken those passions to such a level to receive international recognition.
Senior Kimie Han has been playing the piano since she was around four or five years old and, while she didn't know it then, this instrument, and her exceptional ability to play it, would eventually take her across the world.
To date, Han has played a number of shows in Chicago with the Chicago Symphony Orchestra, in Boston, where she takes lessons at the New England Conservatory of Music, and she has competed or participated in programs overseas in England, Russia, and Poland.
Despite her piano playing prowess, Han is remarkably approachable and modest.
"She is undoubtedly one of the most talented people I know, but she is modest, yet gracious when she receives compliments regarding her gift of musicality," close friend Megan Szostak, a talented musician in her own right, said.
This combination of talent and humility has led other musically-inclined students at LFHS to recognize her abilities as a leader in the community, electing her to the position of Orchestra Vice President alongside one of her closest friends, and current Orchestra President, Anna Aquino.
"She uses her multifaceted personality and talents for other people–and not for the applause," Aquino said.
Outside of the school orchestra and her own piano shows, Han can be found teaching children to play, working with the Environmental Club, participating in the new Asian-Pacific American club, and challenging herself academically with as many AP classes as she can fit into her schedule.
"Kimie is the culmination of boundless talent, undeniable ambition, and a big heart," Aquino said.  "She is Kimie, and she is amazing.
Many LFHS students have big goals in life that they want to achieve. Some might talk about it but do little to achieve them.
Senior Oleksyi Vyshyanyuk isn't one of those students. He is working every day to meet his goals.
Oleksyi plays on the Varsity Boys Tennis team. He is very passionate about it and looks to pattern his game after his tennis hero: Roger Federer.
Not only does Oleksyi spend a lot of time on tennis but also is focused on academics. He has taken multiple honors and AP classes throughout his high school career. His main college interests are Brown University, University of Illinois, and Marquette University.
When he wants to relax he enjoys playing video games and basketball with friends, but often doesn't find time due to his busy schedule.
His favorite sport is definitely tennis but also is big into basketball. A diehard Chicago Bulls fan ever since he started watching and playing basketball.
His friends describe him as a funny, dedicated individual.
"He is a hard working person and a damn good tennis player," senior Anthony Maranto said.
Someone who is chosen as an LFHS Friday Five is commonly defined as a person who truly embodies all the qualities of a "good Scout". The term "good scout" can be interpreted as someone who has an endless amount of school spirit and who students look up to.
Junior Caroline Murphy genuinely has all the characteristics a Friday Five should possess.
Caroline has been captain of the JV tennis team for two years. She brings great positivity, eagerness, and love in her attempt to make the team like a family.
Not only do the players admire Caroline's character but the coacheso as well.
"Caroline bleeds blue and gold. She is a true Scout through and through and you can always count on her to be cheering you on along the way! Caroline's positive spirit makes her a joy to be around and her energy is contagious!" JV tennis coach Jenna Stern said.
Apart from JV tennis captain, Caroline also plays soccer, is a link crew leader, and is very involved in CROYA. She also has a renowned love for the outdoors.
Caroline is also an incredible friend. "The best friend you could ever ask for. She's very caring towards all people and is always there to brighten up your day with a laugh," junior Ava Manelis said.
Many people touched on her laugh. "It's contagious," junior Francis Hickey said.
Overall, Caroline is a very kind- hearted, school spirited, lively person who, "truly cares about people," junior Lucy Surkamer said.
There's never a dull moment with Caroline around, junior Lily Neil said.
"She always makes whatever you are doing more fun." In all, LFHS could use more people like Caroline Murphy.
When it comes to the links, the hardwood, or the turf, sophomore Brody Hender doesn't play the "little guy" role you would expect him to. Despite coming in at 4'11" Brody often resorts to using his large heart or personality to win big.
"You can always find Brody with a big smile on his face; he's one of the students here that just brightens the whole school with his presence," one friend said.
Brody is a little guy planning to play a big role here at LFHS.
"He's been working really hard to make the Varsity golf team, people are always really surprised when they see such a little guy hit the ball so far, he's always the last one to leave the course," said sophomore James Gildersleeve.
On Friday nights you can find Brody at West Campus dressed head to toe in Scout gear.
Once spring time rolls around, Brody laces up his cleats for Lacrosse season. Last year he started on the freshman team. He plays attack and is a top goal scorer in his league.
"It's crazy how aggressive he is on the field; our coaches have always joked around how Brody is truly the biggest guy on the field because he really does play like it," James Gildersleeve said
Brody's teammates only have good things to say about his character, but they specifically mentioned how he plays a big leadership role on the team.
"He knows the game so well; he really uses his voice well on the field and is definitely a leader" said Matty Slobodnik.
Both on and off the field, senior Colton Pfeifer is a major contributor to LFHS and the community.
A member of the varsity soccer and baseball teams, Colton brings an impressive work ethic and passion for the games he plays.
It isn't uncommon to see Colton at Slammers late on a Monday night perfecting his already gorgeous swing.
"Colton's persistence and want are what really separate him from the rest when it comes to sports. You can just tell how much the sports mean to him and how badly he wants to succeed," senior Will Davis said.
Colton's feelings about moving on to college are bitter-sweet. His family and friends will be missed greatly but he's given himself the opportunity to continue catching and playing baseball at the next level.
Most importantly, however, is Colton's authenticity and sunny disposition.  His ever present smile and laugh are contagious and draw people close to him.
Those lucky enough to know Colton know just how special of a person he really is. Whether it be simply giving someone a ride home from practice or an encouraging word after a strikeout, Colton always looks out for those around him and makes his presence felt.
About the Writer
Ghost, Author
Ghost is a section of The Forest Scout that chooses to publish material anonymously in order to increase the depth of their investigative reporting. Ghost...