Gap Year- Yea or Nay?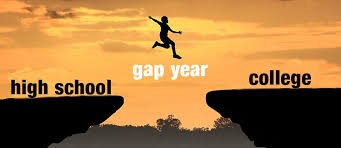 Gap year… what is it? Rebecca Safier from PrepScholar states that a gap year is, "an experiential semester… typically taken between high school and college." This "year on," as Gap Year Association likes to put it, is a year where students can find themselves and become more aware of their surroundings. Contrary to popular belief, a gap year does not just include traveling. Someone on a gap year could work, and save money for college, or even get in a better place mentally that prepares them for their future.
At Lake Forest High School, it is not very common for students to take a gap year, whether it be because of parents, friends, or work ethic. However, there are some students at the high school who do decide to take a year away from school, and plenty more students from different areas around the world.
Daniel Hanson, an alumnus of Lake Forest High School, took a gap year from 2017 – 2018 because he "worked very hard in high school on school, sports, and extracurricular activities. [He] was really tired and overall just not ready to go into another rigorous four years of school." Hanson is not the only Lake Forest High School student who planned on taking a gap year.
Emmy Raymond, another former student from Lake Forest High School, made the decision to take a gap year this year after graduating in the spring of 2018. When asked about why she took a gap year, she replied, "I've never really been great at school so I wanted a slow transition from high school to college." This is common for most kids, since going from high school and being around the same kids for years is a drastic difference to the college lifestyle.
A major question that follows people who are thinking about taking a gap year is, "Are you going to go to college afterwards?" This question may become frustrating to the students taking a gap year, because according to The Gap Year Association, "90 percent of students who took a gap year returned to college within a year." Students typically take a gap year to have more experience with life outside of the bubble they grew up in prior to going to college. Raymond stated that she is planning on attending college next fall, and is more than ready to do so. Hanson also stated that while on his gap year he had full intentions of going back to college, and now attends the University of Colorado-Boulder.
Another issue that may arise when taking a gap year is funding. However, there are many different companies, like Global Citizen Year or USA Gap Year Fairs, that can set students up with their best abroad group fit and help fund their trips. In 2016, the Gap Year Association Members and Provisional Members raised $4,200,000. Hanson traveled to Latin America "with ARCC … [doing] volunteer [work], language/cultural immersion [work], and [going on] adventure[s]." He gained a new perspective on global ideas and has a new appreciation for his life. For the second half of Hanson's gap year, he worked at an "internship [he] had applied to while abroad, and worked a couple other jobs." Hanson stayed productive and never lost sight of his goal. His friends and family were very welcoming and supportive of his year away. Raymond's friends and family displayed similar attitudes.
When on a gap year, students do not stop learning or working hard. They discover new things within themselves and the world in which they they live.