The Forest Scout Friday Five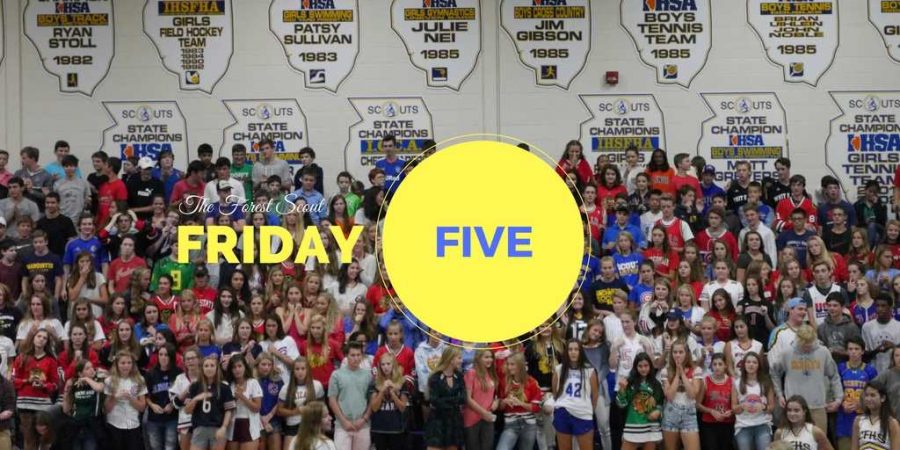 Although senior Luke Mulligan won't be the person you hear yelling across the hall on a typical school day, he certainly has a lot to share.
He is a very well-rounded individual, having competed in both Cross Country and Track and Field for the school, two sports he has enjoyed since his early years. In the classroom, he has a serious fascination with computer science, something he not only excels at but wants to pursue in his future.
He has competed in Model United Nations as well, attending last year's Chicago International Model United Nations Conference (CIMUN). Often times he can be found working hard on his AP Physics work in the library or upper commons. But no matter what the subject is; Luke is someone you can go to for assistance.
Although much of his life does revolve around the school and the many great things it offers, he shows the traits of a wonderful young man in other parts of his life as well.
"He's very understated. You wouldn't expect Luke to be such a smart and caring individual, but he is. He certainly embodies the traits of a great friend and student," senior Gavin Meyer said. On the weekends, there is a great chance he is off at a campsite in one of the surrounding states. He usually spends this time with his father and his brother, freshman Quinn Mulligan.
"Luke has always been an inspiration to me. Both in his academic prowess and dedication to whatever he does," he said.
To his friends, Luke is someone you can count on for a good time. He is very positive and eager to ensure those around him are as well. After the school day ends, he is someone many count on to drive them to remote parking or all the way home. "He has a great personality, and that makes him super enjoyable to be around," senior Evan Devine said.
So despite not being the loudest voice in the room, Luke Mulligan's academic ability and friendly personality are something any school needs, and something Lake Forest High School is lucky to have.
Sophomore Margot Curry is the epitome of happiness.
Those lucky enough to know Curry understand how crucial she is to the Lake Forest community. Having lived in Lake Forest, moving to Ireland, and then returning to Lake Forest in the wake of her freshman year, Curry knows how to handle adversity.
She is a hardworking and dedicated student, taking honors, AP classes, and even early bird AP Chemistry on top of it. Waking up for a 7:45 am AP class is a difficult feet to overcome.
Along with this amazing work ethic, Curry is beloved by her peers.
"Having been her best friend of 13 years, I would have to say that Margot is one of the most genuinely kind people I have ever met. She works hard for everything she has and it's so inspiring," sophomore Lily Bryant said.
The two girls managed to maintain their long-distance relationship while Curry was in Ireland.
Curry is also heavily involved in sports. She is on the girl's field hockey team here. She has somehow managed to keep up her studies and her athletic excellence.
Her friends describe her as kind-hearted, friendly face you can look for when walking in the hallway.
"Margot is one of the most charismatic girls I have ever known. She cares so much about her peers and is always willing to help a friend. She is kind to everyone she meets," junior Sarah Bires said.
To be a part of TFS's Friday Five requires a certain set of intangible qualities, and whether these go recognized or not prior to their documentation, they certainly make LFHS a better place. These abstract attributes include (but certainly aren't limited to) confidence, kindness, and persistence. Junior Carson Ward exemplifies all of these, and whether he's in class or outside of school in one of his many extracurriculars, his quiet confidence makes everyone around him immediately feel at ease.
Some of the most challenging courses available – AP Calculus BC, AP Lang, AP US History, Spanish 4H, and Accounting Honors – fill his school day, but Ward can take the heat.
"Carson is an incredibly bright kid," said one of his teachers. "He makes my job a lot easier."
While it would be justified for Ward to simply focus on his own betterment in these rigorous courses, he chooses to go a step further. Carson is "always willing to help his peers with a smile on his face," senior William Davis said.
Besides balancing an extremely tough academic schedule, Ward fills the rest of his day with Cross Country in the Fall and Track and Field in the Spring. Due to the long-distance nature of Cross Country, he specializes in longer races come February.
"Carson's a great runner and a leader for the younger guys," senior Gavin Meyer said. "He's the most supportive kid I know."
To excel academically and athletically is impressive in itself, but to do so while staying humble and still finding ways to help others is spectacular.
Martin Pacheco is the kind of genuine person that can always brighten your day. When passing Pacheco in the hallway, a student will almost always be met with a big, genuine smile.
"Martin is the type of guy who will always be a happy face in the school," junior Caroline Murphy said. "He just always makes me smile. Martin is the bomb."
The students who have been fortunate enough to have Pacheco for study hall often say that he makes their day a little bit brighter, whether it be with a quick conversation about how their day is going or just by looking at one of his funny graphic t-shirts.
Not only does Pacheco care for the students within the school walls, but he supports many students at their athletic games as well.
Juniors Grace Hardy and Mary Margaret Reay both agree that, "Martin is so supportive to all teams at our school. He is always at whatever game I'm at."
Senior Jacqueline Schlosser describes him perfectly.
"Martin has always been one of my favorite people. Last year he even came to one of our dance teams' competitions just to support us and it made our day. He seriously does not have a mean bone in his body and has always been a friendly face to everyone," she said.
Every student at LFHS has a passion, something that they want to be the best at or simply love doing. For senior Griffin Slobodnik that passion is hockey.
For Slobodnik hockey isn't just a sport he plays at school, it's a way of life.
Although his high school hockey career began sophomore year, Slobodnik has been playing hockey his whole life. He played club hockey up until sophomore year when he decided to lace up his skates for the Scouts.
At first his parents were opposed to him playing for the high school because he had developed a feel for how club worked and they didn't want to disrupt that. Ultimately, they respected his decision to play for his school.
Slobodnik went on to make the varsity team as a sophomore.
One of Griffin's ultimate goals is to become captain because he wants to be the best of the best.
"He has high hopes of becoming a captain this year and he has been working hard on it all summer," said his mom Julie.
Another motivator for him to join the high school team was that he wanted to immerse himself in the school culture. He wanted to represent the school in the best way possible.
It's safe to say that Griffin's best game with the Scouts was the Pucks and Poms game junior year.
The game was the night before Thanksgiving and that game gave Griffin all the feels. The Scouts were facing off against the New Trier white team. New Trier scored first and the Scouts came back with a goal scored by Charlie Altounian assisted by, you guessed it, Slobodnik.
The fans were behind Griffin, especially the student section and that got him very motivated. Since sophomore year Griffin has had time to develop friendships with his teammates, but two of them stand out above the others, Will Lincoln and Graham Hickey.
The reason for that was the fact that he grew up with them and they played hockey together since they were kids. In fact they were the ones who convinced Griffin to play for the Scouts. They were all on the same line which made the game even more enjoyable for each of them, but Hickey had to get back surgery his senior year which was tough on Will and especially tough on Griffin.
Griffin's favorite hockey team is the Pittsburgh Penguins, and he has been a fan since he was a kid. The Penguins have one of the best players in hockey named Sidney Crosby and he was Griffin's inspiration and who he molds his game after. Whether he's on the ice or watching his favorite NHL team, hockey runs through his veins.
About the Writer
Ghost, Author
Ghost is a section of The Forest Scout that chooses to publish material anonymously in order to increase the depth of their investigative reporting. Ghost...