The Forest Scout Friday Five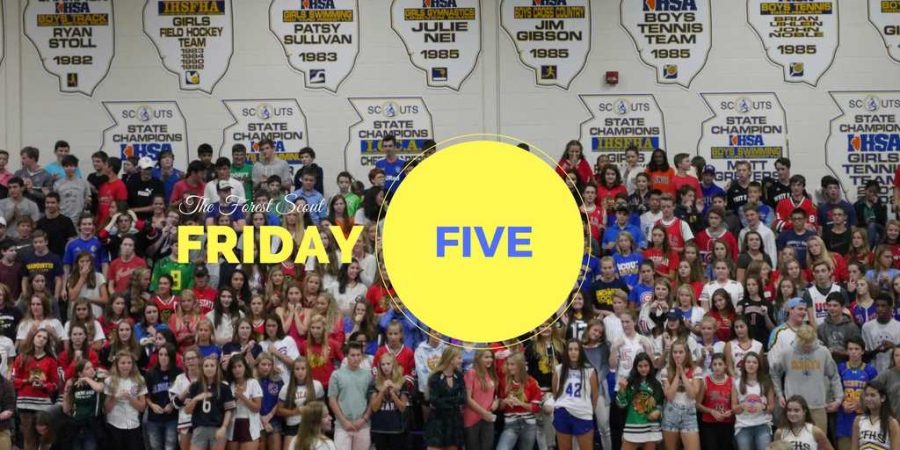 Physical Education teacher Ray Werner is an excellent example for what teachers aspire to be. His dedication to his craft is seen by the members in his class every day. Most, if not all, of his students leave Outdoor Education with a smile on their face.
"I'd say he is an inclusive teacher, engaging all the students in his class," said senior Adam Clayton. "With all different groups of people in the class .. everyone participated, even in wall climbing, and I got to meet a lot of new people."
The students who leave Outdoor Education by the end of the semester can appreciate not only the work of Werner, and how it changed their outlook on life, but at the same time the influence it had on them as a person. The environment Werner creates for his students deeply impacts their high school experience.
"I'd say Mr. Werner has definitely influenced me in that he has helped me grow out of my comfort zone," Clayton said. " I would be put in other groups,different groups, and we would also do activities that I had never done before, like a lot of team building activities."
Whether it's in the classroom or out, Werner continues to inspire students to take a chance, step back, and be proud of what they have accomplished.
"He's made me more confident," said senior Flynn McClellan,  "He's made me believe I can do anything… he's made me feel special, and like a leader."
Many students here spent their long summer hours at the beach and pool, but that is not the case for senior Elizabeth Reay, who had the opportunity to study architecture in the city of Rome. She met the Pope, formed new relationships with students, and studied the past and present architecture in the city.
Elizabeth hopes to take what she has learned to college and continue her study of architecture next year. Despite her heavy course load with multiple AP classes this year, she still has made time for architecture class in her schedule.
Senior Annie Burdiak described Elizabeth as "a very driven, hardworking, and intelligent student."
Although Elizabeth may not be the loudest and outgoing senior in her class, she makes an impact on her fellow classmates. Friend Bridget Eckland says,  "She is a friendly face to see in the hallway. She is someone who is always willing to talk and give you a hug when you are in need."
Those who know Elizabeth can attest to her cheerful attitude towards everyone she meets. She is easily approachable and someone you can always come to.
"She is family oriented and one of the most kind-hearted people you will meet," said senior Lauren Tustison.
With her kind hearted personality and lively spirit Elizabeth can brighten  anyone's day. She is a Reay of sunshine in the halls of LFHS.
Lake Forest High School has many kind and determined students, but sophomore Alisa Giannelli stands outs. She is a friendly face to see in the halls with her bright smile and amazing hugs. She carries her positive attitude into her sports and her volunteering work, both in and out of school.
Alisa is very enthusiastic about learning and will push herself in order to succeed. She is someone that is always dedicated to whatever she is doing, whether it be on the court or in the classroom.
"I was on the tennis and badminton teams with her, and she always goes the extra mile to do the best and pushes herself beyond anyone's imagination," teammate Lillie Michael said.
Lillie met Alisa last year during the tennis season and has kept a strong friendship ever since. Lillie added, "she is one of the most motivated athletes I've ever met."
Juggling homework, school sports, and club sports can be very hard, but Alisa does it without skipping a beat.
"She is very mature and responsible as well as a hard worker." He adds, "she has such a fun personality," badminton coach Matt Fiordirosa said.
Alisa is able to make time for everything including her family. She loves her Sunday night spreads with delicious homemade Italian foods. Family is something that Alisa values and is important in many aspects of her life.
Being so caring and compassionate to others is such a positive natural attraction, and I know the next three years have so much in store for this lovely lady.
Junior Haley Banta's smile has been described as "contagious" by many people who know her well. Fortunately for us, that smile rarely leaves Haley's face.
Even more importantly, Haley is one of the more genuine, kind hearted people you will encounter in your time at Lake Forest High School.
Junior Bridget Mitchell, one of Haley's closest friends, had this to say, "She literally has the kindest heart of anyone I've ever known. If she isn't already friendly with you, she will make a point of trying to be friends with you because she just loves meeting and interacting with new people."
Haley's yearn to welcome and engage others on a daily basis is just one thing that makes her such an integral part of the LFHS community.
Haley also excels in the classroom, where she takes a heavy load of AP and honors classes. Her schedule consists of not one but two language classes (Latin and Spanish), AP Language and Comp, and Math Analysis Honors.
Don't  worry, Haley also makes sure to keep herself busy with a large array of different extracurricular activities. Some of these include: Student Council (Junior VP), Model UN, Croya, First Presbyterian Church of Lake Forest Youth Group and also Cross Country.
Senior Kirsten Larson put it perfectly when describing Haley's willingness to partake in a wide variety of activities.
"You can just tell that she doesn't give attention to what other people think or do. She actively participates  in the things that she truly takes interest in," she said.
Haley's active participation and sincere interest in the things she does is something truly unique. If one thing is for sure, it is that LFHS could sure use a couple more Haley Bantas.
Students here know that freshman year is a difficult and scary time to assimilate into a new culture. However, freshman Leo Scheidler seems to be on top of the world entering his high school career.
His new title of starting freshman quarterback was not given to him by accident.  Leo is a born workhorse, constantly improving his strength and speed.
His older brother Eddie Scheidler, starting cornerback for the Varsity football team, had this to say about his brother's work ethic. "Leo is the type of kid who his always working out.  Literally I will come home after a night out, head downstairs to the basement, and I see Leo doing a full weight workout. And that's after his basketball or football practice. I'll wake up in the morning and he's already outside getting shots up.  He just loves the process of getting better."
This type of work ethic is rare for a 15 year old, and requires more than just dedication.  It requires a very strong passion as well.
"He has a great attitude just like his brother, a good work ethic, and overall is great asset to the freshman team this year," said sophomore football coach Dylan Johnson, who spent the whole summer practicing with Leo.
But Leo's athletic repertoire extends beyond football.  He is earning high praise for his basketball game. This is a strong incoming class of freshman basketball players, but Leo has seemed to separate himself as one of the stronger players.
He has earned praise from Varsity Basketball Head Coach Phil LaScala. "Leo was a hard worker in camp this summer and demonstrated a great attitude."
However, athletics are not the only thing defining Leo.  Following in the footsteps of his older siblings academic success, Leo is also very focused on his academics.  A member of National Junior Honor Society and straight-A student at the School of St. Mary in middle school, Leo's hard work at his academics will most likely directly translate into high school.
In talks with his brother Eddie, he also stated that Leo has a niche for fixing about anything.   Leo is conveniently enrolled in wood shop this semester.
"He loves to build things, and fix things," Eddie said.
Another passion includes his die-hard fan status of the Notre Dame Fighting Irish, especially their football and basketball programs.
Obviously, we can all take take notes from his work ethic and dedication to his several different commitments.  But we all can also be excited to see what this multi-talented freshman will accomplish in his high school career.
About the Writer
Ghost, Author
Ghost is a section of The Forest Scout that chooses to publish material anonymously in order to increase the depth of their investigative reporting. Ghost...