Hip-hop Hillbillies: week 4
April 25, 2023
We are two LFHS seniors. One is big into country music, and the other is a hip-hop fan. Every week, we discuss new releases, whether singles, EPs, or albums. We give an overview and rate the release in three categories.
A little flavor on our approach: Artist Performance refers to the album and lyrical structure. Production describes the quality of everything added to the words. Replay Value tells of the extent we would listen to each release.
Week 4 Hillbilly Release
Gettin' Old – Luke Combs (ALBUM)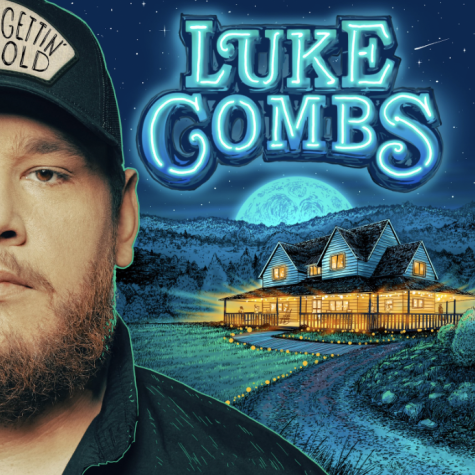 In Feb. 2014, Luke Combs moved from North Carolina to Nashville: still determining what was ahead of him. He felt like he had a calling in country music but would have difficulty finding success. The main reason, he said, was that he wasn't tall, hot, or ripped like most new country artists. 
Although Combs was skeptical of how visually appealing he would be on a stage, he hugged himself for his ability to write songs. This self-esteem made Luke Combs a household name.
While Nashville's brightest stars performed, Combs produced lyrics for them. He performed some side gigs in the meantime.
Yet much to his surprise, his popularity caught fire. Worrying about his image caused him to undermine his audio. Luke had underestimated his vocal talent all along.
With his first album's release in 2017, he became one of the most influential artists in country. "This One's For You" made every country music fan want to hop on the Combs bandwagon. It was a unique sound, uniform across all twelve songs, and listeners couldn't get enough of it.
The album included three country classics: Hurricane, One Number Away, and a tune that most fans know every word to, When it Rains it Pours.
Sadly, the title of his 2019 album, "What You See Is What You Get," became overwhelmingly true for his listeners. In the summer of 2022, Luke Combs released a twelve-song project, "Growin' Up." Interestingly enough, the release served as an annoyance for many fans. 
For some, it was the size of the project. Country music listeners anticipated receiving more after waiting two years for the release.
Yet more aggravated fans were bothered by the content itself. They felt that Combs's album sounded too similar to his previous project.
Struggling to enjoy Combs' songs that were both "new" and "knew," listeners overplayed the two slowest tracks on the album ("Going, Going, Gone" and "The Kind Of Love We Make"): a tone that he doesn't create as much.
Combs's 2023 album, "Gettin' Old," was heavily anticipated to be like any other Luke Combs album. This wasn't the case. At all.
From energetic, up-tempo melodies like "Hannah Ford Road" and "Fox in the Henhouse" to slower ballads like "Back 40 Back," this album's emotional field is miles wider than any record Luke Combs has created.
Centered around the album's title, the eighteen songs dropped into the project still find a way to roll in different directions. "Where the Wild Things Are" talks about aging siblings unable to see each other as often as they'd like to. "Take You With Me" covers the immediate father-son bond. "My Song Will Never Die" discusses the lasting impacts of music after an artist's death.
As people get old, they deal with situations they didn't fully prepare for. As Luke conveys, observing how quickly his younger years happened helps him hold his new family with the utmost appreciation.
Who knows, maybe getting older was all it took for Luke Combs to produce the country music album of 2023.
Jack Lucania's rap perspective: 
As the follow-up to Combs' Growin' Up, I enjoyed the thematic sequence of the two albums and their meaning to Luke. The album features a mix of heartwarming and upbeat tracks that are sure to resonate with any country music lover. My personal favorite is Fast Car, which is an amazing cover of a classic song. Combs' rendition of the track is powerful, with his distinctive voice adding a new dimension to the lyrics. Overall, Gettin' Old is a fantastic album that showcases Combs' musical prowess and will leave listeners wanting more.
Highlights of the album
Where the Wild Things Are
Combs flashes his ability to turn a parable into a country song. In the story, the narrator's older brother moves to a faraway place, and we quickly learn that he is more daring than the narrator. The brother constantly tells the narrator about the "wild" adventures he's been on in the careless life he lives. The story takes a dramatic turn, expressing that the brother used all of his fun instead of conserving it over a longer life.

In what's been the most listened-to song of the album on Spotify, Combs remarkably covers Tracy Chapman's "Fast Car." He chose to remake the classic song because it was his "First favorite song probably ever." The iconic melody that he listened to at four years old in his dad's truck is beautifully recreated by Combs. Unpopular opinion: it one-ups Chapman's original.
Intentionally released on St. Patrick's Day, Combs discusses the extent of his good fortune. With the use of a witty metaphor, he expresses that he's more than just lucky to have met the people around him. The tune features guitar riffs that mimic traditional Celtic music.
Artist Performance: 9.6
Production: 8.8
Replay Value: 9.3
Overall: 9.2/10
Leave a Comment
Week 4 Hip-hop Release
Week 4 Hip-Hop Release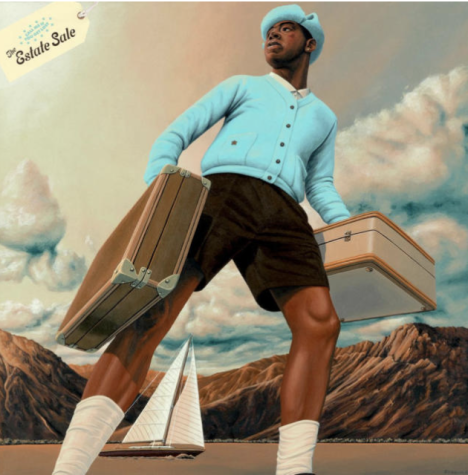 CALL ME IF YOU GET LOST: The Estate Sale – Tyler, The Creator (ALBUM)
Tyler, The Creator's most recent project, CALL ME IF YOU GET LOST, was originally released in the summer of 2021, and since his 2011 album Goblin, Tyler has been releasing a new album every two years. As 2023 marks 2 years since Tyler's last drop, fans have long anticipated whether Tyler will continue this trend in 2023.
It's been increasingly common that artists will release deluxe versions of popular albums to stay in the conversation or as a cash grab, as they sacrifice the quality of the music. That being said, everyone knows that Tyler strictly puts out quality, and The Estate Sale certainly reflects that.
This extended edition of CALL ME IF YOU GET LOST includes 8 additional tracks at the end of the album, none of which feel out of place. We're able to appreciate more of Tyler's rapping ability on songs such as Stuntman, while he also gives us more wholesome tracks such as Sorry, not sorry, which was a perfect way for Tyler to thank his fans and wrap up the album.
Tyler is an artist you can always count on never to miss, and it's very hard ever to find flaws in his music. His production style is always creative and refreshing, but the instrumentals he pulls from the likes of Madlib on the track What a Day and Kanye West on the track Heaven to Me add so much to the overall atmosphere of the tracklist.
This may not have been the album we were looking for, but this deluxe version of CALL ME IF YOU GET LOST is a reminder to the fans that Tyler doesn't plan on going anywhere anytime soon.
Sam Westerman's country perspective: 
On the surface, there's a lot to disfavor about Tyler the Creator's album. Upon closer inspection, however, I came to appreciate much of it. Like every rap album I've reviewed this year, the artist has a motor mouth about obscene topics (drug use, lethal violence, explicit sexuality). Nonetheless, I was impressed with Tyler's storytelling ability displayed throughout the project. CORSO, the second track on the album, is what country listeners can connect with most. It features accounts of how relationships along the way have changed him as a man.
Highlights of the album
This would be it if there were a song to encapsulate a Tyler song for any vibe perfectly. The heavy piano riffs that start the song carry through the whole track, and the production on top of it works very smoothly together. Tyler also floats over the beat perfectly, switching his flows only when necessary while still keeping it sound like one continuous song.
This song has some of the best production across Tyler's entire discography. As I said, it's the perfect song to wrap up the album and thank his fans. Ironically, Tyler's purpose of this song is to be as unapologetic as possible, arguing that modern trends of cancel culture and social media are bad for the general public health.
STUNTMAN(feat. Vince Staples)
This song could definitely be described as the most energetic of the new additions. Everything from the fat, hard-hitting kick carrying the beat, distorted bassline, and occasional sirens make for a catchy and head-bumping anthem. This collab has been a long time coming, and it absolutely does not disappoint. Both artists bring a braggadocious, unapologetic delivery that makes for an exciting start to the deluxe.
Artist Performance: 9.3/10
Production: 8.6/10
Replay Value: 7.3/10
Overall: 8.4/10
Leave a Comment