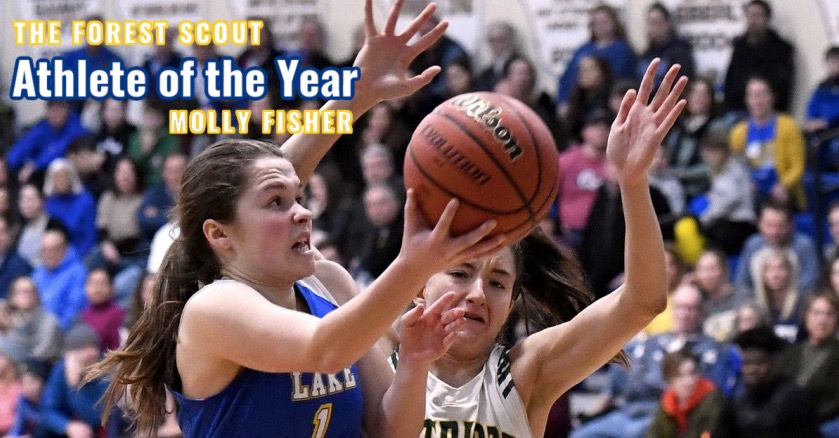 The Forest Scout's 2021 Female Athlete of the Year: Molly Fisher
June 4, 2021
Molly Fisher, The Forest Scout's Female Athlete of the Year, was not an immediate star. In fact, she was only expected to play a handful of minutes at the varsity level.
"We had a talk at the beginning of my sophomore year. He told me I would split games between JV and varsity, but I would only play about four minutes a game on varsity. I ended up starting the second game of the varsity Thanksgiving tournament, which are the first games of the year. After that, I was put in the starting lineup the whole year. Coach Wilhelm told me after the tournament that he knew by the first week of practice that I would not be playing on JV," Fisher said.
Suddenly, Fisher exploded into a talented and versatile two-sport athlete. She has achieved incredible accomplishments in both the girl's soccer and basketball programs. 
Fisher started playing basketball and soccer early on through rec leagues. She played basketball for New Vision Athletics in grade school and then joined the LFHS feeder program. For soccer, she played for Lake Forest Soccer Association and 60 United. She credits her brothers, Jake and Danny, for building her love of sports. 
"They are my biggest fans. Jake would constantly be playing or watching basketball. It's always been a family sport," she said. 
Before high school, Fisher was torn between the two sports and couldn't choose a favorite. She played on both the freshman basketball team and the varsity soccer team. 
"It was definitely soccer up until my sophomore year, but the basketball program at the high school has been the best experience of my life," she said. "The pace of the game is so exciting and all of the coaches and teammates made the seasons so memorable. I still love soccer and I honestly don't know how I'm gonna go without soccer in college."
Last summer, Fisher committed to Denison University to continue her basketball career.
"Denison was the first school I ever visited with my brothers. I just had that feeling on the campus and knew it was the place for me. I always thought about playing for them but didn't think I could. It ended up working out and I'm so excited."
"
While her senior season was short, she was awarded MVP, All-Academic, and NSC All-Conference. "
Sophomore year was a drastic change for Fisher. She had not touched a basketball since her freshman year season. Coach Wilhelm made the plan clear for the sophomore season, but the plan soon changed. 
During that year, Fisher became a standout and fierce player. She was awarded Miss Defense and helped the team not only win another Regional title, but their first Sectional Championship in basketball history. Fisher also won another Regional a few months later with the soccer team. 
Fisher's junior year was even more impressive. Now a team captain, Fisher took on a bigger role as a leader and mentor to underclassmen. She holds the title 4th highest 3 Pt Field Goals made in a single season with 45. Once again, the girl's basketball team won the Regional title, and Fisher was named Miss Defense as well as All-Academic. 
Fisher even had some viral moments during the season. In a Christmas tournament junior year, she ended up hitting a buzzer shot to beat Benet, the #1 team in the state. 
Fisher became a ruthless defender and shooter. When she injured her shoulder junior year, her absence was definitely felt as there seemed to be no one to fill her shoes, especially on defense. While her senior season was short, she was awarded MVP, All-Academic, and NSC All-Conference. 
"Molly inspired me to work harder for something bigger than myself," sophomore Bella Ranallo said. "She showed me what a good teammate looks like, not only as a leader but as a friend. Without Moll, I wouldn't be where I am today."
Former Head Coach Kyle Wilhelm describes Fisher as "one of the best leaders. She truly wants the best for the team. She is always working hard and setting a great example. She takes coaching on and is always willing to help out a teammate. Any coach would be lucky to have a Molly Fisher on their team."
Fisher may be small, but in the past four years, she transformed herself into a crucial player for both the girl's varsity basketball and soccer teams. Even in the off-season, she was always training and preparing for what's next. Fisher set her place in both sports as a role player; she knew her job on the team and did exactly what was expected of her. 
"One's mindset is everything. Not only being confident, but believing in yourself is the most important thing," she said. "Your teammates become family and your coaches will always be there to support you."