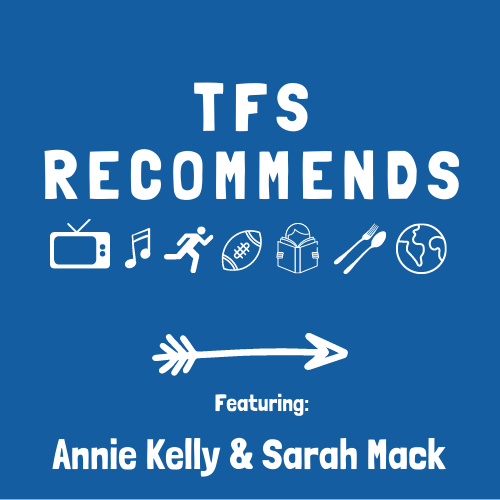 TFS Recommends with Annie Kelly and Sarah Mack
March 8, 2021
Each week two writers share their current obsessions.
Annie Kelly 

Netflix Show "Our Planet" 
This show is by far one of my favorites. Not only because of the pure tranquility it brings to everyone watching, but also because of what you're watching. Each episode focuses on a different ecosystem, and what each one encompasses. My personal favorite is "Jungles", but they are all good watches. Plus, the narration of each episode is so calming, and interesting. It is overall just a great show to have on whether you want to focus on it, or just to have playing in the background. Whether you're an outdoorsy person or not, I am certain that anyone can find interest in this show.
Ferentino's Chicken Caesar Salad
When it comes to mastering something as simple as a chicken caesar salad, Ferentinos has got it down to a science. With lettuce, egg, croutons, chicken, and parmesan all included in their caesar,  they really deliver the full package. In my opinion one thing that is key to a good caesar salad is the dressing, and Ferentions has one of the best. Instead of  a creamy caesar dressing, they top theirs off with a more vinaigrette type of caesar dressing that really brings the whole salad to life. Definitely the best chicken caesar salad the community has to offer. 
Looking For Alaska  by John Green 
Being the first of John Green's many novels, Looking For Alaska is definitely  a book to remember. I am not what one would call an avid reader, but this book is one I really did enjoy. Being a story in which events and characters are grounded in John Green's real life, this story really puts a lot of  things in perspective. It is a great coming of age story that is without a doubt a page turner.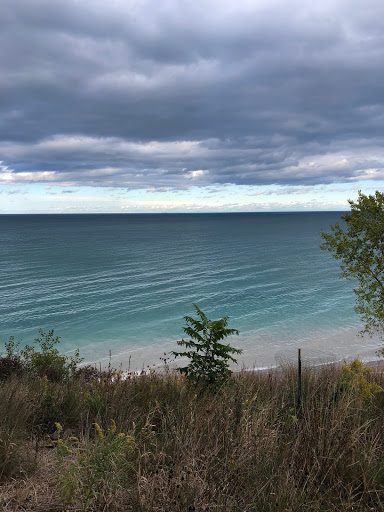 Fort Sheridan Forest Preserve
Located just off of Sheridan Rd. lies the somewhat hidden gem that is the Fort Sheridan Forest Preserve. I'd be surprised if anyone didn't enjoy a nice walk at this place. With some great trails, and a view of Lake Michigan this is the perfect environment to go to escape reality, and get a breath of fresh air. Whether you're with friends, family, or alone this place never fails. Fort Sheridan Forest Preserve is also a favorite amongst our four legged friends, so next time your pooch is giving you that sad sad look I highly suggest taking them here to make them the happiest dog in the world. 
Themed Dinners 
Over the past couple months my friends and I have done themed dinners. By themes I don't mean like 80's or neon themed, I'm talking more about a theme within the cuisine. Every month we pick a different theme of food to cook, then we assign certain dishes to make, and all come together bringing our assigned dish for a meal at one of our houses! We have successfully pulled off a mexican cuisine, italian cuisine, and southern cuisine night in hopes of many more dinners in the future. This is something that we all really enjoy and I highly recommend it because there's nothing better than some great food and some even better company. 
Leave a Comment
Sarah Mack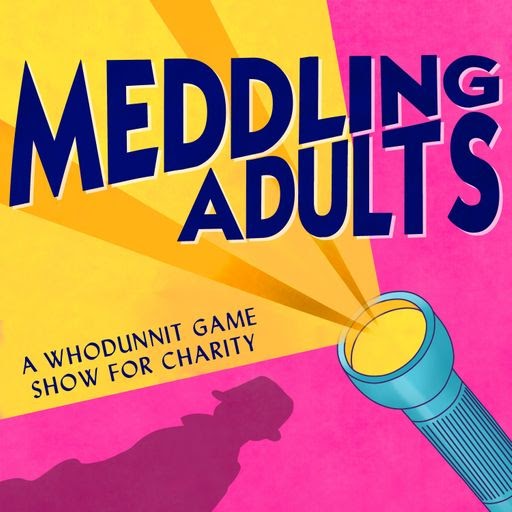 Meddling Adults
You remember that age where Nancy Drew, Scooby-Doo, and Encyclopedia Brown was all the rage? Maybe it was just me…but either way, even if you've only ever read one childhood mystery book, or seen one whodunit movie, this podcast is worth a listen!
Meddling Adults is a fun podcast that takes the plots from Nancy Drew, Scooby Doo, and a host of other mystery series to make a fun game of detecting and insight. During each episode, the game host gives the rough outline of the plot and clues of a mystery, and the contestants compete for points based on their guesses of who committed the crime, why they did it, and how the genius kid detectives figured it out!
And did I mention it's all for charity? The winner of each episode gets to donate a pool of money to a charity of their choice. So not only is it a fun podcast, but it's also for a good cause!
"Get Around It" by Midi Matilda
This song originally came at recommendation from my sister after she sent me her Spotify Discover Weekly one day. Not only did this song help me realize that I have been criminally underutilizing my own Discover Weekly playlists, but also gave me this awesome jam that's practically guaranteed to get a foot tapping!
I know it sounds cheesy, but this song is genuinely unlike anything I have ever heard between the chord progressions and main melody, and really made me want to get up and dance when I first heard it. So give it a listen!
"Tigerblood" by Vistas
This is yet another song that I have stolen from my sister's Discover Weekly. You might be catching on to a little theme here but what can I say? It was a good playlist!
Stylistically speaking, Tigerblood has a nice balance between indie and classic rock that always seems to make me smile and give me a little boost of energy and it's one of my all time favorite songs to listen to right now. So if you ever need a little pick-me-up song on a sleepy morning, Tigerblood is a good way to go!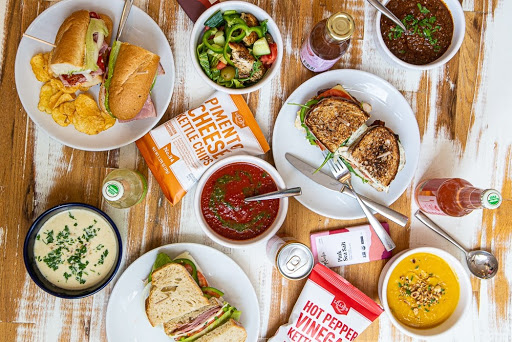 Bonk
When I'm not at school, I'm often running back and forth between after-school activities and a job, and sometimes I don't always have time to grab food at home; so I usually find myself getting something from Bonk.
This place is a nice sandwich and soup shop with a variety of great toppings and dishes. I genuinely don't think I've had a better sandwich, they're just that good. One of my favorite little things about Bonk that I think is particularly great is I'm a big fan of truffle, and not only does Bonk have truffle mayonnaise but they have it as a free topping! I also highly suggest getting a cup of their butternut squash soup with hazelnuts sometime. 
Douglas by Hannah Gadsby
I just recently rewatched this special and I have to say, if you ever need a laugh, (and let's be honest, we all need some laughs right now) this is a good place to start. I've always been a big fan of stand up comedy and on my long list of good specials and comedy sets, Douglas is near the top of that list.
This special is filled with great jokes that will be sure to make you smile and most importantly, will leave you with a new meaning for the name Douglas, the importance of penguins to boxes, and a new standard for what is a good or bad conversation to have at a dog park.
Leave a Comment