MaryGrace King, the dolphin
It didn't take sophomore MaryGrace King long to make a splash at Lake Forest High School
The sophomore, who has been competing since age 6, is already swimming at a level most of her peers can only dream of.  The secret to her success? 
"I never quit…there were times when I wanted to, but I'm pretty glad I didn't," King said.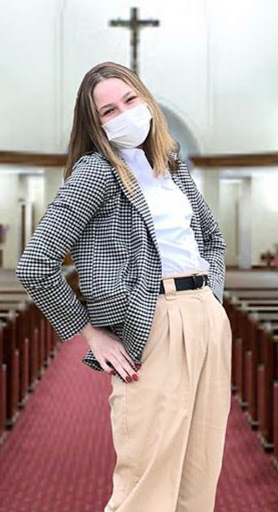 Her commitment to the sport has landed her in some extremely high-level swim meets and competitions. In 2019 the Lake Forest Swim Club member was invited to the USA Swimming Central Zone Select Camp. She also competed in State as a freshman for the 200 Medley Relay (BR), 400 Free Relay, 200 Free, and 500 Free.
MaryGrace has big plans for her future.
"I really hope to swim in college; that's a big goal for me," MaryGrace said. "I also have to take into account academics as well though, because school is really important for me, and I want to pursue something that I'm actually interested in."
King is enrolled in several advanced courses, and while it has been "a struggle" to balance her schoolwork and swimming schedule, MaryGrace has been doing it all.
"I really utilize my study halls, and I try to have a good sleeping schedule…I have to use the weekends a lot to catch up on sleep," King explained.
With all of these activities on the calendar, it seems one would have no time for anything else, but King still finds a way to squeeze in additional extracurriculars at the school. She is in French Club, Latin Club, and she used to be in Model United Nations. On top of that, she likes to expand her knowledge on the topics that she is most passionate about, watching many documentaries and TED Talks.
Donate to The Forest Scout