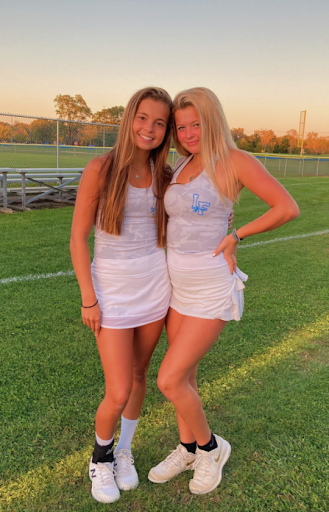 Autumn Rabjohns, the ace
When you Google "Rabjohns tennis" you see not one, but two tennis phenoms. Sophomore Autumn Rabjohns, younger sister to Kiley Rabjohns, has been playing tennis all of her life. "Playing" is an understatement, young Rabjohns, who is only 15,  has been dominating her sport for years. 
Not only is Rabjohns a five-star recruit athlete, but she is also number one in the state of Illinois and ranked number 29 nationally for the class of 2023.  In 2019, she took fifth in the class 2A state tournament. This year's State tournament was canceled.
 A day in the life of Rabjohns consists of practice early before school, then attending her daily classes, and getting an excusal from the last two classes of the day to go practice yet again. During the fall tennis season, which Rabjohns has been a part of since freshman year, she goes from after school practice to the high school team practices.  
"Sometimes it gets a little repetitive playing so much with my sister and dad," said Rabjohns, "but overall I enjoy the challenge because Kiley is so hard to play against." 
Rabjohns' story is so unique and remarkable because her dad is not only her biggest supporter, but he is also her coach. She and her sister practice against each other every day, looking to keep their skills in the best shape possible. 
"Over the years I've stayed motivated knowing I have to keep on practicing as much as I can because if I don't then my game will slip away quickly," said sophomore Autumn Rabjohns
Rabjohns' older sister, Kiley, is currently a senior  committed to play D1 at Northwestern. This is clearly a goal shared between the sisters. 
"My goal for the future is just that I am hoping to play a lot for a team in college," Rabjohns said.
With such a difficult year, Rabjohns was forced to take some time off, with all courts closed for a period of time. The high school varsity season looked a little different, yet she still helped bring the team to the top, winning both the conference and sectional tournament. 
Since the first day she stepped on the Scouts courts freshman year, she has set the bar high for all players on the team, regardless of skill. 
Donate to The Forest Scout