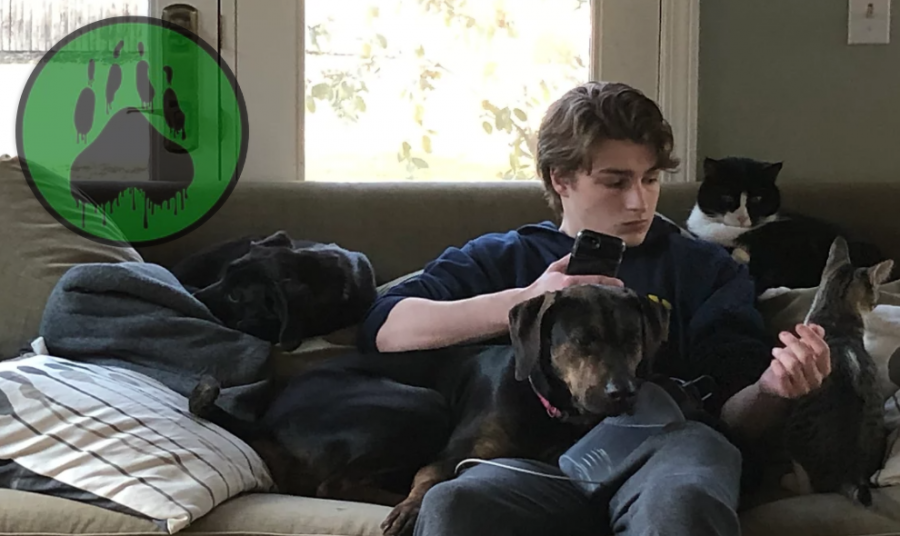 Paws for Patrick: Providing Love and Support to the Community
Nonprofit organization starts up to commemorate the late and beloved Patrick Roemer.
October 21, 2020
Man's best friend does not fully define nor do justice to describe what a dog means to its owner. Regardless of size or breed, all dogs provide two unique, one-of-a-kind values to their human companions: love and comfort.
To find someone that genuinely loves and cares for you is rare; to find someone that will be there no matter what the circumstance is even rarer. Dogs, despite their shorter life span, provide undying love to their owner that they will never forget.
 A 2016 study by Helen Brook, Sandra Walker, and other researchers at Habri Central concluded that besides animals, such as dogs, ability to provide love to their owners, they are the main source for their owners' mental health improvements and are part of the solution to long term mental health problems. In addition, trained therapy dogs are proven to help alleviate stress, anxiety, depression, and feelings of loneliness among their owners and others. 
Within the Lake Forest and Lake Bluff community, there has been a significant toll on people's mental health because of the high standards of the community and because  the pandemic, particularly adolescents who are suffering from anxiety and depression.
On Sept. 1, a non-profit organization known as Paws for Patrick launched in the community to provide people of all ages suffering from mental illness with the aid of emotional support animals, or ESAs. Paws for Patrick's is run by the Roemer family, who created the organization in light of their beloved son Patrick's passing in May.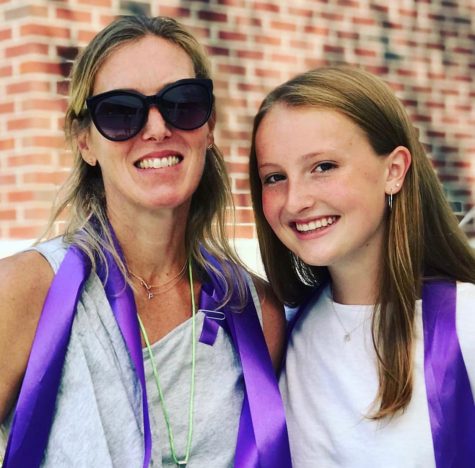 Patrick had a heart of gold; he became a loyal and empathetic friend to everyone who was graced enough to get to know him. Despite the love Patrick spread, his friends and family said he constantly felt alone. For years, Patrick struggled with anxiety and depression. However, Patrick had one companion that was there for Patrick through all of his highs and lows: Cici, his black labrador retriever.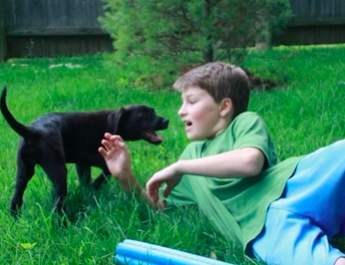 Cici truly embodied what a man's best friend is, and was as loyal a companion to Patrick just as Patrick was to everyone he met. 
Patrick's love for dogs, especially Cici, is well known among friends, family, and classmates. To honor Patrick's memory, his mother, Fronzie Roemer and the Roemer family started the nonprofit organization Paws for Patrick, to preserve Patrick's memory and to embody Patrick's love for animals and give back to those in need. 
There are two main parts to Paws for Patrick's mission: facilitating the acquisition of the emotional support animals and providing basic training for the support animals.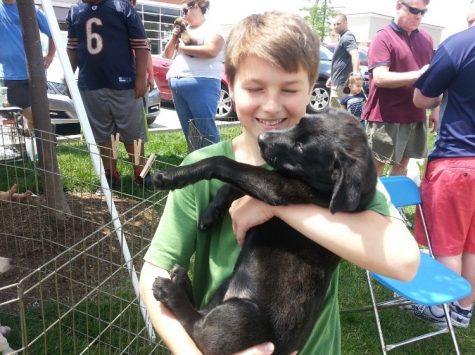 For the first part of the mission, Paws for Patrick aims to help people who currently own an animal with an emotional support certification letter. The emotional support certification letter allows the patients to take their pets on planes, hotels, colleges, and other places to help support their owners through a crisis. Right now, Paws for Patrick has a therapist for their customers to go to to help them receive the certification they need for their animals. 
Paws for Patrick specializes in providing emotional support animals, or ESAs, to their clients. These animals are not exclusively cats and dogs but can vary to birds and even snakes as well. Essentially, an ESA specializes in helping one particular person. ESAs differ from service animals because ESAs do not have free range over where they go like service dogs do. ESAs, however, can live in housing with their owners.
Not only does Paws for Patrick help provide certification to people who already have pets, but they help provide their customers with emotional support animals if they don't already have one. For instance, their first client, who is a senior at Ohio State University, needed to have approval for a dog living with him on campus along with finding a dog that clicked with him. 
"He found the dog he wanted and fell in love with," said Patrick's mother, Fronzie Roemer.  "Then, we had him talk to one of our therapists for the emotional support certification letter. From there, we located a trainer to help train the dog."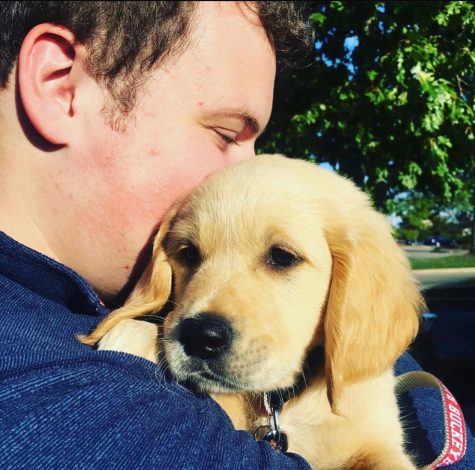 That's the second part of Paws for Patrick's mission, to help train the service animals. Right now, Paws for Patrick is helping their clients not only with certification but also helping to find trainers for the animals after they are certified. The training for ESAs is not necessary, but it is recommended for the ESAs to handle crises for the clients.
"Overall, not only do we provide the animals, financially, but also help pay for basic manners training. It's not a requirement if you have an ESA, but we do provide the services in case our clients want their ESAs trained," said Roemer. 
Since its official launch in September, Paws for Patrick has planned and executed community events such as ribbon tying uptown in honor of Suicide Awareness Week, a virtual yoga session at the Lake Forest Library, and are planning more. 
In regards to their furry friends, Paws for Patrick is working on training groups of individuals and their dogs to train the animals and handlers in therapy sessions. Currently, Paws for Patrick hopes to works with places similar to Compass Health Center. Along with this, Paws for Patrick is planning on working alongside CROYA or with LFHS to help provide animal services to students during finals week or weekly CROYA meetings to alleviate stress.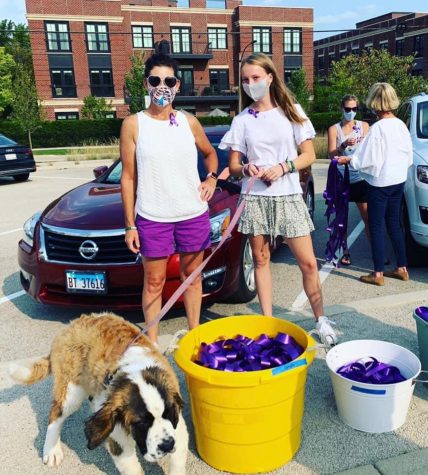 The organization has many ideas planned for the upcoming months along with some strong and unique ideas: a dog wash (a spoof on the typical car wash fundraiser by fall sports teams), a dog photography shoot, among events for students to intermingle with dogs and other animals during finals season. 
There are two boards for Paws for Patrick, the adult board and the youth board. Members on the adult board includes LFHS staff member Dan Maigler, and CROYA Manager, Todd Nahigian; a frequent volunteer for the organization includes LFHS substitute teacher, Marilyn Obialia. Meanwhile, the youth board is still growing and looking for more members. 
"We want anyone who wants to be involved. We have a junior group of people. We are trying to figure out if the two groups intermingle or if we have an exclusive junior committee that oversees their own stuff," said Roemer.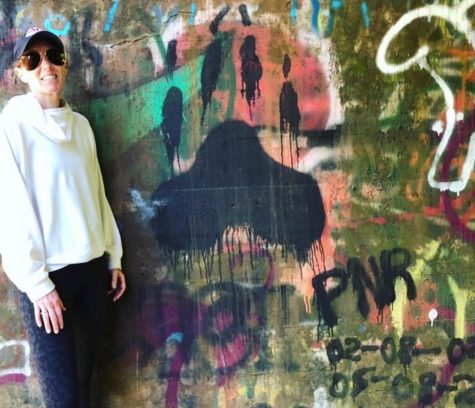 The first two months have been vital in creating a substantial standing for Paws for Patrick. The community response has been overwhelmingly positive with many people wanting to get involved.
"The first month was our trial and error; we saw what the community's needs are. Right now, we are trying to adapt and grow based on what the community needs," said Roemer, "And I think just volunteering is going to be a vital part of our organization because it can help someone who has anxiety and give them a purpose to keep going. With the organization's kickstart, we are getting excited for others to be a part of something and we do not want to turn anyone away."