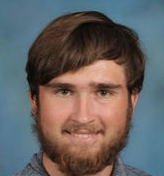 Dillon Hollingsworth
A life full of difficult classes, hours of homework, and demanding college applications — all while owning a business and leading the largest club in the school — may seem stressful, if not impossible. But for senior Dillon Hollingsworth, this heavy load is simply a day in the life.
"Dillon is a Renaissance man," says senior Henry Skarecky. "He's a part of so many clubs at the school, he has his gelato business — and he does all of this on top of focusing on his academics." 
Dillon is the founder and CEO of Dillon Hollingsworth Gelato, a growing business that manufactures and sells its own gelato in stores across the North Shore. The business is committed to donating half of all profits to local food banks, demonstrating entrepreneurship in the name of simply helping people. "The right to a full stomach is a human right," according to Dillon's website. 
Beyond growing a business and giving back to the people, Dillon spends much of his time being the co-leader of the school's largest non-service-based club: Model United Nations. 
While running the club remotely has been a challenge, Dillon and the rest of the club's leadership have been able to not just hold, but grow, the club and its membership during these difficult times.

"He's a strong leader who is able to keep Model UN running remotely for the benefit of everyone in the club," says junior Ashwin Krisnnaswamy. "His distinctive sense of humor takes our meetings from good to great." 
Beyond decisive and open-minded leadership, Dillon personally involves himself in directly working with members of the team in order to make their club experience as great as possible. 
"Dillon has helped my confidence grow greatly in Model UN over the years," says junior Louise Brickman. "He always has such a positive attitude and is approachable without being intimidating. He is constantly celebrating others' successes, and is such an inspiring leader." 
From growing a business to leading the school's largest club, Dillon Hollingsworth directly makes a positive impact on our school and our community every day. It will be exciting to see all that he accomplishes in the future.