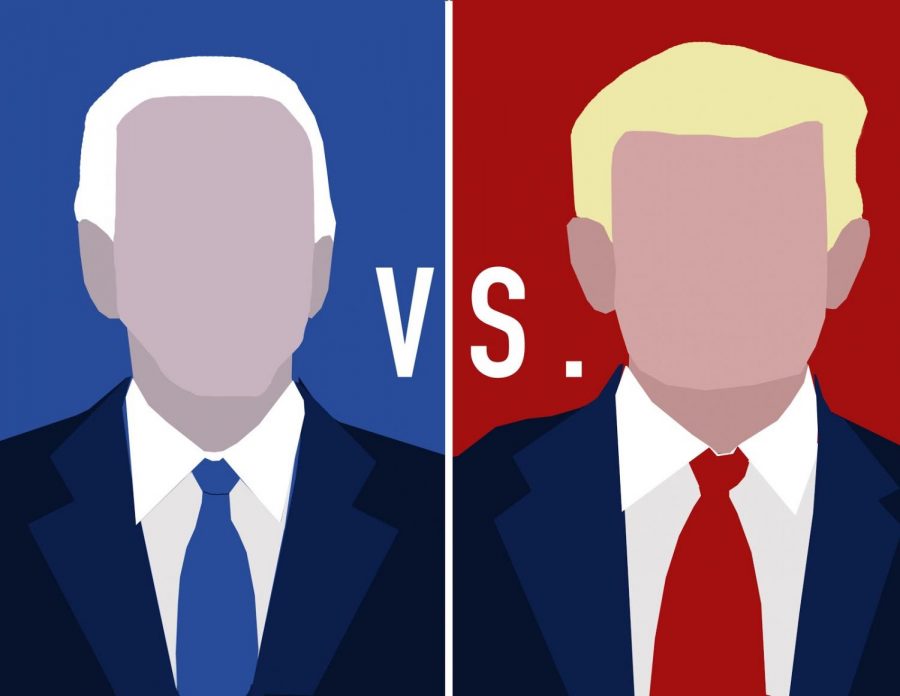 Side by Side: Trump vs. Biden
September 24, 2020
In the midst of all of the political chaos in the news, it can be difficult to pin down exactly where each candidate stands on the bigger issues. As the election is just around the corner, and many LFHS seniors will be voting for the first time, it is essential to understand their ideologies. Whether you will be voting in the upcoming election or just want to keep yourself informed, here is an objective, side-by-side look at where the two candidates stand.
Want another way to determine where you stand in this election? Check out this 2020 Presidential Candidate Quiz!
Joe Biden
Abortion
Biden:
Pro-choice

Wants to maintain the right to a legal abortion

Aims to pass federal law protecting the right to abortion

Quoted as saying,

"we will protect women's constitutional right to choose, and I am proud to stand with you in this fight" in a

video released by Planned Parenthood Action Fund

in June

Supports the repeal of the Hyde Amendment, which ensures that taxpayer money isn't used for abortions, except in cases of rape, incest, and danger to the life of the mother
Climate Change
Biden:
Has pledged to "

ensure that the United States achieves

a 100% clean energy economy and reaches net-zero emissions no later than 2050."  and vows to spend $2 trillion over his term to do so

Aims to be tougher on auto emission regulations – supporting the research behind zero-emission cars

Aims to return the United States to a position of leadership in the international fight against climate change

If elected, Biden has promised to recommit the United States to the Paris Agreement.
COVID-19
Biden:
Would like to take a more centralized approach to the virus

Opposes Trump's decision to withdraw from the World Health Organization, and will reinstate the country's membership

"I will be prepared to do whatever it takes to save lives because we cannot get the country moving until we control the virus." 
Economy
Biden:
Wants a gradual approach to reopening the economy

Aims to spend trillions to provide new jobs in the clean energy sector

Biden plans on reversing Trump's tax cuts for the wealthiest Americans by increasing the marginal tax rate on the highest bracket from 37 percent to 39.6 percent

Intends on raising the federal minimum wage from $7.25 to $15 an hour
Gun Control
Biden:
On his campaign website,

Biden states that he would, "hold gun manufacturers accountable…get weapons of war off our streets…close the hate crime and Charleston loopholes…[and] prohibit the use of federal funds to arm or train educators to discharge firearms."
Healthcare
Biden:
Supports existing Obamacare protections

Calls for a public healthcare option, similar to Medicare, working as a substitute for having individual insurance

Biden's healthcare plan will cost $750 billion over 10 years and would be paid for by increasing taxes on the wealthiest Americans

Wants to lower drug costs

Wants Medicare to be more inclusive by lowering the eligibility age by five years, from 65 to 60
Immigration
Biden:
Tweeted that he believes

"immigrants help grow our economy and create jobs"

Will pause deportations for 100 days after taking office

Supports DACA

Wouldn't tear down border barriers, but would permanently stop new construction

Vows to end the prosecution of immigrant parents for minor immigration violations
Race, Criminal Justice, & Police Reform
Biden:
Has guaranteed diversity within his cabinet, judicial nominees, and running mate

Won't "defund the police" like progressives want him to, but promises to invest millions to create a program to hire more diverse officers and reduce tension between the police and their respective communities

Wants to eliminate the death penalty and solitary confinement
Leave a Comment
Donald Trump
Abortion
Trump:
Generally pro-life, except in cases of incest, rape, and instances where the mother's life is in danger

In an interview with

MSNBC in 2016

, Trump stated that in the instance of a ban, he believes "the doctor or any other person performing… upon a woman would be held legally responsible, not the woman"

In 2016, he said he will nominate a judge to the Supreme Court who would overturn the 1973 Roe v Wade ruling, which guaranteed the right to abortion

Followed through in part on his promise to eliminate federal funding for abortion, blocking organizations that perform abortions from receiving Title X funding, one major source of federal funding for organizations like Planned Parenthood
Climate Change
Trump:
Does not have a climate change plan, and has

overturned dozens of existing federal climate policies

, such as Obama's limits on carbon dioxide emissions from power plants, cars, and trucks 

In his 2021 budget, Trump

proposed significant cuts

to the EPA, which would slash its budget by 26 percent and eliminate 50 programs

Has stated that auto emissions and fuel efficiency standards are "industry killing," and has moved to eliminate or weaken existing standards during his presidency

Withdrew the United States from the

Paris Agreement

in June 2017. The withdrawal will likely go into effect on November 4, 2020.
COVID-19
Trump:
Pushing for federalism in his pandemic response by letting states decide their own health measures as opposed to making the federal government responsible for implementing universal state-wide reopening plans 

Trump is initiating the United States' withdrawal from the World Health Organization

"It's going away. Like things go away. No question in my mind that it will go away, hopefully, sooner rather than later."
Economy
Trump:
Trump wants to return to normal economic operation as soon as possible

Since the beginning of the pandemic, Trump has pushed for onetime aid to be sent to businesses, local governments, and individuals who need it

Trump does not want to raise taxes on individuals or corporations, especially now with businesses and employees working to recover from the losses associated with COVID-19
Gun Control
Trump:
Generally opposes gun control, however, he does support a ban on assault weapons

Banned bump stocks, which are accessories attached to semiautomatic firearms and allow bullets to be fired quicker

Signed the

STOP School Violence Act

into law

Has discussed supplying school teachers with guns as a safety precaution against school shootings 
Healthcare
Trump:
Does not support the Affordable Care Act — commonly known as Obamacare — and has worked to eliminate the program in its entirety

Has not yet proposed a stand-in for Obamacare, but has vowed to provide a better and cheaper healthcare system

Wants to lower drug costs to simulate the cheaper prices in foreign countries

Wants to cap Medicare by imposing additional limitations on eligibility 
Immigration
Trump:
Believes that immigrants take jobs from U.S. workers and will bring health issues during the pandemic 

Trump tried to end DACA, a policy that protects youth immigrants from deportation, but the Supreme Court ruled against it

With a goal of 450 miles by the end of the year, the Trump administration has already completed 265 miles of wall along the nearly 2,000-mile southern border — of which

new construction comprises just 16 miles

 
Race, Criminal Justice, & Police Reform
Trump:
Trump signed an executive order encouraging police to update their standards for use of force, and banning chokeholds unless the life of an officer is in danger

Has supported moderate criminal justice reform, signing the

First Step Act

into law
Leave a Comment