Choral Director Tim Haskett Leaves Behind Legacy Embodying Supportive Values of LFHS
May 29, 2020
With the Music Department's Holiday Concerts and Spaghetti Dinner being one of the largest events on the LFHS Choir's calendar, there was a very long thank you list that had to be completed by Mr. Tim Haskett in the wake of this year's event being his last. 
Despite everyone's incredible respect and appreciation for the end of a foundational tenure from the longtime Director, he was unable to get through his closing words before two medical emergencies from students unfortunately interrupted this opportunity for closure.
While situations like these easily warrant some kind of panic, Haskett's steady leadership shone brighter instead – even after a long Sunday afternoon of putting together the massive musical experience. The two students were successfully transported to the hospital, and the show went on for the rest.
But as Accompanist Natasha Mah found out the next morning, that wasn't the end of Haskett's long night.
"The next day I came to school, and we talked about how long of a seven hours those holiday concerts are and how tired we were. I just went home after the event, but I then found out that Mr. Haskett actually went to Lake Forest Hospital to check up on the students," Mrs. Mah said.
"I think this particular instance just sums him up and speaks volumes about who he is."
Examining the 33 year career of a program-building figure doesn't usually go without looking at quaint and humble beginnings. Even a young auditioning Haskett, however, had the presence of mind to emphasize that at his beginning in 1987, with no idea of the wild position hanging at his future end.
"It may have been kind of an unusual experience because I came into LFHS the week that they were handing out yearbooks," Haskett said. "It was fine though because I had taught at other schools, so I was slightly more comfortable because I had been in that environment. But it was simply one of those experiences that was just like 'this would be a really cool job if I got it.'"
Thanks to the late Superintendent Robert Metcalf – another memorable community name – Haskett did get the job off of three years teaching at LaSalle-Peru High School and a year teaching and learning at Northwestern University. His "really cool" assessment of the Lake Forest job then was spot on for how he has been able to impact across five decades. At this point, the man's initials speak for themselves.
"TPH has impacted my life in so many ways. He has been one of those teachers who you always know you can talk to no matter what," said senior Annabelle Lamb. "I can't imagine my life without choir and the joy he brought to the classroom every single day – you can truly tell that he loves his job and loves his students. TPH was one of the reasons why I have always kept singing and stayed in choir all these years and I will never forget all of the fun we had and the wonderful music I was able to sing."
Many students can attest to Haskett's ability to foster great relationships with students, and for this reason it is no surprise to see how foundational this is to his teaching.
"I guess I've always been kind of a people person. I've always enjoyed talking to people, whether it is a freshman, elementary school student, parents, teachers, or administrators," said Haskett. "I always felt that if I treated the students with respect like I would want to be treated — whether I was a kid again or an adult — then that's probably best way to treat people and when you are going to get the best results as a teacher and as an educator."
And many students have come back to his program for years due to this simple respect.
"I think he impacted me a lot because he really made the choir room feel more like a family, he made sure every thing we did was as fun as it could possibly be," sophomore Kayla Wisneski said. "It really was an amazing experience to hear his voice and encouragement every day and it's something I'm going to miss a lot in the coming years." 
Of course, however, this shouldn't overshadow from the success his program has accomplished. In addition to their many special performances at home, the LFHS Choir has performed in Austria, Belgium, Denmark, England, France, Hawaii, Holland, Germany, Greece, Ireland, Italy, Mexico, Scotland, Spain, Sweden, and Switzerland. They have even been lucky enough to play in the Vatican four times (including on their last trip in 2018) and tons of other iconic cathedrals around Europe.
Most personally special to Haskett, however, his groups have performed on some of the artform's most sacred grounds, such as St. Thomas Church (where Johann Sebastian Bach worked from 1723 to 1750) and the Salzburg Cathedral (where Wolfgang Amadeus Mozart wrote many of his early pieces).
"Those are very special times for you and your choir students — where you are performing in some very special cathedrals throughout Italy and Europe — and actually performing the music that was composed with the intention of being performed in that very space," Haskett said.
What all brings it together though, as his accompanist emphasized, is a balance of results and guidance that creates a learning experience filled with value.
"He established quite an amazing choral program at the school during his tenure," said Mrs. Mah. "I think that kids love being in it because he always has fun when teaching, but also gets the results he expects. He's definitely a gentle hand that guides you. I think that's why so many kids stay for all four years of high school, as they not only enjoy spending time with friends, but think of him as someone to look up to."
While it is one thing to walk into the rehearsal space Haskett has made home and see his rehearsals with the many ensembles he has taken all over the world founded upon this mutual respect, it is those special moments of which he goes above and beyond to show his care for students where you see the strongly justified root of his beloved reputation.
"I remember late fall two years ago when a parent came to pick up her daughter after rehearsal, and her car died out," recalled Mrs. Mah. "Mr. Haskett moved his car over to her, helped her start it and stayed for several minutes to make sure that the car was running. She sent her home, told her not to stop the car, and then texted her later in the evening to check in on everything."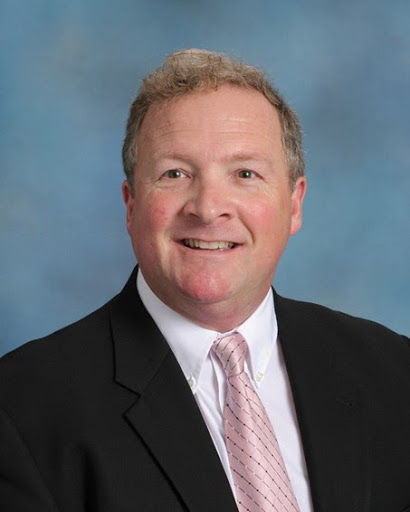 With Haskett's genuine spirit in all circumstances, the LFHS Choral program couldn't have been luckier to have a Director with this mentality going into an ill-timed global pandemic.
"Mr. Haskett was not only a great choir teacher, he was also a great person," said senior Brennan Marzella. "Nothing can bring this man down. In the midst of his final year, he was supposed to be touring to Europe and it got canceled. Mr. Haskett kept a great attitude the entire time. I am going to miss walking in that choir room seeing him smiling day after day."
Even with all his leadership skills, however, a crushing blow to a concert, a final Europe trip, and eventually the end of a career, was hard to push past.
"As it progressed, it was just like 'Oh my gosh, I have to finish my career off after 33 years online!' I remember just being really depressed, because we had just a week before Spring Break," Haskett said. "I remember specifically sitting on the couch, just sulking, and my wife says 'you better come up with some ways to teach the kids' I say 'I know, I just I don't even know what to do, because there is no curriculum.'"
Haskett's wife Gretchen (also known for directing the LFHS Varsity Hand Bell Choir), proved instrumental in keeping his motivations moving and his mind open for what ultimately became his final project – one that was ultimately Mr. Haskett at his most unconventional.
"I don't think we could have written this for a movie script," Haskett said. "We wouldn't even have enough imagination."
While LFHS' "Virtual Choir Project" may have received its overwhelming praise and subsequent TV appearances quite smoothly, the making of the video itself was not that quick to achieving its glory.
On a musical level, it pushed and broke many rules and goals Haskett had taught his whole career.
"The whole purpose of choir is to make your group sound like they are one voice, or four voices – soprano, alto, tenor, and bass," said Haskett. "So as a result, it's very challenging because you have to give the group confidence to sing as soloists — something that most normally do not have any experience with."
Haskett knew he had the group to make it happen, however, as it was something he had his eye on for much longer than the 2019-20 school year.
"This is probably one of my most talented choir classes. This senior class is kind of the reason that I decided to not retire two years ago," Haskett said. "There were a lot of reasons, but they were a primary reason. I'm like 'These kids are sophomores, I could go on another two years with this Class.'"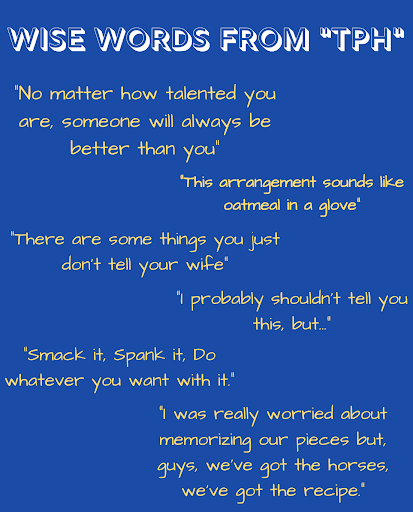 This doesn't distract from the fact that Haskett and his collaborators worked to include all chorus students in the project. This decision, while unnegotiable considering Haskett's genuine care for his students, provided the project with its second challenge: logistics and technology. Between trying the many virtual tools of WeVideo, FlipGrid, and ultimately Adobe Pro and Nuendo, it was a rocky road to find a way to sync an impressive 111 submissions together with acceptable video and sound quality.
"There were points where it was like 'This is awful, this is just not gonna work!' and then we kept working at it, and soon enough we thought 'This might work very well,'" said Haskett.
In the end, however, the aforementioned joy the project spread, and reconnections it made for a longtime Director's exit, made all of the hard work worth it. 
"It's interesting because I had many students from all the way back in the 80s and 90s, who were writing me huge emails thanking me. It was super cool receiving those, because I think that this project allowed for me to make some valuable reconnections at the end of my career I wouldn't have otherwise made," Haskett said, "It's kind of surreal, because when you work at a school like Lake Forest for that many years, you know you are going to have a last concert. So you have your expectations, and you feel that you can bring closure in a structured and scheduled way. With this happening, I've never experienced something like this before. I think that this project and the creativity surrounding it has really helped keep my spirits up. It's a different kind of challenge."
"If anything it just shows you that if you try thinking a different way, most times it might not work, but sometimes it might create something extremely special."
This unconventional final moment from a legendary career has not gone unnoticed for others in regards to how it displays his character.
"In this current quarter, he continued to care about the program and the kids.  Despite all the challenges because we've never taught online, he was able to create this Virtual Choir Project which was such a tribute to his dedication to the program considering that he had to step outside of his comfort zone," said Mrs. Mah. "Just the fact that he, until the very end, finds ways to engage with the students. It also speaks to his ties in the community. It brought a lot of joy and hope to everyone."
This joy and hope from Haskett's is no stranger to many, who are far from hesitant to express their gratitude for his impact.
"From the first day I entered the choir room I felt included and excited. Mr Haskett created an environment where students thrived in their musical fields," said senior Sarah Bires. "Choir become one of my favorite classes and Mr Haskett has devoted so much time to making the program as renowned as it is today. Lake Forest High School is lucky to have had such an amazing teacher for so long. He is leaving big shoes to fill."
It goes on and on, showing the way he's always valued making connections with everyone around him.
"That's why I think it's pretty true to say that he's the most well-liked colleague and teacher in the school," Mrs. Mah said. "He cares about everybody, whether you're staff, faculty, or a student. He's just very genuine in his interactions with everyone."
The praise and appreciation is certainly reflected by Haskett, who prides himself on the fantastic musical department he is leaving behind and absolutely everybody who has impacted him.
"
He cares about everybody, whether you're staff, faculty, or a student. He's just very genuine in his interactions with everyone."
In the end though, his hopes as a teacher are that the community of music is passed down, and the lessons that come with it.
"I hope that with students working together and making music – that it is a lifelong talent you can have," Haskett said. "The older I get, the less I think of myself as a music teacher and the more I think of myself as someone who is trying to make students better people. They are a product of us when we leave: we want them to do well, but we want them to be great people even more. We hope that experiences we've had with them are experiences that they want to take and use with the new families they start."
And while the next director will surely let him come back one last time when things come back to normal so he can finally have some closure without these unfortunate interruptions, he once again goes above and beyond in the face of adversity with his final message to all of his peers.
"Try to do at least one good thing each day for somebody. Just pass that on," said Haskett. "It could be a student, staff member, someone who works at the cafeteria, our janitors. Just talking to people and being genuine about letting people into your life is just something that is becoming more and more valuable. I think in many ways, even though this pandemic has been challenging, I think it will stop and make us see what is truly important."