The Forest Scout Thespian of the Year 2020: Maliha Yousuf
May 22, 2020
Draped in a flowy pajama shirt, velour sweatpants, and a fuzzy, cheetah print jacket, senior Maliha Yousuf joins a circle of her castmates and prepares for her final performance as the bored housewife Sarah in John Cariani's Love/Sick. 
Despite her relaxed attire, nothing about the young actress says "lackadaisical." As a part of the cast's pre-show ritual, she focuses her attention on raising her energy: she flails her arms, she kicks her feet, she feeds off of the laughter in the circle.
She's done this countless other times before in countless other productions, yet something about this moment feels sacred to her. 
Following a classic "I love being a director" speech from Mr. Joe Pulio, Yousuf breaks from the circle and takes his encouragement with her to the dressing room. She claims her usual spot at the makeup mirror for the last time; she powders, she primps, and she fixes her flyaways, yet she can't seem to get Pulio's speech out of her mind. She can hear her underclassmen castmates singing the seniors' praises from the opposite side of the wall— she takes that moment to contemplate the entirety of her career.
"That's when it all set in," Yousuf said. "I thought to myself 'this is it, this might be one of my last theatre performances. Ever.'" 
"
"That's when it all set in – I thought to myself 'this is it, this might be one of my last theatre performances. Ever.'" "
— Maliha Yousuf
Even before arriving at LFHS, Yousuf was no stranger to the stage. While she claims acting began as a "side hobby" that stemmed from her passion for singing, her talents were obvious and her credits were impressive from a young age. At just ten years old, Yousuf starred in Silk Road Rising Theatre's production of 'Night Over Erzinga', a play commemorating the events of the Armenian Genocide. Following her debut, the auditions became more abundant, and with that, so did the bookings; in April of 2013, she served as an understudy in Marriott Theatre's production of South Pacific, and only a month after the show's closing, she began performing in The Jungle Book at The Goodman Theatre.
But regardless of the professional opportunities she had been offered, Yousuf and her family stayed true to their household philosophy and kept their priorities in check. 
"School always took precedence over performing," Yousuf said. "There were times where the pressure to excel in school and also go on auditions was exhausting. There were days where I would have to memorize my lines in the car on the way there because I had too much school work to focus on the night before."
Because of her emphasis on the importance of academics, Yousuf was not entirely eager to join the high school theatre scene from the get go.
"Freshman year, I was a little hesitant to participate in theatre," Yousuf admitted. "I understood the commitment that it took to be an actor, and I wanted to make sure I could adjust to the pressures of high school before taking on that responsibility."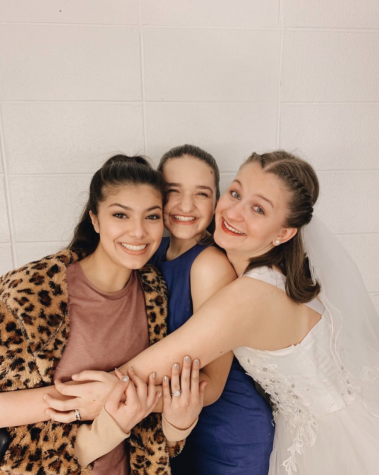 But once she felt she was ready for that commitment, Yousuf began to not only show her face to the department, but make sure it was known by the directors. She stood out from the rest early on; with an understanding of the professional world under her belt, Yousuf recognized the harsh realities of casting and played her part to the fullest extent. Regardless of if she had a small role or a large one, she accepted her duties with a confident smile.
While she only participated in two shows during her freshman and sophomore year, Yousuf auditioned for her junior year fall play and, for the first time, completely fell in love with the ambiance of LFHS theatre— along with her director, Mr. Pulio.
"Working with Pulio for the first time was so great for me," Yousuf said. "Every time I've worked with him since, I've felt like he's really pushed me to be the best that I could be. He makes character analysis a collaborative process; while he usually knows what he wants ahead of time, the process is so much about finding discoveries in every rehearsal." 
And Yousuf's feelings towards her beloved director do not stand without reciprocation. After working with her on a total of three productions, Pulio has grown to admire the "likeable, confident energy" she emanates on stage.
"Audience members crave to watch actors who are in control," Pulio said. "Maliha definitely has that control; people want to watch her because she's so comfortable with herself, so real with whatever character she's playing."
Even though they first met in 2018, Yousuf and Pulio both agree that the actress' best year was her senior year. She captivated audiences as Claire Gantz in Rumors, she shocked them with her psychotic behavior in the previously aforementioned production of Love/Sick, and she certainly would have played the damsel-in-distress archetype flawlessly as Lady Larken in Once Upon a Mattress. Despite the unfortunate cancellation of the musical and many other theatre events this year, Yousuf's impact on the department is noticeable to any and all audiences who have seen her perform.
While her artistic talent is evidently shown through her presence on stage, her talents off stage are perhaps even more impressive. Yousuf will be the only member of the Class of 2020 to attend Stanford University in the fall, and anyone who knows her can attest that her acceptance is far from a fluke. Despite majoring in economics and political science, she hopes to continue pursuing performance in some capacity throughout college.
"Nothing is set in stone," said Yousuf, "but I know there is a certificate in music performance that I might be able to earn at Stanford. There's also a theatre minor, although I'm not sure exactly how that would fit into my schedule."
"
I think being a part of theatre has taught her those "people skills" that will really take her far in life. No matter what she does, she is definitely going to be a very successful woman."
— Mr. Joe Pulio, Director
But Pulio is certain that no matter where she ends up, Yousuf will go far in whatever career path she follows — and her success, whether it's on the stage or off, is the very reason The Forest Scout has honored her with the title of Thespian of the Year.
"Honestly, I think she's going to be a really successful person," Pulio said. "I could see her doing very well in the business field— maybe as VP of public relations for a large corporation. I think being a part of theatre has taught her those "people skills" that will really take her far in life. No matter what she does, she is definitely going to be a very successful woman."
Congratulations on all you've accomplished, Maliha. Just know that no matter where you end up, the stage will always be here for you.