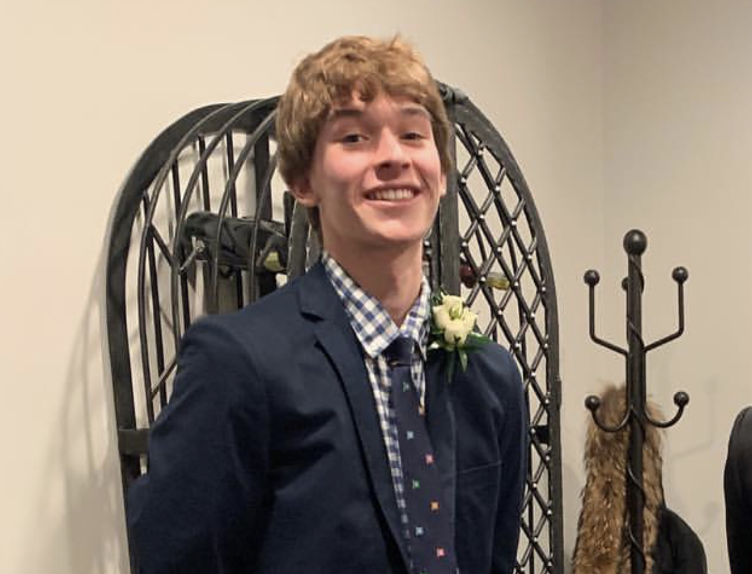 Gage Messner
Gage Messner, or 'Sner' as he is called by the people close to him, is the epitome of a person with a balanced kind heart and driven attitude. When talking to those close to him, words like "friendly," "caring,"  and "he person best ever" easily slipped out of their mouths. He is the kind of person who can make your day without even trying, and someone so many people love.
"One of the best things about Gage is his personality; he goes out of his way to get to know people and can make anyone he meets laugh," said Rory Summerville, who has known Gage for a very long time. "Anyone who meets him can see how truly selfless and thoughtful he is, and that is why so many people love to be around him."
Gage is a part of the Varsity Boys Basketball team – a team known to be both hard working and close in their bond. The teammates surrounding Gage for the season can attest to the positive attitude he had on and off the court.
Teammate junior Will Thomas said "Gage is a great teammate who always has positive energy and gets everyone on the team hyped up, even when we might be facing a tough situation."
Outside of sports, Gage stays connected in his community through clubs and activities at the Church of St. Marys.
Gage attended the K36 and K37 Kairos retreats, leading a small group on the K37 Kairos retreat to a group of fellow high schoolers. The people who got to know Gage on these retreats simply had amazing things to say about his character.
Molly Petzer was one of the people Gage led on the K37 retreat and who grew a strong bond with him over the four-day weekend.  
"Gage is the sweetest guy and can always put a smile on my face. He is truly the greatest friend, so easy to talk to and someone I can now go to for anything," she said.
Senior Eleni Ballis says she grew close with Gage during their shared classes this year.
"Gage is honestly the nicest guy I have ever met," she said. "He is so down to earth and is nice to anyone he meets. We need more guys like Gage because he is genuinely so great." 
His desire to help others and care for them in his day to day life is what makes Gage so special. His heart not only touches those close to him, but extends to many people at LFHS and beyond. 
It's not often that someone touches just about all ends of people at the high school, but Gage is someone who definitely comes quite close to doing so.