CROYA Lessons Especially Important During Quarantine
April 23, 2020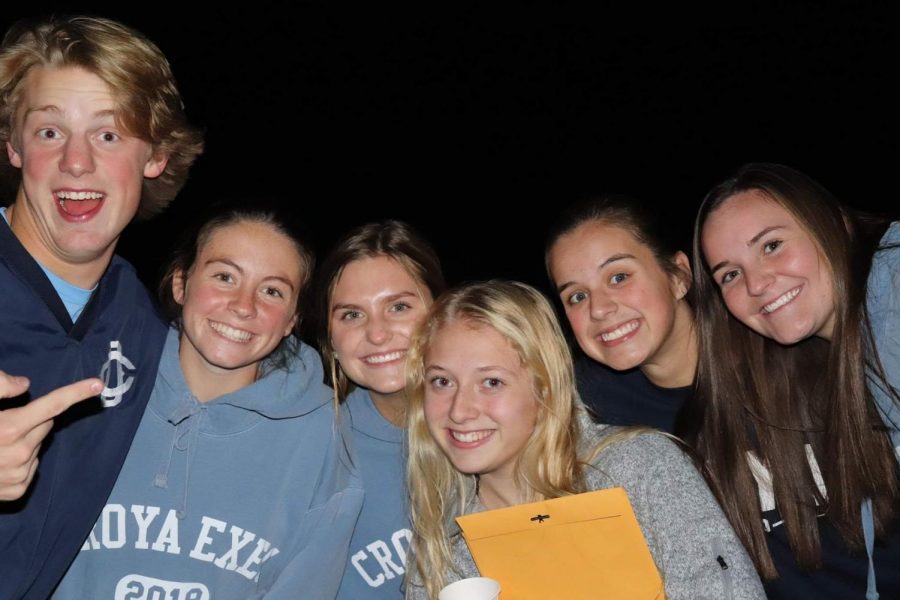 The following is a column submitted by senior Haley Banta, a four-year member of CROYA. Want to share an opinion of your own? Send an op-ed to [email protected].
I have been a part of CROYA (otherwise known as the Committee Representing Our Young Adults) since the fall retreat my freshman year. I was reluctant to attend, as it happened to coincide with my 15th birthday, but I signed up anyway and I'm lucky that I did.
That weekend was a pivotal moment in my life, not only because it introduced me to CROYA, but because it showed me how much love and kindness I could see in the halls of LFHS if I only looked for it. 
After the retreat, CROYA continued to be my source of the warmth and acceptance. As high school went on and I faced my own challenges, it never stopped being my happy place. 
The staff members became my friends and my role models; kids I never would have met otherwise turned into close friends. CROYA attracts a dynamic, genuine, and supportive group of people that I have always been able to rely on, especially throughout the past few weeks, and I am so lucky to be a part of it.
This year, albeit much shorter than expected, I have made more memories than I could have hoped for. From getting the opportunity to introduce others to  the spirit of CROYA as a fall retreat leader, to leading the weekly meetings, to spending nearly every day after school hanging out there, my last year has been my best. 
"
The thought of 100 people together in a retreat site all weekend seems outrageous now, but at the time all I knew was that my favorite weekend was cancelled. "
When I found out this year's spring retreat, originally scheduled for March, was postponed, I was devastated. The thought of 100 people together in a retreat site all weekend seems outrageous now, but at the time all I knew was that my favorite weekend was cancelled. 
On the spring retreat, seniors are usually given the chance to describe what CROYA means to them and give advice to underclassmen. Since elections to be a part of next year's student exec board, the group that helps coordinate meetings and events, are going on, and I'm feeling nostalgic about my last year coming to a premature ending, I wanted to do so here. 
First: Not everyone is going to get involved with CROYA during their time at LFHS, but anyone who wants to can. No matter what grade you are in, what social circles you're a part of, or what activities you're involved in, you are welcome. All that matters at CROYA is who you are. 
Second: All good things take time. When I first went to CROYA, I was intimidated by the crowds of people I didn't know, but over time crowded rooms turned into rooms full of friendly faces. Everyone at CROYA wants you to be there, even if it's scary at first, and it's worth it to stick it out. 
Third: Like so much in life, you get out of CROYA what you put into it. If you'd like a couple Wednesday night activities to blow off steam, the experience of going on a retreat or two, or new friends, CROYA is your place. All it takes is however much time and effort you want to put into it.
Lastly, if you are already involved in CROYA, and running for a position on the student exec board seems interesting to you, please try it out. Being on exec has been the most rewarding and joyful experience of my four years, and I wouldn't trade it for anything. CROYA has been the best part of my high school experience and while it's hard to leave behind, I cannot wait to see all that next year's exec accomplishes. 
If the past few weeks have made anything clear, CROYA is not dependent on a single person, place, or event. Lately, the "spirit of CROYA" has shown itself in the people making an effort to check in on their friends, Wednesday night meetings over Zoom calls, and of course Todd's Tiktoks (checkout @croyalflb, it's worth it).
High school is not perfect for anyone, but there are many places to find support along the way, whether that be a group of friends, a sports team, or a youth group. Wherever you look for a community, you cannot find it without trying new things and accepting your authentic self, both of which I learned to do at CROYA.