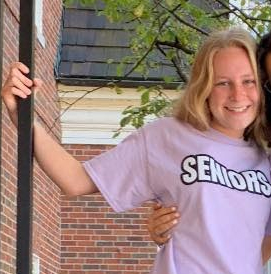 Jennifer Asmussen
A lifelong soccer player, senior Jennifer Asmussen's friends say they appreciate her ability to be a passionate teammate and mentor.
"Jennifer is the type of person that will strive to succeed in anything she does," senior Isabel Arevalo said.
Despite her busy schedule, she is a "a friend I can always count on," said Caroline Lewis. "From basketball and soccer freshman year to our AP World class with Mr. Gigian, she has always been someone I can count on, no matter what."
Old basketball teammate and friend Eleni Ballis said, "Jennifer is an extremely funny girl! She has been in my classes for the past four years and knows how to crack jokes at all the right times. Jennifer is also very honest, which makes her such a great friend."
When Jennifer is in school, she is often making strong connections with her teachers and peers.
"One of the things I like most about Jennifer is her dedication to herself, her peers, and her country. I know she has strong ties to the military in her family, and she believes deeply in carrying on that tradition. Those beliefs spill over into her work ethic: she's strong, smart, efficient and focused. She's so mature and has a great head on her shoulders," said math teacher Mrs. Frye.
Math classmate Luke Chlystek added in, "she's a great classmate and a very hard worker."