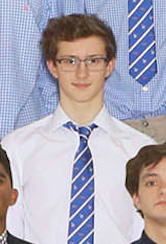 Peter Landis
The biggest rule of accomplishing individual tasks to contribute to a group goal is to "do what you are asked to do as hard as you can do it." Although incredibly simple, this task is far from easy to maintain. Senior Peter Landis, however, has seemed to master this task  — whether it be in the pool, in class, or in life.
"He doesn't complain when there is a big task or challenge in front of him. He just does it without question and always has a positive attitude," Swim teammate Zach Rose said. "When times get tough, you can count on him to crack jokes and keep things where they need to be."
In a sport like Varsity Swimming, filled with all its monotonous and grueling two-a-days, it is easy for emotions and effort to slip. However, Landis' confidence and persistence is admired by teammates and coaches alike as he takes a role as captain this winter.
"He leads by example consistently," said Varsity coach Cindy Dell. "No matter what happens, he's never afraid to stand up for what he believes in."
Even when out of the water, Landis' character is encouraging and helpful for many students and teachers who interact and work with him on a given school day. On top of this, his humble nature allows for new faces to more easily trust him to help out.
Senior Evan Jasica has had the privilege of interacting with Landis for years in the band room, both as he takes on the role of senior drum major, and as a bandmate in the concert setting.
"He's not always the loudest in the room, but he's certainly the one you can most depend on," Jasica said.
Although Landis exemplifies these qualities in many of his roles within the doors of 1285 N McKinley, it is most notable that his peers observe them outside those doors as well — perhaps when he is least asked to do so.
"He's genuinely the most selfless and motivated guy I've ever met," longtime classmate and friend Andrew Rhomberg said. "His mindset in life is very mature and focused, and he leads by example. Nothing can stand between Pete and his goal."