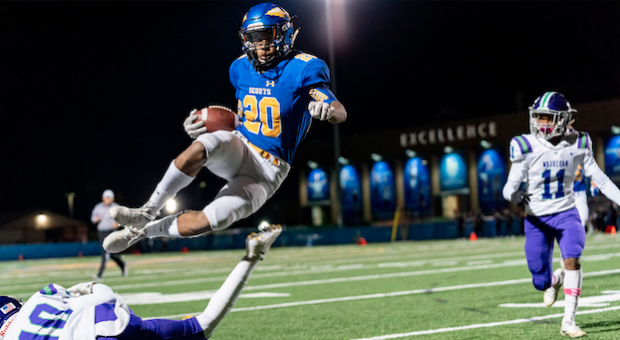 Jahari Scott
If you've tried to reach out to sophomore Jahari Scott after school, you probably had trouble getting a hold of him. The three-sport athlete is always busy practicing out on the turf, working on the court, or running on the track.
You're likely most familiar with Scott running around defenders during this year's exciting football season.
Starting as a sophomore is obviously a challenge, yet Scott has never shied away from a challenge. While other people have been training their whole life for a sport, Scott only started in middle school, and he only started playing football freshman year.
"His work ethic sets him apart from all other athletes. He gives his all in everything, and he strives to be the hardest worker in everything he does. After being on his team for years, I've realized that his attitude rubs off on the entire team, and he makes the whole team better because of that," sophomore teammate Tommy McCarthy said.
His hardworking attitude doesn't just stop with athletics.
Despite the time commitment that comes with being a three-sport athlete , he works hard in the classroom as well. Juggling all of these activities could really take a toll on someone, yet any of Scott's friends and classmates know that he always has a positive attitude. Many of his friends will also say he is a very supportive and caring friend, and he will always take time out of his busy schedule to help out a friend.
With his hard working attitude, Scott is always the kind of person you want on your team and as your friend.