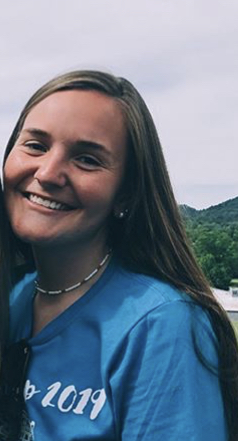 Kerrigan Weston
Not every day in high school is a great one. It's easy to let the work and pressure bring you down, but junior Kerrigan Weston seems to let her jubilant nature shine even on the toughest days.
"Kerrigan is the sweetest person I know. She can make your day with her hugs and her infectious smile," said senior Molly Newman. "She is so easygoing and a wonderful friend to just about everyone."
Weston isn't afraid to load up her schedule outside of school despite facing the trials and tribulations of junior year. She is heavily involved at CROYA, attending nearly every weekday event there as a member of the executive committee.
"CROYA would not be the same without [Kerrigan]. She spends so much time at CROYA and whenever she's there, she is making it a better place," said senior Haley Banta. "She is kind to anyone who walks through the door, devoted to being there for anything CROYA may need, and simply such a light for everyone there."
Weston is leading the upcoming CROYA retreat, where she will guide participants as they get to know more about their peers and themselves.
"This weekend she's leading the fall retreat, which is no easy task for a junior, but I know she'll do great," Banta added.
The majority of people spend their first week of summer relaxing and hanging out with friends, thankful that they have no work to do anymore. Weston, however, chooses to go on the First Presbyterian Work Trip to renovate homes of people in need. While her friends are lounging at the beach, she is grinding away: hammering in nails, measuring wooden planks, and doing whatever else is asked of her with a smile on her face.
"She actually knows everyone on work trip. If she doesn't, then she's friends with them by the end of the week. Her smile is contagious and she makes workdays more fun than you'd think one person could," said alumnus Mary King.