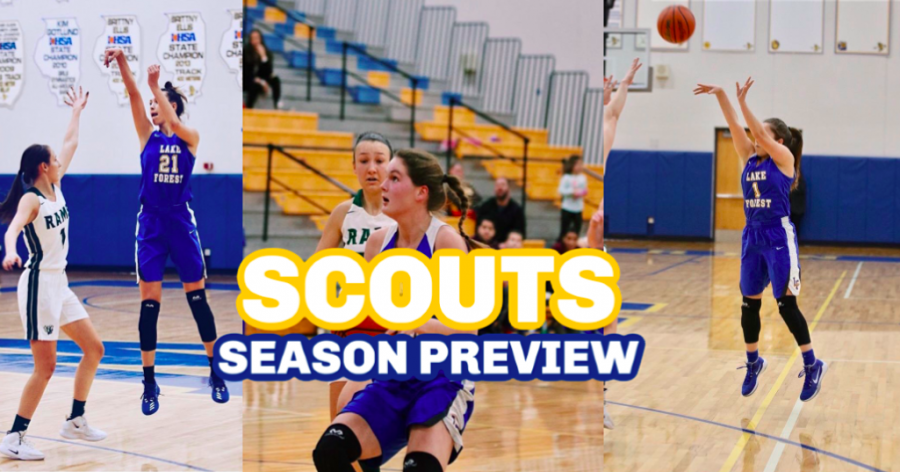 2019-20 Lake Forest Scouts Girls Basketball Preview
Do Douglass and the Scouts Have Another Memorable Playoff Run in Them?
October 29, 2019
Last season was a historic one for the Varsity Girls basketball team, as they finished the season with a program-record 27 wins and the deepest postseason run ever made by a varsity basketball program at Lake Forest High School.
Led by ninth-year head coach Kyle Wilhelm, the program's all-time winningest coach, and senior captain Halle Douglass, the Scouts will look to make an even deeper postseason run following a Super-Sectional appearence last year. The team eventually lost to an extremely talented Maine West squad.
"We had a great summer as we built off last season but also integrated our new players," said Wilhelm, "We [are] bringing back five players who saw significant time last season, so hopefully their development will lead us this season."
The team lost two tremendous seniors in Grace Tirzmalis and Ellie Pearson, who is now playing at Johns Hopkins University. Both were key post players for the Scouts with their 6-foot-1 height advantages.
"[Ellie and Grace] were two instrumental seniors," said Wilhelm, "They were both four-year players and Ellie was a captain. They both provided scoring and rebounding for our team, and Ellie was an instrumental member for our defense. While they're big losses, I am confident with the development of our players to step up in a variety of ways. It will be a collective effort by the team."
Despite losing two strong players, the team still has Douglass. The four-year varsity star received many collegiate offers from top D1 programs and ultimately announced her commitment to Wisconsin in September.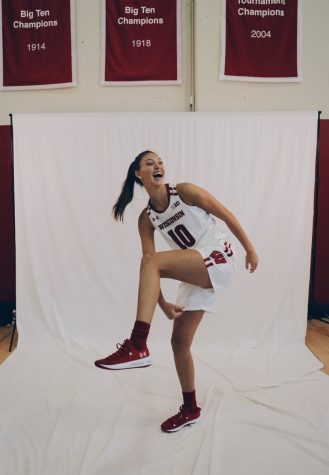 Last year, Douglass joined the 1,000 point club and tied all-time leading scorer, Janie Hodkinson, for most points scored in a single season (543). She also holds the record for single-season assists (200), career assists (490), and single-season steals (116).
This season could potentially be Douglass' best and leave her as possibly the most decorated player in school history. Despite the foreseeable excitements, Douglass believes the team's mentality will be critical to how well they do. 
"We can't expect anything just because we were successful last year. We're going to have to work 10 times harder than we have before if we want to see any success," said Douglass.
While Douglass is one of the best players in school history, her leadership on and off the court has been a huge factor for the team over the past few seasons.
"Halle has provided so much on the court," said Wilhelm, "However, no one sees how great a leader she is off the court. She is such a great leader, friend, and teammate. On the court, she is a hard worker, but is also incredibly encouraging and gets the best out of her teammates."
The Scouts will have a similar lineup to last year, aside from replacing both senior forwards.
Molly Fisher and Finola Summerville, tenacious guards and also captains this year, saw strong minutes last year, even though both were just sophomores. Summerville and Fisher were ruthless defensive players and great three-point shooters.
Their quickness, aggressive style of play, and ball-handling skills impressed Coach Willhem, as both managed to find a spot in the starting lineup.
Unlike last year, the team is going to be very upperclassmen heavy and rely a lot on its juniors and seniors to step up and lead. Every team's goal is to eventually reach the state finals, but Douglass sees this goal more achievable now than ever. 
"Every year the goal is always to go downstate, but I guess it's never been a realistic possibility. Ever since my freshman year, we've been kinda making larger leaps toward that goal and last year we were one game away from going downstate and just being that close made us realize how bad we want it," she said.
To join Douglass, Fisher, and Summerville in the starting lineup, juniors Olivia Witte and Lilly Trkla return to the team this season.
Trkla and Witte saw a considerable amount of minutes last year, but both will need to step up to replace the contributions of the departed seniors.
Witte, unfortunately, faced various injuries last year, but Trkla was a forceful opponent, especially underneath the basket.
"Molly, Finola, Olivia, and Lilly are four of the juniors that are returning to the team this year," said Wilhelm, "Their progression to make the next steps and fill some of the voids left by the players who graduated. They all have four different styles of play and that combination will make it difficult for our opponents."
Other returning upperclassmen include Mary McKendry, Sydney Fitzgerald, Elise Stanley, and Emory Homan. 
The team will begin the regular season on Nov. 18 with the annual Vernon Hills High School tournament and will open up the conference schedule at home on Dec. 3 against the Libertyville Wildcats. Stay tuned throughout the season on The Forest Scout for coverage as the girls look to make a run at the State title.
Projected Lineup:
Halle Douglass: 6'1″ guard (Senior)
Molly Fisher: 5'4″ guard (Junior)
Finola Summerville: 5'11″ guard (Junior)
Lilly Trkla: 5'11″ forward (Junior)
Olivia Witte: 6'0″ forward (Junior)