The Freshman Clap-In: Loving Tradition or Cringe-Worthy Nightmare?
A Deep Dive into the Year-Opening (and Oft-Debated) School Tradition
September 16, 2019
The day before school starts, the hallways of 1285 North McKinley are already bustling – this means orientation for the incoming freshman class, and the welcoming of those freshmen with a Clap-In.
While the "surprise" thirty-to-forty second initiation makes for a highly publicized event at the high school, it comes with a set of opinions that are passionately mixed – even among seniors who have to look four years back to remember their occasion.
"It was nerve wracking almost because you are brand new to the school, you've never seen these people before," senior AJ Shaw said. "You don't want to be doing that to a freshman. You want to be a guy that actually guides them through school rather than cheaply clapping in their face."
A significant portion of the student body echoes these sentiments, but an equal amount of praise can be heard elsewhere. 
"I thought it was a good tradition because it kind of shows school spirit. It's a good welcome to high school," freshman Olivia Adams said. 
With varying opinions like these, it is hard to find a solid identity of the event. Does it make freshman feel welcome? Or is it an uncomfortable and awkward moment that — at its worst — could fall under the umbrella of hazing underclassmen?
How it all started
"
It was a nice gesture, I felt welcomed, it was just very long and scary and I didn't know what to do."
— Freshman Mary Grace King
The debate provokes investigation into the origins of the rite-of-passage, and current Business teacher Laura Clegg — the figure who introduced the Clap-In to LFHS — placed the Clap-In in the context of a major school-wide initiative to increase emotional wellness.
"This goes back to the time that we were just starting things like the EW All School Walk," said Clegg. "I went to a conference for increasing social/emotional wellness and the host school did something similar that spurred the idea for me.  At the time I was also in charge of Link Crew, so it was a natural way to make it happen."
So, while it may seem that it is a well-established tradition with a storied history, its foundation is fairly recent. Events like the Clap-In, the Walk, and clubs such as "Enjoy The Journey" were a wave of emotional wellness outreach established by the school around 2012, a year in which multiple student suicides rattled the community.
Clegg was impressed by the initiative students took early on, and through those experiences, she has kept the purpose in mind.
"I honestly had no idea if the older students would be willing to come in to the school on one of their last days of summer to welcome our freshmen, but we have amazing students. They came!" she said. "I teach several freshmen classes and even to this day, I always tell them that we are the opposite of what you see in the movies…if they are lost or need help they should ask an upperclassman."
Since its inception, Link Crew has continued to make an effort to integrate and increase the Clap-In's luster.
"We have gotten the band to play more recently and more people have been invited. It has grown, and the day now kind of builds up to the clap-in." current Link Crew coordinator Rebecca Schwartz said. "At first, they meet with Mrs. Harmsen and I see that they have our support, and then they meet with parts of Link Crew to know that they have their support, and by the end of the day they can realize that actually the whole school supports them."
High school in a nutshell?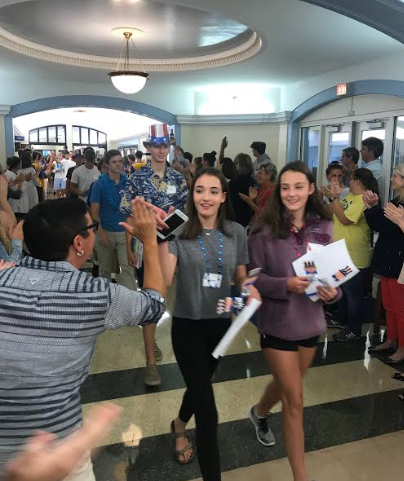 The embedding of this event into the LFHS student experience stretches even farther, four years after this event takes place in a Scout's life. The Senior Clap-Out takes place each year during the beginning of the school walk that was established within the same emotional wellness initiative.
"It is a great way for [freshmen] to be welcomed and included, but it also allows for your years at LFHS to come full circle," said Schwartz. "If you attend LFHS for four years, your high school life can be bookended with a clap-in and a clap-out."
Considering the ways in which the clap-in has found a place in the LFHS experience over the years, the current freshmen who most recently experienced it most clearly define its identity.
"It was a nice gesture, I felt welcomed, it was just very long and scary and I didn't know what to do. I was just a little overwhelmed," said freshman Mary Grace King. "I think it should stay though. We went through it, so the next freshman should have to go through it."
Some freshmen also believed that the awkwardness stretched into the whole orientation, but it was all justifiable. "I think it is kind of awkward, but I feel like that's kind of a part of it. During Freshman Orientation I do feel like they try to make things a little awkward, and I think the clap-in is just a part of it," freshman Connell Sassen said.
The proposition that the awkwardness is a welcome part of the tradition's identity — rather than a negative setback — certainly shines through. Upon asking about this debate, one of the most significant coordinators of the event itself was fully unafraid to highlight this clarified identity.
"Isn't it kind of high school in a nutshell?" Link Crew coordinator Rebecca Schwartz asked rhetorically. "Some people are going to view it as super awesome, some people are going to view it as cringe-worthy and embarrassing – but it is one of those things that everybody goes through together, and it unites you as a class in the end. When you think of it that way, that moment really summarizes what high school ends up being."

Loading ...