Choose Empathy
This week marks National Suicide Prevention Week
September 13, 2019
This summer I lost a close friend of mine to suicide. When we found out, my friends and I were in shock. None of us had expected this to happen, especially since our friend was just a bubbly ray of sunshine. I miss her dearly, and she is always on my mind. 
In August, I attended a service for her. It was beautifully done, and one of the main things I remember from it was the priest's message about suicide. 
"Suicide is such a permanent solution for such temporary problems. There is always a reason to keep going on for another day," he said.
Every day since, I have held onto these words. No matter how hard my life gets, whether it be school, test scores, friend groups, family situations, I remind myself that all these problems are temporary. 
In the long run, none of my problems are permanent and there are plentiful solutions for them. The priest's words have proven true time and time again in my life; no matter how hard and impossible a problem may seem to overcome in my life, it is only temporary.   
This week marks Suicide Prevention Week, which runs from Sept. 8-14. Everyone in some way has their own connection to or story with suicide. In the U.S., suicide is the third leading cause of death among teenagers. According to the Centers for Disease Control, every 12 minutes there is one death by suicide.
"
We cannot go through life doing everything on our own."
Despite the prevalence of mental illness and suicide in our country, there is still a stigma surrounding suicide on the Internet, in our community, among our friends, and even in our school — a stigma that makes discussing suicide taboo. 
I know it has been said time and time again, but we, as a school and community, need to address these issues and acknowledge that it is okay to not be okay.
If you ever feel alone, it is incredibly important to try and seek help. It sounds cliche, but seeking help is not a sign of weakness; it is a sign of strength. It is a hard thing to do. But, please remember, we are only human, and sometimes we need someone to rely on.  We cannot go through life doing everything on our own. 
During this week and beyond I hope you all can take the following into consideration and try to practice empathy towards others. If you or someone you know is struggling, do not be afraid to speak up.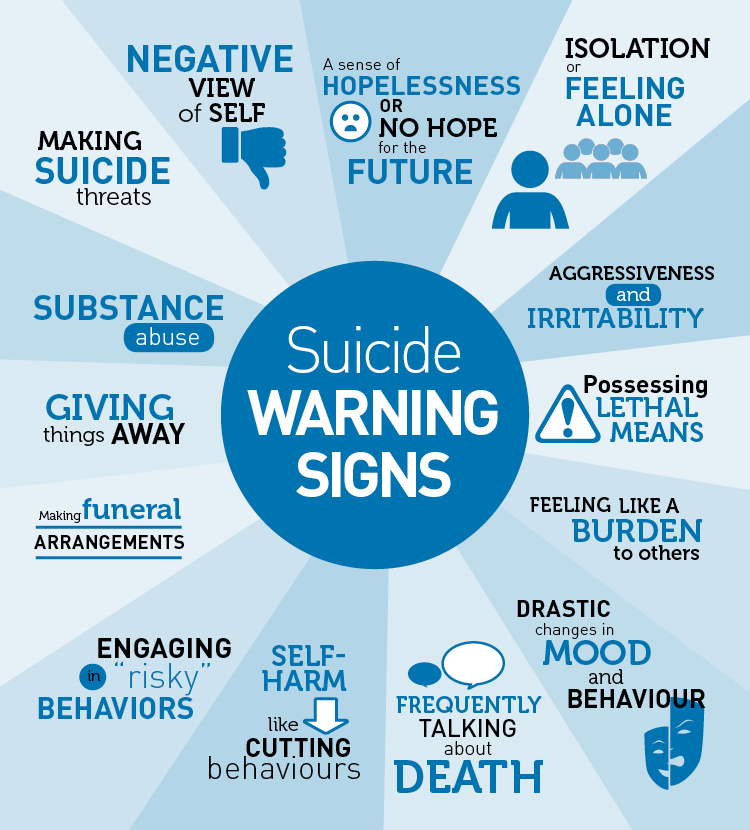 If you think your friend is having suicidal thoughts, do not hesitate to ask them if something is wrong. Do not try to beat around the bush by asking if they have thought about harming themselves or if they feel safe. Ask them the question directly. 
"There is a big difference between self harm and suicidal thoughts, so don't try to avoid addressing the problem head on. You will never lead a person to become suicidal by asking about it. So, when in doubt, ask your friend," said Mr. Maigler, one of our school's social workers. 
Many of us may wonder what we can do to help others when they are struggling. One of the main things you can do is to spread empathy and love among your friends and family. 
I cannot emphasize this enough: remind your friends and family that you love them. Tell everyone close to you that you love them. You never know what any of your friends are going through, and you never know how much they may need to hear those words. Sometimes we forget that our friends and family are there for us and love us. When you are able to spread your love and tell your friends you love them, you have no idea how much it may mean to them. 
 I know we all have our little group of friends that we tend to stick with. But, even outside of your friend groups, try to be kind and loving towards every person you meet. If you see a classmate alone or someone who seems down, try to talk to them and be inclusive. 
I know that it seems daunting and awkward to so many of us, but you never know how a little gesture of offering someone else to be in your group or just saying "hi" to one of your peers in the hallway can go a long way. 
"
If you yourself ever feel lost, alone, or just feel like giving up, it is incredibly important to talk to someone: a parent, a social worker, a teacher, or a friend."
We never know what may be going on in someone's family life. The happiest people out there can be the ones who are struggling internally the most. Try to empathize and say "I love you" more. Check up on your friends every now and then. When we show compassion for our friends, we show them that they are loved and needed. 
Another point I would like to make is if you ever feel sad or weary, try to remember something you are looking forward to. Personally, what has helped me get through some days is to remember what is coming up. This can be Homecoming, a concert, or a friend visiting — or it could simply be going home and eating dinner. They don't have to be revolutionary, they just could be there to get you through the day. 
If you yourself ever feel lost, alone, or just feel like giving up, it is incredibly important to talk to someone: a parent, a social worker, a teacher, or a friend. There is always someone there for you, no matter how alone you may feel. Someone will always care about you and be there for you. Our school is very fortunate to have a good team of social workers that can meet any time of the day. I know it may be hard to try and seek help, but it is so worth it. 
If you want to see or talk to someone in person, the social worker's office is located in the main hallway straight down from the Senior Star and across from the business classrooms on the first floor. Everyone has their own counselor based on their last name, and you can talk to any of them, any time of day.
You may know someone that has passed due to suicide, or you may know a survivor, or possibly know or are a "suicide loss survivor" like me. Please know that you are not alone.
Remember, there is always someone that will be there for you. 
Remember, it is okay to seek help, and it is okay to not be okay. 
Remember, you are never alone. There is always someone you can find a friend in. You and everyone else in this world have a special place in another's heart. Take a deep breath. Hold it in, let it out. 
Remember, there is always a reason to keep going. 
Resources: (All resources are anonymous). 
National Suicide Prevention Lifeline: 1-800-273-8255
The Lifeline is a free 24/7, free and confidential support system provided by mental health professions to support anyone in distress and provides resources for you or your loved ones. 
Text-a-Tip: Text LAKECO to 1-844-823-5323.
Regardless of what you are going through, when you text Text-a-Tip, within seconds of texting you will receive an automated response. Within minutes, you will receive live help from trained mental health counselors. 
Crisis Text Line: Text HOME to 741741.
Every texter is connected with a Crisis Counselor. All counselors are trained, real-life human beings who will respond within minutes. The counselors are all trained volunteers who help with suicide ideation and anything else. "For people who prefer to text instead of talk, this is a very good outlet and resource," according to Señora Levinson, one of the trained counselors for this hotline.