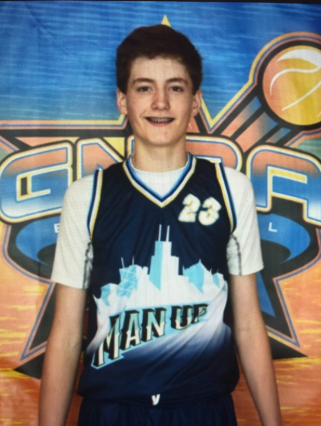 Asa Thomas
Nothing says intimidating like a 6'4'' 14-year old. 
However, freshman Asa Thomas changes that narrative. Have one conversation with him and you will realize he is a gentle giant. Asa is a two-sport athlete, playing basketball and golf, and outside of school he is heavily involved at his church.
In the fall, Thomas spends his time playing golf and aims to fill the shoes of his brother, Jed, who was a tremendous golfer a few years ago. He will be playing on the Junior Varsity golf team this fall.
Thomas spent much of his summer in the gym playing basketball. Whether it was getting better on his own, playing AAU ball, or practicing with the varsity team, he always found his way into the gym. 
He made a tremendous impact while playing with the varsity team, knocking down multiple three pointers during games like it was nothing. Anyone watching the game would not believe that he is a freshman.
"He is really a great addition to our team both on the court and in the locker room," said teammate Stephen Young.
Thomas carries a positive energy with him wherever he goes. That energy is exemplified on the basketball court.
"He is very talented for his age but something equally impressive is how he carries himself, never getting too high or too low," said senior Louis Quall.
When he is not in the gym or playing golf, Asa uses his time focusing on his religion. "He spends a lot of time at church with me which I think has been one of the major factors in why he is so well rounded in many different aspects of his life," said his sister Honor.
Asa's work ethic has opened up many different paths for him to be successful in life. It will be exciting to see which road he takes.