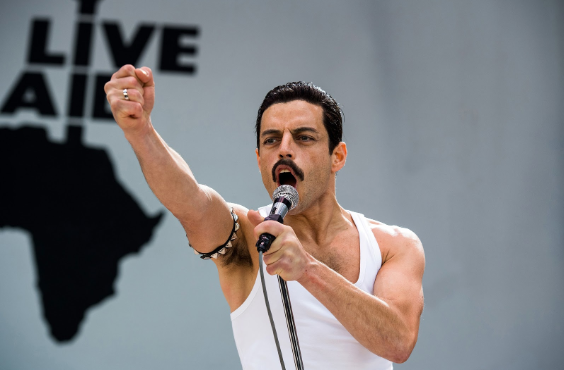 Rolling Stone
Both Sides of the Story: Hollywood's Latest Trend
May 31, 2019
Just a little over a year ago, moviegoers and music fans alike were captivated by 20th Century Fox's teaser trailer of an upcoming movie chronicling the music career of the 70s/80s British rock band Queen.
Despite the excitement at the time, few would predict that the movie would carry the quite undeniable legacy it soon picked up, and spark an outburst of inspired films.
Bohemian Rhapsody (November 2, 2018), was nominated for five Academy Awards, including best picture. The film won four, one of which for Rami Malek's "Best Actor" performance as Queen lead singer/songwriter/pianist/visionary Freddie Mercury.
The quite visible success of the band itself following the film's release has not gone unnoticed by other artists, who are joining in on the act with varying success.
80s heavy metal band Mötley Crüe released a biopic of their own in their Netflix Original The Dirt. The story of retiring internationally-known singer/songwriter Elton John will take center stage in Bohemian Rhapsody executive producer Dexter Fletcher's Rocketman.
Besides these very similar "rock biopics," music also takes a primary role in other popular upcoming biographical adventures. This summer's Yesterday tells the story of a man who becomes famous in a hypothetical world where the Beatles are forgotten by "writing" their music — a movie featuring many notable celebrity cameos. Also releasing this summer, Blinded By The Light tells the unlikely-but-true story of a British teen of strong Pakistani descent who finds refuge in the music of Bruce Springsteen.
This isn't an entirely a new concept, with numerous notable music biopics scattered across history (Hollywood profiling The Doors, Eminem, Ray Charles, Johnny Cash, and Bob Dylan, to name a few). The most recent wave was the quick blip in hip-hop movies of varying quality in the wake of the success of the N.W.A. film Straight Outta Compton (2015).
While not new, it is, however, undeniable that this trend is more widespread than ever currently, and one that is creating quite mixed reactions and a lot of debate.
For this reason, I will be writing two columns — each explaining both sides of the story.
Enjoy and comment on the side where you stand after reading!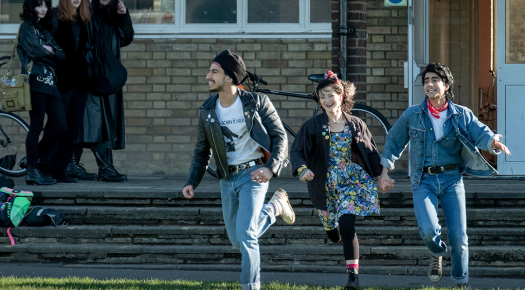 Variety
New Wave of Rock Biopics Brings Excitement to Music Fans, Moviegoers
Regardless of the degree to which you believe the idea that "rock is dead", it is not nearly as easy to debate the fact that the genre has experienced a considerable down period.
While the instrumentation and format of rock music has slowly faded out of the mainstream, which leads to a musical quality debate for another time, the bigger conversation is the genuine lively spirit of the genre — an aspect that modern music has begun to lose in favor of hit-making and increasingly similar sound, making mainstream music considerably bland and far less concerned about feel than it once was.
Although misrepresentation is a primary front of criticism for the movie industry's next biggest thing in rock/music biopics, the aspects of "feel" discussed above are most certainly there to intrigue audiences over everything else — and that is certainly what is most important.
Juniors and Seniors at LFHS just recently experienced this year's Prom, and perhaps one of the most memorable moments of dancing itself that night was Queen's "Don't Stop Me Now", which was very well received.
Undoubtedly the recent release of a major biopic on the band made a significant contribution to not only the upperclass body's recognition of the 1979 hit, but the large percentage of those on the dance floor belting out every word.
In the end, it wasn't the details that stuck in the heads of a quite clearly targeted young audience of the film, but the feel that the music and the moments gave them.
While Queen was widely successful sales and publicity wise, they carried a specific legacy of their one-of-a-kind ability to catapult heavy experimentation in music to the mainstream. They were a group of misfits that thought outside of the box — with those thoughts working more times than any other band that has dared to do so as frequently. They were never just simply "the greatest band of all time."
They may have been the lasting memory at one of the largest concert events of all time, but it is worth noting that this was a complete surprise for most viewers — the band quite clearly stole the show.
This is all a very specific legacy — and the film covering their career broadened and grew this legacy considerably.
With several songs holding higher chart spots currently than they did when released (including "Don't Stop Me Now", which peaked at #86 in the U.S. in 1979, only to reach #7 in 2018), as well as the band's greatest hits anthology securing its sales spot with the likes of modern rock chart veterans Pink Floyd ("Dark Side of The Moon" holds records for length of time on the charts), Eagles, The Beatles, AC/DC, Led Zeppelin and many more — it wouldn't be surprising to see younger fans consider Queen as one of the greatest rock bands of all time with ease.
Like the impact of the music itself and then Wayne's World a decade or so later (the film gave a second wave of success to the band in the 90s after the use of Bohemian Rhapsody in a now-immortalized scene), Bohemian Rhapsody brought a larger awareness forward for Queen, and a brand new generation of die hard fans — perhaps more devout than ever.
It is unquestionable that future biopics covering and drawing attention to other artists will do the same. It doesn't even seem debatable that the music featured in these biopics of the future could be put back into mainstream success once again — maybe even be well-received at next year's Prom.
The bigger thing here however, that really proves the worthiness of these movies is the growing success of their stories' efforts to romanticize a forgotten musical reality to a younger audience, and perhaps inspire a future rebirth of the genuine spirit and "feel" that once sadly exited the mainstream along with the genre.
Leave a Comment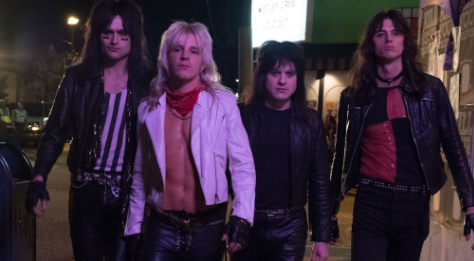 Kerrang!
Music Movie Trend Shows Hollywood's Continuing Struggle to Find Originality
Everyone knows that selling tickets to see movies in theaters has become an increasingly difficult task these days. The growth of streaming services and alternate ways to consume cinematic entertainment that more easily satisfies the laziness of the American audience has pushed companies to take new marketing measures and appeal to pull in an audience and sell those tickets.
The notable trend of record-setting opening weekends in the last five years or so has suggested that these measures have been taken — and when you look at what those record-setting films have in common, it is clear what the strategy is.
All of these films are part of larger franchises that boast widely successful series. In fact, it takes until #48 on this list for a standalone movie that is not based off of anything to appear, and ironically it soon after inspired a blockbuster franchise of its own (2009's Avatar).
Currently, the movie market finds refuge and a sole spot in reliable success on franchises — which now practically make up the entire market. Companies know that they can use characters the public loves to tell a story people will want to, or even need to hear. When is the last time you saw a movie in theaters that was not a piece of a larger storyline or cinematic universe?
Of course, this is fun at times for moviegoers and franchise fans — but it has its side effects.
"
It won't be long until every major artist that you can think of abandons their unique spot in history to each become the 'greatest artists of all time' in their respective films."
For every film that lives up to the hype and becomes an instant classic, there is a disappointment and poor use of the franchise's beloved assets, and regardless of what you think, they already have made millions off of the hype you bought into. Some of the films in the above listings were divisive (to say the least) despite their record-breaking financial success.
This franchise-focused environment also promotes a lack of originality that is quite notable. When writers are trapped in these sets of expectations that prexist production of new franchise films, it breeds some serious repetition that abuses the power the franchises hold over their captivated die-hard fans.
In some scenarios, the fitting closure of a series has been corrupted by a re-opening of the story in this modern era on the basis of little other than profitability. To the surprise of many for example, Disney Pixar made the recent decision to continue the Toy Story series despite a quite conclusive end to a well-rounded trilogy, in an upcoming Toy Story 4. Sadly, scenarios like this cheapen the stories themselves in favor of monetary gain.
The repeated trend of these franchise spectacles on opening weekend pretty easily mirrors this trend of not only musical biopics themselves, but all of the aspects in the film that began the trend, unfortunately including its flaws.
While the legitimacy of Bohemian Rhapsody's impact and success should be recognized, there are plenty of shortcomings that should be noted — including a variety of historical liberties and simplications taken, some of which crossing the line as severe problems with the production that should be widely exposed.
To put it simply — the story of both Queen and Freddie Mercury's life that is told in the film is nowhere close to the true story. The list of reasons goes on and on.
These inaccuracies include the glossing over of John Deacon being the fourth bassist in the band, the Live Aid performance's place in Queen's history as part of an ongoing tour and not an epic reunion as the movie portrays, and most importantly, the discovery of the real Mercury's HIV at least a year following Live Aid, as opposed to the discovery on film that was prior to the performance, catapulting the moment to a Hollywood climax.
While historical inaccuracies and rearrangements are not something that is brand new to the industry of "based on a true story" productions, and the stance that Bohemian Rhapsody writer Anthony McCarten summarizes in the quote "it's a movie, not a documentary" can be well defended, the damage that this habit can have on this specific trend may be far more severe.
The other films in this "wave" of biopics carry the similar characteristic. Netflix's original film The Dirt swiftly contradicts the prevalent record label issues that followed the career of Mötley Crüe. Even in the upcoming Elton John film Rocketman, the protagonist reportedly performs his hit "Crocodile Rock" in a notable concert scene that takes place in an era predating the single's release.
Of course, this occurrence in a film that has ties elsewhere is far from uncommon — the phrase "the book was better" exists for a reason. However, what was once a common directing decision of films can now be weaponized by brands in the world of music to effectively change the textbook of history.
Many films like these are soon to release, and many films are in production. Soon enough, any rock band that is anyone will have a film of their own. Considering the widespread display that viewers simply don't care about the inaccuracies, they have been given the green light to mess with history to create their own polished narrative of their history and musical legacy.
It won't be long until every major artist that you can think of abandons their unique spot in history to each become the "greatest artists of all time" in their respective films.
While this may be fun and nostalgic for the time being, this narrative will ultimately strike as repetitive and boring among viewers, as production companies continuously cash out on their loyalty to the characters they love and need to hear from, in ultimately cheapened stories told for monetary gain — this time, however, in the new open field of music "franchises".
Leave a Comment