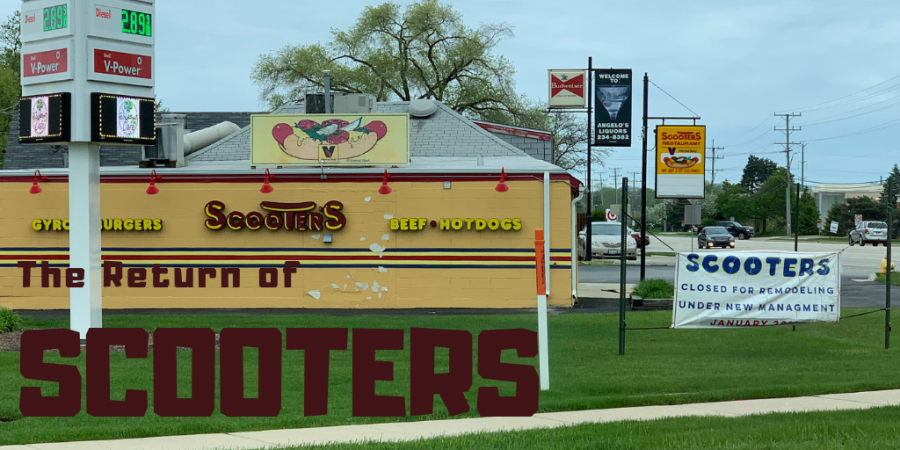 The Return of Scooters
On the corner of 176 and Waukegan in the heart of Knollwood lies Scooters— a restaurant known for their delectable hot dogs and fresh french fries. It's a household name in the Lake Bluff/ Lake Forest area, but a sudden closure in 2016 left many customers asking questions.
According to reviews online, the food quality at Scooters made a sudden decline starting in 2015. Anthony D, a reviewer on TripAdvisor, showed his disappointment toward the restaurant:
"I have lived in Lake Bluff for over 25 years. This place used to be a gem for Chicago street food. But it has gone downhill and is simply not worth it anymore."
Whether their food was great or not is personal opinion, but I can say that I loved Scooters, and I know a lot of others who felt the same. A management change initiated the closure so the restaurant could prepare for a complete rebuild. And, a reopening was promised with a sign reading 'Closed for remodeling under new management, January 2019.'
But here we are in May of 2019 with lots of questions and no Scooters. So, I took it upon myself to investigate the mystery and see if people should be soon expecting a grand opening.
Peering through the windows, I could see that the entire kitchen and seating area of Scooters had been removed. The restaurant was bare, and it clearly looked like a reopening was not happening any time soon. A small note on the window read 'Jeff Glogovsky,' along with his phone number. So I called Mr. Glogovsky and received some inside information regarding the return of Scooters.
According to Mr. Glogovsky, their plan is to completely knock down Scooters and rebuild a new "state-of-the-art building." But in order to do that, the new owners are waiting for Lake County to grant them their last permit on the property.
Why is it taking so long? He asked the same question. Glogovsky has been waiting "over a year" for the permit and has not yet been granted it to this day.
"If was up to us, we'd start [building] today," Glogovsky said.
Mr. Glogovsky and the new management team are excited to build a brand new restaurant with a brand new menu that will serve breakfast, lunch, and dinner.
"The menu and different types of food items are completely upscaled and different from what was there in the past. Now, yes, we'll have the hamburgers and the hot dogs, but it's better quality food."
Mr. Glogovsky even was nice enough to give me a sneak peek of some new items that will be added to the menu:
"We'll have ribs, chicken, healthy foods… ex: salads and soups, ice cream and shakes. But also a wide variety of barbecue, pork chops, and others."
This rebuilding process is the exciting news that North Shore food connoisseurs have been waiting for. Scooters was always a staple in Knollwood and after its closing, many customers turned to Luke's as their primary hot dog spot. Will this new restaurant get the crown as the greatest hot dogs in town? Time will only tell. Either way, I'm looking forward to a new restaurant in Knollwood and Mr. Jeff Glogovsky is just as excited as I am.
"It's going to be a great spot for everybody and for the community."