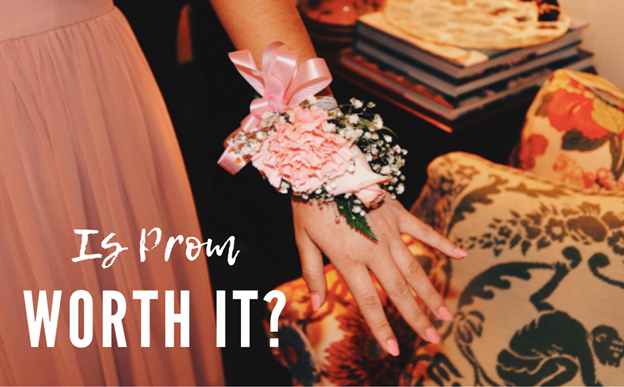 Is Prom Worth It?
April 22, 2019
One night. One dance. Across the country, prom has become a right of passage for teens.
You see it everywhere. The high school dance shows up in movies such as the 80's classic, Pretty in Pink and Disney's High School Musical 3: Senior Year. It's in TV shows, music, social media, and even at the White House. You can find videos of extravagant promposals or read about the parents who will spend thousands of dollars to give their child the "perfect night."
Prom is painted as a fairytale to little girls. We're told that it is the one night when everyone can be their own princess. What they don't tell you, however, is that not everyone gets their knight in shining armor or the best night of their life. They don't mention the stress or the pressure that comes with it all.
For girls, that pressure can be finding a date, choosing the perfect dress, or trying to live up to the dream you've created in your head. For guys, it's worrying about renting a tux, creating the perfect promposal, or even getting the courage to ask that one person you've been crushing on.
So is it all worth it to undergo the pressures, stress, and potential "prama" that comes with prom?
Why is it that we feel forced to conform to society and the expectations of one night of our lives? However many times people tell us to be ourselves or not to care what others think, there is always the underlying thought that society is always watching. Some people will always make judgements. Bias will always be there, whether it is said out loud or not.
"
Throw away the drama, stop worrying about what others think, and focus on the moment, you will have a great prom."
In addition, the idea of change can be hard for people to grasp. Many people look at prom as a sacred tradition that should stay exactly the same. While I love a good tradition, sometimes we have to accept that social norms and society as a whole are always changing. More importantly, it's up to us to adapt and change with it.
In regards to prom, it can be the idea that girls and boys don't have to go together to the dance. It doesn't have to be the guy that makes the promposal. Girls don't have to wear dresses. You don't even have to go with a date. The list goes on.
Our school recently changed the title of "Prom King and Queen." Now, we've adopted the term "Prom Royalty," which rids the label of any gender. It's one small step towards acceptance that the tradition of prom is changing, and that our generation is different than the ones that came before.
Last year, I went to prom as a junior. I didn't go with a boyfriend. I didn't get my special promposal. I didn't have an expensive dress. Even this year, as a senior, I will be going to prom with one of my best friends, rather than going with a date.
All of this goes against what society expects prom to be like.
I was able to build my own experience of what prom and the preparations leading up to it are like at LFHS. Each high school differs slightly, but in general, the idea of prom is consistent. I went through the same pressures of finding a date, choosing the perfect dress, and trying to live up to that dream I created in my own head.
And how was my prom? Personally, I had a great time.
I got to dress up, dance the night away, and let go of any worries I had beforehand.
Yet, there were the weeks leading up to prom in which I experienced and witnessed the pressure and the stress that one night can bring. I witnessed passive-aggressive fights over prom dates, couples getting kicked out of their prom table, and even people that in the end, decided not to go to prom at all.
It was a fun night, but some people always wonder, is prom worth all of the stress? I think that it's up to the individual to decide and build their own experience.
But then, how do you succeed in having a good prom? If you throw away the drama, stop worrying about what others will think, and focus on making the best out of the moment, you will have a great prom.
Life isn't about one night of your life. Your life is made up of thousands of moments that have the potential to become amazing memories.
If you constantly worry about finding a random date for the red carpet, looking amazing for an Instagram post, or living up to your fairytale expectations, you may just find yourself disappointed.
You get to choose how you live your live. So, how will you do it?
Prom tickets are on sale until April 22 for $95 each and can be purchased on the prom website at lfhs.org.